November 20, 2019 by
Elizabeth Quinn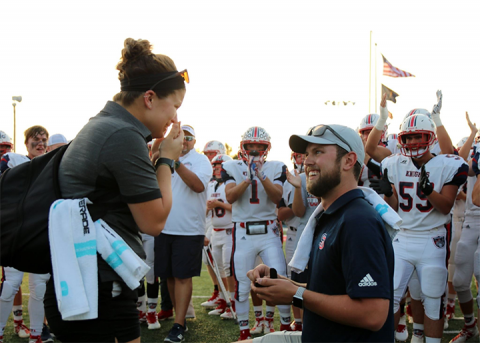 It's an athletic trainer love story: Boy meets girl during college, they fall in love and get engaged. That's exactly what happened with Samantha Cliffe, ATC, and Kyler Hendricks, ATC.
"Kyler and I met in college at Northern Kentucky University," Cliffe said. "We have been dating about three and a half years. We've been through everything together, from beginning taping and first aid classes to taking the [Board of Certification exam] on the same day, graduating college at the same time and landing jobs a couple of weeks apart."
The Indiana couple work at different high schools that happen to be in the same conference – she's the athletic trainer at East Central High School while he is the athletic trainer at South Dearborn High School. During the rivaling teams' first football game of the season Sept. 27, Hendricks popped the question to Cliffe. Of course, he had to do it in a true AT fashion. One of his players from South Dearborn High School faked an injury. As the player laid with appeared to be a hamstring injury, Cliffe went over to check on Hendricks to see if he needed help.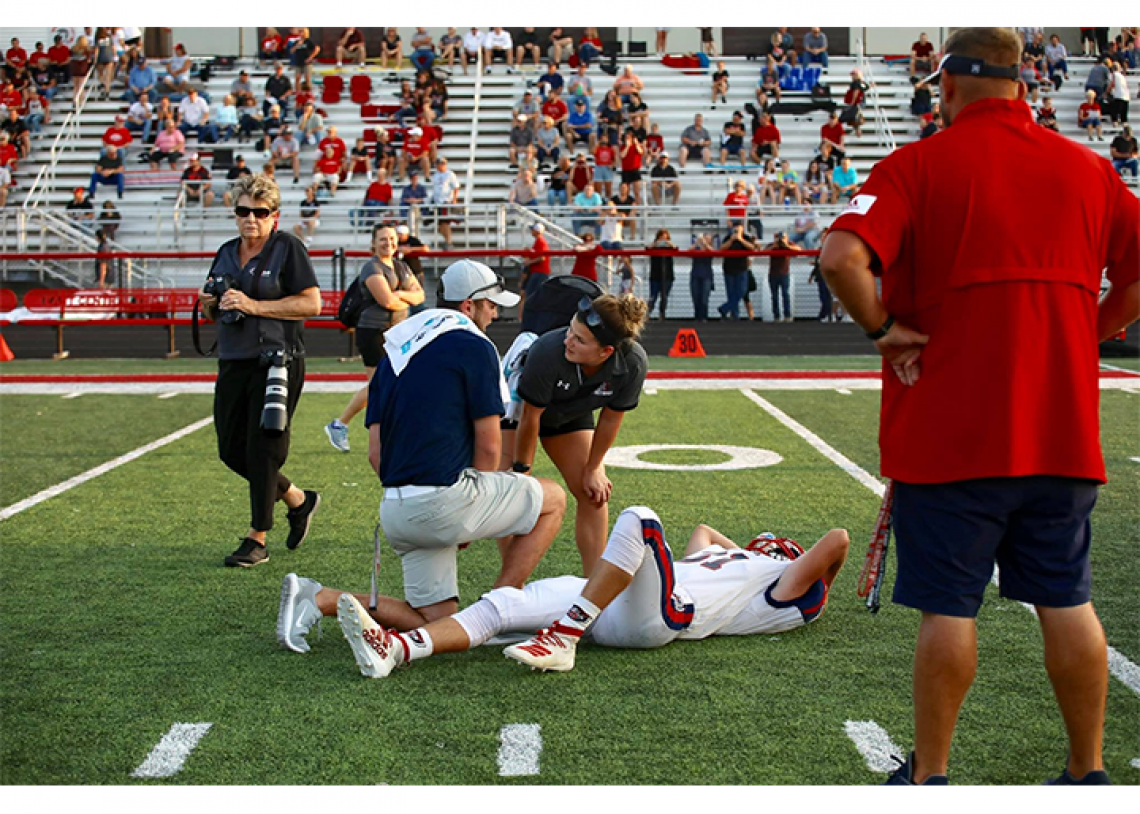 "Kyler told me to keep [the player] occupied while he looked at his knee to try and get him to relax," Cliffe said. "The kid who faked the injury was a rock star. He had real tears rolling down his face, wincing, everything. I was 100 percent convinced his injury was legit. After I talked and joked with the athlete to calm him down, I looked back at Kyler, and he said, 'Sam, he's OK, but …' and he pulled the ring box out of his pocket. I was in shock. I had no clue. My reaction was pure surprise. And of course, I said 'yes.'"
For Hendricks, he had been thinking about popping the questions for several months. They both had talked about marriage, but they were more or less waiting for the right time. For the big moment, Hendricks made sure to get approval from his company, coaches, school administration and Cliffe's family. Everything received the OK.
"This whole process took about a week and a half to plan," Hendricks said. "I actually did not mention anything to my players until right before they took the field for warmups – less likely of a chance she finds out! Because it was an important game, myself and the administration decided it was best to do this pregame to avoid any negative energy if the game was one sided. … We love our jobs, and we love the schools that we get to serve. That's what made this moment so much fun."
The newly engaged pair celebrated with an East Central High School win as well as dinner and drinks with friends and family after the game. The wedding, though not set in stone, will be around June 2021.
"Athletic training is such a huge part of our lives, and we are very excited to share this special moment with so many people," Cliffe said.
Congratulations to the happy couple!
You can read more about the proposal in the January 2020 NATA News.