June 28, 2022 by
Claire Williams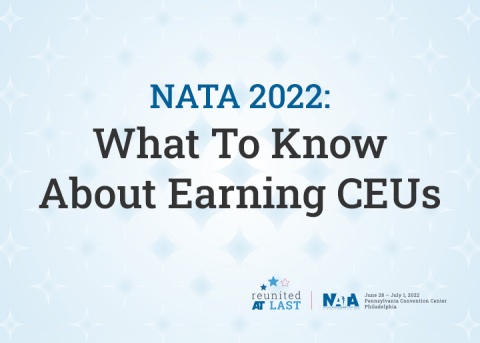 During the in-person 73rd NATA Clinical Symposia & AT Expo, attendees can earn up to 20 CEUs. Across a variety of topics and formats, NATA 2022 features the best athletic training educational programming, bringing together experts from around the world to deliver a focused and practical learning experience that will enhance the way you care for your patients. 
For a look at the full schedule of CEU-earning content, check the NATA 2022 event app or the convention website and start planning your days.
Make Sure You Earn CEUs
During NATA 2022, in-person attendees will receive an email containing links to evaluations for every day's events. These emails will be sent to the address used to register for convention. Completion of the evaluations and assessments is key to enhancing your learning, providing feedback to speakers and improving future programming.
Your registration number will be needed to complete the evaluations.
Plan By Theme
While there will be a wide variety of topics covered during NATA 2022, the NATA Convention Program Committee identified three key themes that some, but not all, educational programming is focused on:
Diversity, Equity, Inclusion and Accessibility: Content focused on advancing the knowledge and understanding of diversity, equity, inclusion and access across the profession and how DEIA influences patient care.
Emerging Concepts in Injury Prevention: Sessions focused on disseminating state-of-the-art information on the development and implementation of effective injury prevention strategies.
General Medical: Sessions focused on the management of non-orthopedic conditions among physically active individuals.
In addition to the key program themes, attendees can expect content to cover trending topics in athletic training that will enhance patient care and practice, as well as personal and professional growth within the profession.
Plan By Format
New to NATA 2022: Interactive Lectures
NATA 2022 will premiere interactive lectures. During the 55-minute interactive lectures, presenters will engage attendees by including videos, demonstrations, small group discussion and/or interactive polling during the session.
Additionally, with the return to in-person convention, there is the opportunity for some attendees to safely engage in hands-on experiences through Learning Labs. These sessions allow attendees to engage face-to-face with your peers, speakers, researchers and thought leaders. Forums are also an engaging, programming format featuring one to three subject matter experts facilitating group conversation during a 55-minute session.
After NATA 2022
Once NATA 2022 is completed, NATA will provide attendees with statements of credit. An email will be sent to all attendees eligible for CEUs, with instructions on how to access and print their statement of credit. This email will be sent by the end of July. It is the attendee's responsibility to check their statement of credit, upon receipt, to confirm it is accurate. It is also the attendee's responsibility to report hours actually spent in the educational programming.