May 17, 2022 by
Claire Williams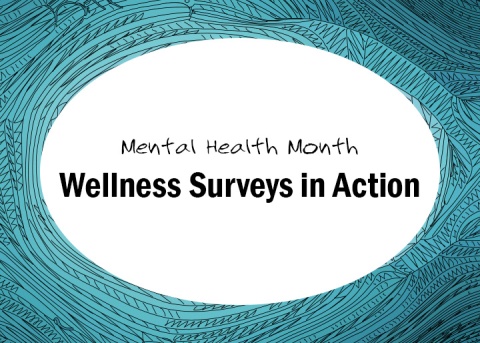 In 2019, the NATA Secondary School Athletic Trainers' Committee released the Wellness Screening Guidelines for the Secondary School Athletic Trainer resource to help assist ATs in creating screening surveys that tracked student athlete mental health. Then, in 2020, Cari Wood, ATC, one of the creators of the guidelines, revamped the wellness survey she distributed to student athletes to include questions pertaining to the COVID-19 pandemic.
Since then, secondary school ATs have turned to Wood and SSATC for input and feedback on the surveys they created for the student athletes they treat. Because every school has different needs, the guidelines allow ATs to create surveys that best match their specific student athlete population.
Wood, a secondary school athletic trainer in Oregon and former District Ten director, said she sees this as an especially important part of the job when working with high school student athletes who are often hiding their stress, anxiety and depression. Wood created an initial weekly wellness survey to better recognize when student athletes are experiencing more stress than normal. By doing this virtually, via Google Forms, students who may be uncomfortable with sharing depressive feelings in person are more likely to express concerns via text.
"In secondary schools, we typically don't have the funding to provide as many mental health resources as are offered in the collegiate setting," Wood said in a 2020 blog post. "The wellness survey I created is free and doesn't take much time to reach out to a large number of athletes."
According to a 2019 Pew Research Center study, an estimated seven in 10 teenagers see anxiety and depression as problems among their peers, and Wood estimates more than 32% of young adults have some sort of anxiety disorder.
The wellness survey Wood developed asks students about stress levels, sleeping habits, water intake and nutrition. It also asks students to share something they are proud of or grateful for that week.
Kelly Borrego, MS, ATC, NASM-CES, and Delaney Farmer, LAT, LMT, ATC, both used Wood's original Google Form survey to craft surveys they send to students regularly as one part of their approach to monitoring their patients' mental well-being.
Farmer, a secondary school AT in Washington, connected with Wood in 2019 and created his first survey. Due to the pandemic, he paused the survey and returned to sending it regularly in early 2022.
"In my time here at my high school, there have been multiple teen suicides and two of them were athletes," he said. "If it's one of your athletes, you ask yourself, 'Could I have done anything different?' So, the main purpose of this wellness survey is a way for me to check in and just give the athlete the opportunity to talk."
For Farmer's survey, he used Wood's as a template and adjusted the questions to fit his needs based on sports, environment and concerns. His survey is nine questions long.
Farmer's wellness survey is not mandatory for athletes to complete, but he encourages completion and has casually enlisted coaches to share the link with the athletes weekly. He's currently evaluating the best way to ensure the survey is completed by students.
"I am working on a post survey with the teams who filled out my form asking what went well, what could have been better when it came to filling out the survey, such as on a particular day, weekend versus weekdays, text versus emails, morning versus evenings," he said.
The customizability of the wellness survey makes adjustments easy to implement quickly when it's needed to better serve student athletes or when responses are low.
Borrego, an athletic trainer at an all-girls high school in California, found the survey, simply, to be a great way to check in. She's been sending the survey biweekly in the fall of 2021 to all student athletes as well as the students in the sports medicine course she teaches.
Since starting to send the survey in early 2022, Borrego has been eager to interpret the data she's collected from the students and start to identify correlations between responses and performance that can influence her treatment and education strategies.
"I'm eager to start looking for trends," she said. "I'm interested to see how the responses changes, if it changes at all, with how the school semester progresses."
She added that she's also looking for correlation between responses and sports performance, which could influence her education strategies on hydration and nutrition.
Borrego said being able to identify the signs and risks is an important part of her role as athletic trainer and part of the wider health care team. Borrego worked closely with the school psychologist to tailor the survey questions from Wood's original ones to ones that better suit the needs of her all-girls student population.
Although they're informative, the wellness surveys distributed by Farmer and Borrego are just a part of their efforts to ensure mental well-being for the student athletes they treat. Educating students on their mental health is also a critical part of how ATs can address it with student athletes.
Farmer, for example, hangs posters and informational content in his athletic training facility.
"[The posters in the AT facility] involve mental health and being valued, correcting how people talk about other people while they are in my room to diminish any harmful language that others can take out of context and just educating how to respect their fellow student athletes," he said. 
"It is important to make a welcoming space in the training room, interact with those who are showing concern and giving them the resources to help them make their own choice."
In Borrego's sports medicine course, she incorporates mindfulness education and practice as part of her mental health content.
"It's a way to incorporate mindful breathing into their routines, even if it's just three minutes a day a couple days a week," she said.
The wellness surveys for Borrego and Farmer, although relatively new to their preventative treatment, have been an important part of their routine as secondary school ATs. The survey is an opportunity for students to feel valued and heard.
"
There are more and more stresses added to our youth," Farmer said. "Along with athletic trainers being there for the physical aspects, we should also be there for the mental aspects.
"Someone who can listen without judgment, someone who can provide a safe place to express themselves and someone to help provide resources to those who need and want them."
Check out the Wellness Screening Guidelines for the Secondary School Athletic Trainer resource for more information about creating a wellness survey to distribute regularly to secondary school student athletes.
SSATC has also created other resources for ATs available on the Secondary School Resources webpage. NATA provides additional educational resources for ATs on the Mental Health webpage and in the Infographic Handout Library, including: