July 21, 2021 by
Claire Williams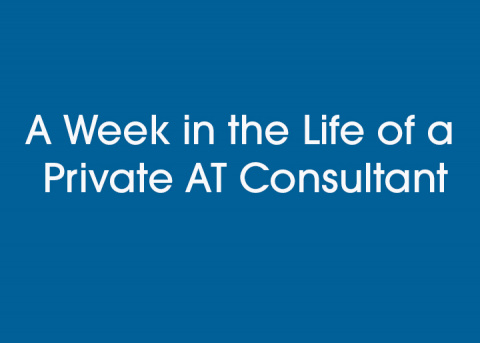 The July issue of NATA News focuses on the different aspects of athletic training entrepreneurship, which can include how to manage time. An entrepreneur's schedule can be unpredictable, as can an athletic trainer's, but seeing how one AT entrepreneur makes it work week by week is a great example of how to make it work. 
An athletic trainer who is also an entrepreneur might not have the consistency of a 9-to-5 schedule, and Anna Hartman, MS, ATC, CSCS, knows this all too well. Her schedule as a private consultant athletic trainer to professional athletes can vary from week to week, and take her back and forth across the country.
Hartman created her athletic training consultancy, MovementREV, out of a need she realized athletes lacked. Formerly a director of physical therapy, she now provides athletic training services to individual professional athletes, consults with professional teams and provides continued professional education to other professionals.
Hartman's experience in athletic training gave her the opportunity to collaborate and innovate with fellow sports health care and sports performance professionals.
"This was a key piece," she said, "In realizing that as an AT I could really create my own path. I did not have to be the person who ran out on the field or who worked the stereotypical 60- to-80-hour work weeks that have been expected of ATs in the past."
The evaluation and treatment approach Hartman uses is based on a combination of orthopedic and osteopathic methods. Her method allows her to quickly identify exactly where on the patient's body needs treatment to ensure the quickest and most effective recovery and healing response by the nervous system.
Her strategy, she said, ensures the changes made to mobility, stability and strength within each session will likely stick, instead of going back to being tight the next day.
"This is also the benefit the athlete has of working with me long term," she said. "Most of the athletes I work with, I have worked with for their entire careers, which allows me to know their body very well and helps me quickly identify what is going on when something hurts or their movement pattern is suffering.
"From how their joints feel to their tissue quality, quality of their pulse rate and unique gait pattern, I know each detail of what makes them them."
While most sessions with patients are routine, Hartman does rarely work with an athlete on an injury that needs long-term or post-surgical rehabilitation, she will coordinate with their team staff and physician to determine the best plan of care.
The travel required of Hartman as a private consultant is unique to her role.
While every week and day can be different, a typical week as a private consultant athletic training serving professional athletes in the NFL, MLB and NBA could include:
Monday morning: Fly to Buffalo, New York, for one to two days to treat an NFL athlete
Tuesday: Fly home to California to reset or fly to San Antonio to treat an NBA athlete for two to three days
Friday: Fly to Nashville, Tennessee, to treat an NFL athlete for one to two days
Saturday: Fly to New York City to treat an MLB athlete for three to four days or fly home
Sunday: Rest at home or in New York City with MLB athlete
Repeat
On a less chaotic week, Hartman's schedule can include:
Monday morning: Fly to Seattle for 1-2 days to treat NFL athlete
Wednesday: Home in California for two days to rest, recharge and repack
Friday morning: Fly to Nashville, Tennessee, for 1-2 days to treat an NFL athlete
Sunday: Rest and watch patients play in person or on TV
Repeat
"My job often sounds more glamorous than it really is," she said. "Travel is extremely hard on the body and it can seem like I am often missing out on things at home with family and friends. However, I love being able to create long-lasting professional relationships with my athletes and be a small part of their journey."
For more information about athletic training entrepreneurship, and how ATs can navigate the unpredictable when thinking like an entrepreneur and utilizing their AT skill sets, read the July issue of NATA News.