June 29, 2022 by
Claire Williams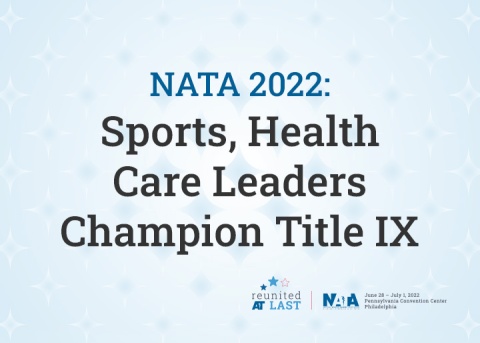 The impact of Title IX, now 50 years since its historic passing, goes beyond the young women in sports who it was enacted to support. The "Championing Title IX and Women in Health Care" event at the 73rd NATA Clinical Symposia & AT Expo proved Title IX's far-reaching influence as 12 representatives from leading sports and health care associations convened to discuss 50 years of progress and where we go from here.
Moderated by NATA President Kathy Dieringer, EdD, LAT, ATC, the panel shared personal stories of how their education and careers in sports and health care were positively impacted by Title IX. They also focused on their efforts to encourage the evolution of women in sports medicine. This included increasing diversity and representation to allow for better clinical care, as well as more women of color to pursue careers in health care, and decreasing the gender pay gap that is still prevalent among these professions.
Additionally, Dieringer shared at the event the results of a national survey conducted among the 12 participating associations' members about gender issues and workplace safety. In total, 2,000 members completed the survey, which included questions about participation in athletics; gender equity in employment opportunities, salary and growth potential; and workplace safety and support.
The panelists featured, as well as their organization, included:
Dr. Mary Ireland, American Academy of Orthopaedic Surgeons
Jennifer Orozco, PA-C, American Academy of Physician Associates
Dr. Sandra Schneider, American College of Emergency Physicians
Kristin Belleson, American College of Sports Medicine
Amy Powell, MD, American Medical Society for Sports Medicine
Becca Rodriguez Regner, DO, American Osteopathic Academy of Sports Medicine
Jill Thein-Nissenbaum, PT, ATC, SCS, American Physical Therapy Association
Sheila Ward, PhD, MPH, FACSM, Black Women in Sport Foundation (Philadelphia-based)
Dr. Michelle LoBatz, American Academy of Pediatrics-Maine Chapter
LaGwyn Durden, MS, LAT, ATC, National Collegiate Athletic Association Sports Science Institute
George Chiampas, U.S. Soccer Federation
Sarah Axelson, Women's Sports Foundation
With the power of technology, Ireland, Orozco, Schneider, Powel, Rodriguez Regner, Labatz, Chiampas and Axelson joined the panel virtually through Zoom.
Axelson celebrated the milestone anniversary with an emphasis on the path forward.
"The 50th anniversary of Title IX is an important opportunity to reinvigorate the fight because we know we haven't achieved true equity yet," she said. "As we talk about Title IX and Title IX compliance, we really are centering those thus far have been left behind … making sure that all kids have access to sports because we know the benefits that sports provide."
Belleson and Ward also referenced the need to increase diversity in sports as well as health care. Belleson at the American College of Sports Medicine works to create more opportunities for student athletes in urban areas and underrepresented minority groups to get involved.
"We can all be better mentors, leaders, sponsors for these young women," she said.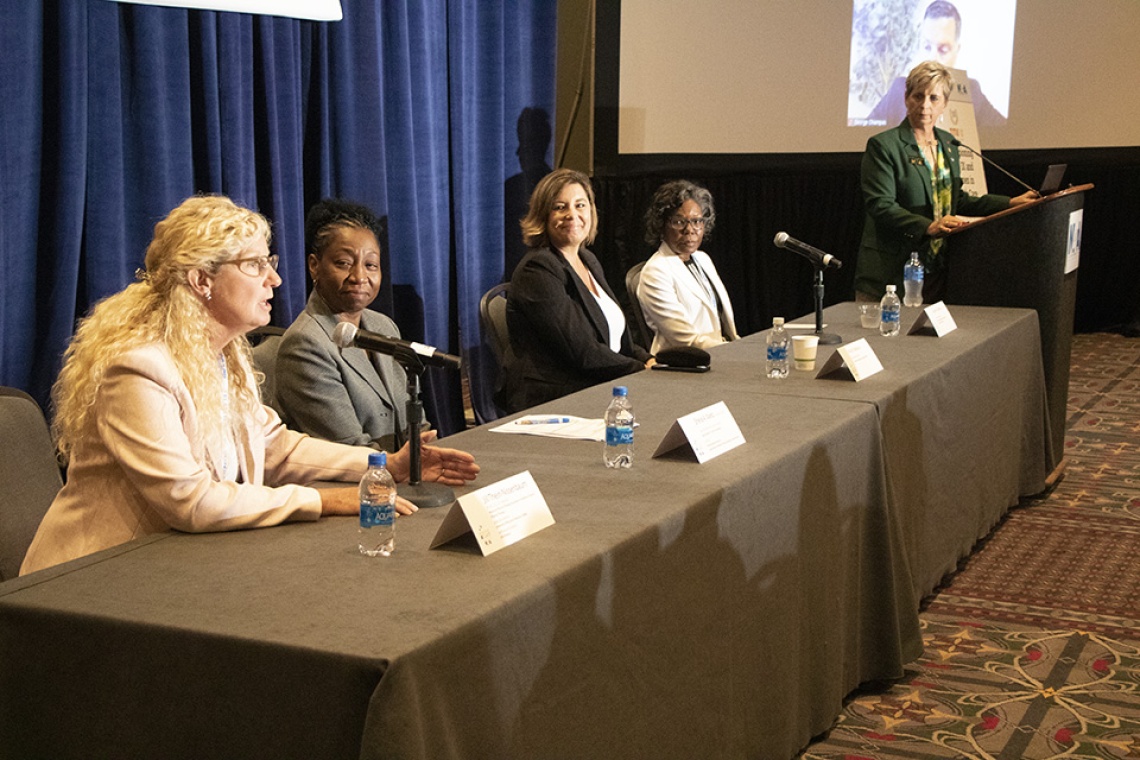 The Black Women in Sport Foundation, represented by Ward, also works to increase opportunities for exercise and sports among young Black women, which includes health care. Ward is part of coordinating educational programming for elementary, middle and high school-aged girl that covers their specific body needs and health care specific to their population.
Ward also referenced a need to increase representation of diverse health care providers, which will not only increase trust in the medical system, but also increase opportunities to pursue careers in sports medicine.
"We can all recognize that there is a lack of representation in terms of the sports medicine profession when it comes to African American women," she said. "We need to make sure the resources to pursue fields in sports in medicine, such as athletic training, are available to African American girls."
Powell echoed a similar call to action for leaders to consider, especially those in sports medicine.
"Our role as leaders is to improve the pipeline," she said, adding that this includes youth sports, education and careers in health care for young women.
The survey released by NATA at the event also showed a potential need for more opportunities for women in sports medicine. The survey, completed by 2,000 participants in May and June, revealed that the majority viewed their role at work somewhat positively. The majority also somewhat agreed that Title IX had increased their opportunities in their sports, education and career, but has not improved their opportunities legally, in work-life balance or compensation.
"[The data from the survey] seems to indicate that, although progress has been made, there is ample room for improvement," Dieringer said.  
With these results, each organization that participated on the panel plans to reconnect with their membership to plan for the future and better understand what's needed. Dieringer said NATA plans to re-release the survey in five years to understand additional progress and growth based on the 2022 survey results.
"All of us on this panel share a collective commitment to Title IX – the benefits it's afforded, the doors it has opened and the work that is still to be done," Dieringer said. "The discussion doesn't end today."
A recording of the "Championing Title IX and Women in Health Care" is available to all NATA 2022 attendees in the NATA 2022 virtual portal and NATA 2022 On-Demand portal.
For more information about NATA 2022 On-Demand and to register, visit the convention website.