November 9, 2021 by
Claire Williams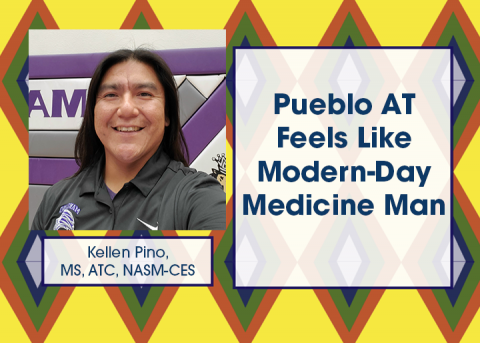 In honor of National Native American Heritage Month in November, the NATA Now blog is highlighting some of NATA's Native/Indigenous American members and their impact on the athletic training profession. 
Kellen Pino, MS, ATC, NASM-CES, enters the kiva, the warmth of the roaring fire whooshing over him as the drum keeping the Christmas dance on beat outside pounds rhythmically and fast. He picks up cornmeal, says a prayer to the land, the buffalo, the deer and eagles honored in the daylong dancing happening beyond the kiva's walls. He makes his way to the lead dancer who Pino spotted exhibiting signs of a simple calf cramp and offered a spare electrolyte-rich sports drink to help.
This impromptu moment in 2014 within the kiva, an adobe-made space sacred to Pueblo culture, was powerful for Pino, who at the time hadn't yet seen his worlds as a secondary school head athletic trainer in Albuquerque, New Mexico, and a Pueblo man collide.
"I didn't know I needed that connection," he said.
Pino is from three (Jemez, Laguna and Acoma) of the 19 Pueblo tribes federally recognized in New Mexico and is an enrolled member of Laguna. Membership for federally recognized tribes is determined by each tribal nation and can be based on descendancy, shared customs, traditions and language; membership can be a formal recognition of personal heritage.
Now living in the city, Pino works at Manzano High School in Albuquerque, where he encourages students to live healthy lifestyles. This role also allows Pino to expose Indigenous and Native American youth to athletic training as not only a health care ally, but as a potential career opportunity.
His 15 years as an athletic trainer have increased his passion to become a "modern-day medicine man" on the Pueblo reservation, he said. The athletic training skill set, he said, lends itself to practicing full-body-and-mind health care, much like how medicine men view and practice health care.
Growing up as a high school student athlete on the Pueblo reservation, Pino was injured often. After tearing his ACL in football, when Pino returned to play his first game since recovering, he left the game early with a sprained knee, he said.
He didn't have access to an athletic trainer, and visited the federally funded Indian Health Services in Santa Fe, New Mexico, where a nurse told him if he reinjured the knee, he could lose his ability to walk. Pino left the game of football, something he cared deeply about, altogether because of this fear.
Pino looks back on this moment and believes that if an athletic trainer was there, he would have been told that, through proper rehabilitation, he could have continued to play. Now, he doesn't want Indigenous or non-Native student athletes to feel that fear or disappointment.
This experience with non-Native health care providers or government-funded health care was not unlike the experience most Indigenous and Native American individuals have. There was a distrust there, Pino said, and there still is, something he is working to push through within his community.
As an Indigenous man and the son of a single mother, Pino felt the cards were stacked against him in his journey to becoming an athletic trainer. He recalls being discouraged from attending college or pursuing post-graduate education, and was told he "couldn't do it" or he "wouldn't make it."
Because of this, encouragement has become an important part of his role as an athletic trainer and how he represents the athletic training profession to students and his community.
In addition to providing athletic training services to student athletes at the high school, Pino is also available throughout the school when a nurse isn't available or when concussion testing is needed. By doing this, his reach goes beyond the athletics department.
His place in the secondary school setting allows him to work with Indigenous youth and his Pueblo communities to change this perception. He said he wants to educate the community that athletic trainers can provide health care that takes them as whole human beings into consideration.
Those efforts start at the high school, where he can connect with Native American youth about living a healthy lifestyle through education, exposure and encouragement and continue on the Pueblo reservation where Pino grew up, about an hour's drive from Albuquerque.
He said he has hosted impromptu talks on the reservation about the athletic training profession and AT skill set, and offers services at traditional religious events, such as the annual Christmas dance, where Pino first felt the connection between his urban and Native cultures.
Because there aren't many Indigenous men in athletic training, Pino said he enjoys being in New Mexico and close to his home; it's a place where he can increase representation of athletic training.
"I feel I can open an avenue for that Indigenous student to realize all Indigenous people have a knack for medicine," he said. "The anatomy and physiology will come, but the feeling of how a person feels and knowing what to do to make them feel better is the foundation of who we are as Native people."
He also recently started a Native sports medicine club for all students that will be built around exposure to athletic training and cultural traditions, such as Pueblo feasts.
"These meetings will be built around food," he said, adding that feasts and gathering around traditional, family-style meals are a major part of Pueblo culture.
Although the club is still in an informal stage, Pino said he is dedicated to exposing Native young people to athletic training.
As an athletic trainer, Pino said he is patient and empathetic, and he encourages all ATs to be both, as well, when working with Native or Indigenous patients. That patience and empathy are pushing Pino to educate and expose both communities to athletic training – and pushing him into the role of the modern-day medicine man for the Pueblo community that he has dreamt about.