March 23, 2022 by
Claire Williams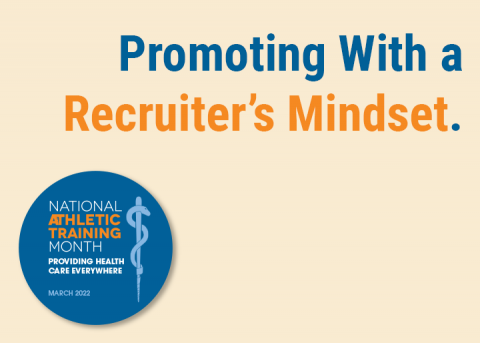 It's National Athletic Training Month! To showcase this year's theme, "Providing Health Care Everywhere," the NATA Now blog will highlight athletic trainers in a variety of settings. Learn about how they're increasing understanding of the profession and how you can, too.  
National Athletic Training Month is all about promoting the athletic training profession to the public and celebrating athletic trainers. Promoting the profession helps increase awareness around the diverse skill set athletic trainers have while celebrating their experience in health care. While many ATs are flexing their marketing skills during March, athletic training recruiters work year-round to highlight the profession and bring ATs into new roles.
Because of their knowledge of athletic training, recruiters can be great marketers for the profession – they are often equipped with tips that all athletic trainers could utilize in their day-to-day conversations to help promote the profession.
Brian Jager, MHA, LAT, ATC, NATA COPA Health Care Administration Committee member, and Megan DeHaven, LAT, ATC, CSCS, talent acquisition specialist with Pivot, are experienced as recruiters for the athletic training profession and have a unique perspective as ATs themselves.
Both Jager and DeHaven were recently featured in the Career Development Webinar series hosted by the NATA Early Professionals' Committee, NATA Student Leadership Committee and NATA Council on Practice Advancement. Their webinar, "Advocating for Myself," is available to watch on-demand.
In athletic training, recruiters work to find qualified ATs for positions across settings, but often work with a hospital or clinic to support secondary schools, colleges/universities, industrial companies and, increasingly, the military. Generally, they source and screen candidates, coordinate the interview process and facilitate offers and employment negotiations.
Athletic trainers can be part of the recruiting process themselves by simply being willing to educate their peers, said Jager, who doesn't work as a recruiter currently, but has past experience. Being an athletic trainer and getting into the recruiting role gave him a platform to educate others on the knowledge and skill set of ATs and how they can fit into different positions.
"My philosophy has always been tell anyone who will listen, and even if they won't, tell 'em again," he said with a laugh. "It's always been about keeping my ear to the ground and being aware of the next thing that an athletic trainer could fit into."
DeHaven, who works as a talent acquisition specialist, previously practiced clinically and, similarly to Jager, found that experience gives her an advantage when discussing open positions with athletic trainers.
She recruits for secondary schools, colleges and universities and companies in the industrial setting. DeHaven has experienced a drop in available ATs looking for open positions since the COVID-19 pandemic. To combat this, DeHaven and Pivot's student engagement coordinators do a lot of outreach to local colleges and state associations.
"Companies should be willing to reach out to universities and make connections with non-athletic training programs to explain the profession," DeHaven said, recommending that outreach to students in health science programs, for example, could result in more interest in athletic training after graduation.
Having a recruiter's mindset, like Jager and DeHaven, is a great way for ATs to promote the profession. Recruiters are communicators who want to tell people why they would be a fit for a certain role, which is applicable for athletic trainers interested in increasing awareness of the profession, as well.
DeHaven said taking the outreach approach and getting involved with the community is one of the best ways to promote the profession.
"It's less about talking to a higher-up on the value of athletic training and more about a community-based approach," she said. "If you focus on the higher-ups, that might be just a few people, but if you do a community event, there's going to be more people engaged and supportive." For example, DeHaven hosted a supply drive in her prior position in health care to encourage the community to donate items to underserved secondary schools while offering education on the AT profession.
Jager's conversational approach is simple: be vocal. He recommend verbalizing the alignment between an athletic trainer's experience and a potential patient population or setting. For example, ATs experienced in emergency medical care for youth athletes could talk with their local recreation center about how an AT could be a fit for their community sports programs.
He emphasized, though, to tailor each conversation with anecdotal examples and data specific to the other party.
"AT's have a very broad education, and just talking about clinicals, for example, doesn't always do a great job to narrow it down to specifics," Jager said. "So, understand the situation and know your audience."
Recruiters have a unique perspective in athletic training, and can not only discuss what athletic trainers do, but also influence how ATs prepare for the job market. As much as DeHaven recommends having conversations with the public, she also encourages athletic trainers to be open to conversations with recruiters.
"That type of networking is really important," she said. "Athletic trainers need to be open to having conversations with recruiters, even if it's not the job that they want, because it has potential to open up doors for them that they didn't know were there."
In the "Advocating for Myself" webinar featuring DeHaven and Jager, ATs can learn more about what recruiters are looking for during the job application process and how to highlight the skills ATs have that are unique to settings and patient populations. Many of these tips are applicable to how ATs can talk with their communities about their role as health care providers. Watch the full webinar on the Early Professionals Resources webpage.
NATA also provides resources ATs can utilize during NATM and throughout the year to advocate for the profession. On the NATM webpage, find downloadable versions of the NATM 2022 logo and poster, a sample press release, media alert, press tip sheet, public recognition script and public service announcement.