August 1, 2022 by
Claire Williams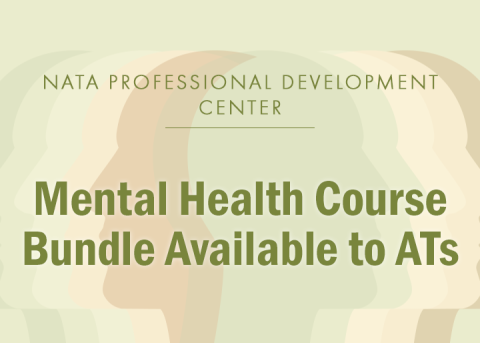 By Lydia Hicks, NATA Content Specialist
As seen in the July NATA News article, "Back to School: A GreAT Start to Fall Sports," mental health, especially during crises, is pivotal to the well-being of athletes and athletic trainers alike.
Mental health has come to the forefront in the last few years, especially during the COVID-19 pandemic. NATA offers several resources and initiatives to help members stay abreast on the topic. One such resource is the current Mental Health Series provided as a course bundle in the NATA Professional Development Center.
The series includes the following courses:
"Current Mental Health Issues Affecting Secondary School and Collegiate Athletes" by Erin Haugen, PhD, LP, CMPC
 
"Recognizing and Managing a Potentially Suicidal Patient" by Jennifer Ostrowski, PhD, LAT, ATC and Grady Hardeman, LAT, ATC
 
"Stigma Prevention" by Jennifer Ostrowski, PhD, LAT, ATC and Grady Hardeman, LAT, ATC
Through this series, participants will learn how to identify and refer athletes with mental health difficulties to qualified mental health care providers. They will also develop strategies to destigmatize mental health conditions and help-seeking behaviors.
Jennifer Ostrowski, PhD, LAT, ATC, who presents "Recognizing and Managing a Potentially Suicidal Patient" and "Stigma Prevention," said that these PDC courses equip athletic trainers with the tools they need to provide compassionate health care to their patients.
"Mental illness is common in the United States, with one in five adults and one in three adolescents experiencing a diagnosable mental illness each year," she said. "Although there are many documented benefits of sports participation, athletes are not immune to these mental health problems."
Erin Haugen, PhD, LP, CMPC, who will shed light on "Current Mental Health Issues Affecting Secondary School and Collegiate Athletes," echoed this, saying that the number of mental health conversations has increased with the times.
"I have worked with athletic trainers for the past 15 years now, and we are really seeing that shift in mental health and well-being," she said. "It's just simply something that athletic trainers are in a real ideal position to identify, respond to and refer athletes experiencing mental health concerns."
ATs who attend Haugen's course will leave empowered with how to identify these mental health concerns and risk factors among the secondary school and collegiate athlete populations, she said. These conditions include burnout, anxiety, depression, eating disorder and substance abuse.
Haugen said her course will also discuss prevalence rates as well as situations "that might put people at risk or factors that might make people more likely to experience those mental health concerns."
These factors, and how to approach them, vary between the collegiate and secondary school settings, she said. For instance, collegiate student athletes can consent to treatments as adults, while secondary school athletes might be too young to do so. Therefore, ATs may have to collaborate with their parents and guardians.
Both settings also have different levels of sports performance, Haugen said. In secondary school, "there is a wide range of competitive levels from recreational to club or elite athletes, whereas at the collegiate level, there are primarily elite athletes, so there are different kinds of performance pressures that are at those two different levels."
NATA Secondary School Athletic Trainers' Committee Chair Jennifer Rheeling, MS, ATC, who applies her AT practice at the District of Columbia Public Schools, said that there are other kinds of pressures student athletes face. She said that stressors among adolescents have changed with the times, especially with the low-income and under-resourced student population she works with. Therefore, athletic trainers have to be adept at being able to handle mental health information their student athletes share.
"We could never know enough," she said. "One thing you would never want to feel is that you didn't respond appropriately in a mental health crisis. So to be prepared ahead of time, just like everything else in athletic training, having a mental health intervention algorithm and knowing warning signs and knowing how to respond without escalating a situation … all those things just help us become better practitioners."
On the topics of "Recognizing and Managing a Potentially Suicidal Patient "and "Stigma Prevention," Ostrowski said that while many athletic trainers report that they recognize signs of mood disorders in their patients, "signs of distress or impaired functioning are not always obvious."
In addition, stigma or fear and embarrassment contribute to approximately 40% of the obstacles individuals seeking professional help for mental health concerns face, she said.
"It can be especially prevalent in athletes who feel they are expected to be 'mentally tough,'" she said.
Ostrowski said there are two types of athletic trainers: "those who have already experienced a mental health crisis with a patient and those who will."
"Interactions with individuals dealing with mental illness or mental health crises is not an 'if' situation, it's a 'when,'" she said. "The majority of athletic trainers have experience with patients with mood disorders, however, many feel underprepared to handle mental health crises and referral. It is important for athletic trainers to be educated about warning signs and risk factors for depression, suicidal ideation and non-suicidal self-injury."
To participate, register now for Mental Health Series in the PDC.