February 14, 2022 by
Claire Williams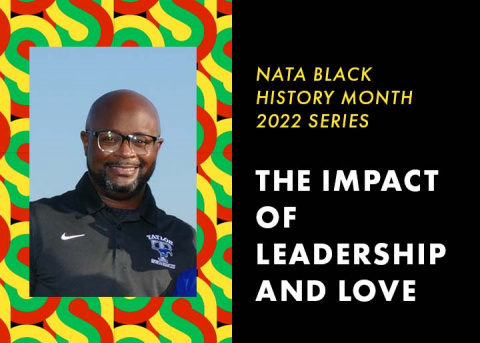 In honor of Black History Month, NATA will highlight some of our young professional leaders at the state, district and national levels and how they're advancing athletic training into the future.
"Lead and love the way you want to be led and loved." Not only does Roderick Williams, MS, LAT, live by this motto, he experienced leadership and love from athletic trainers who influenced him to join the profession, to give back to the profession­­ and, now, to focus on leading a new generation through athletic training.
Head athletic trainer at a secondary school in Katy, Texas, Williams has tripled the high school's athletic training student aide program since 2019, creating a diverse, representational and welcoming space for students to learn and grow. He also serves as the Communication Committee chair and newsletter editor for the Southwest Athletic Trainers' Association.
After 12 years certified, Williams, a career advancing professional, is aware of and grateful for the leadership that some of his mentors have provided that guided him as a young professional and athletic trainer.
"Every stop has been a blessing and moved me forward to a new opportunity that I wouldn't have stumbled into had it not been for others who have gone on before me," he said.
As a high school student athlete and Boy Scout, Williams was introduced to athletic training after being diagnosed with sickle cell trait. He turned to the school's athletic trainer at the time, Michael Fischer, who showed Williams a different side of sports, one dedicated to health care and treating patients to ensure they feel their best in and out of the game.
When Williams was a young professional, longtime SWATA volunteer Chris Shaddock, LAT, ATC, emphasized the importance of giving back to the athletic training profession. Shaddock "gave me the bug," Williams said, which brought him to SWATA leading to his own involvement in the district association.
"It's been very unique getting to network with professionals from all settings," said Williams about his experience on the SWATA Communications Committee, where he started his volunteer journey in 2016. "Getting to communicate and collaborate, and the resources I've gathered in this short time … has been incredible for me."
Williams also referenced volunteering at the 68th NATA Clinical Symposia & AT Expo in Houston as a motivator to continue volunteering.
"That motivated me more to volunteer and contribute to this profession that has awarded me so many opportunities in my life," he said.
As a Black man in athletic training, Williams said, "finding people who can be role models or mentors is important," adding that throughout his career so far, he has found Black leaders in the profession to look up to.
Although he said he didn't see many Black athletic trainers growing up, an internship with the Carolina Panthers professional football team connected Williams with Reggie Scott, MA, ATC, NASM-PES, who influenced his approach to not only providing care, but in building relationships in the athletic training facility. Scott is currently the vice president of sports medicine and performance for the Los Angeles Rams.
"Getting to work with him and see how he engaged with athletes, coaches and club personnel really made a very strong impact on me," Williams said.
Through NATA, Williams met former NATA Intercollegiate Council for Sports Medicine Chair Murphy Grant, LAT, ATC, NASM-PES, and was impressed by his journey, success and involvement in the profession.
"Those two really stood out to me because of how they conducted themselves with humility and, obviously, professionalism, but they're not arrogant or overly confident," he said. "Just watching them from afar and how they led really impacted me when I got the opportunity to lead and work in this profession."
Today, Williams is passionate about the students he serves at the secondary school level, both as an athletic trainer and leader in the student aide program.
"I get to interact with athletes and families, and they get to see someone who looks like them, may come from a similar background as them and they get to see that career arc and how my journey could lead to them accomplishing the goals and dreams they may have," he said.
"Even if it's not in health care or as an AT – they're learning that that if they put in the hard work and they're diligent and carry themselves in a way in a way that reflects positively on them and their families, they can achieve anything they want to."
Since starting as the head athletic trainer in 2019, Williams has focused on revamping the athletic training student aide program and creating an educational and welcoming space. Williams has increased the program from serving 10 students to more than 30 currently.
Although students from all walks of life are welcome, Williams works to ensure that students who are from underserved or troubled backgrounds have a space to feel welcome, safe and get started on the path to success.
"We want to let them know that they have a place where they can feel secure, be confident and be equipped to grow as individuals and as future leaders in our community," Williams said.
Diversity is another important part of Williams' efforts to grow the program. As a student who didn't see athletic trainers who looked like him often, it has been important for Williams to increase the visibility of diversity in not only athletic training, but in health care.
"When patients and families see others that look like them and they feel they're being represented, not just through culturally competent care, but representation – it matters," he said.
As a young professional, Williams has grown from the mentorship and influence other athletic trainers have had on him. Those relationships showed him the importance of giving back, of showing representation and being a part of leading athletic trainers to provide quality patient care.
Williams encourages other young professionals, especially those who are diverse, to create similar environments for their patients and themselves. He stressed the importance of self-care as young professionals, and seeking out the leaders who can influence your care and career.
"Creating a healthy environment to learn and grow and progress as a professional is very important," he said. "If people can find people that are willing to speak truth into you early on as a young professional, you will see success."
Get Involved
NATA provides multiple opportunities for members to get involved and pursue leadership positions. With more than 28 committees, NATA has a committee to fit every setting and niche. View the list of committees on the NATA website.
To find which committees currently have openings, visit Gather and click the Participate tab.
Additionally, check out the volunteer page on the NATA website for a full break down of all the volunteering opportunities, such as liaisons, state/district positions and short-term opportunities.