February 21, 2022 by
Claire Williams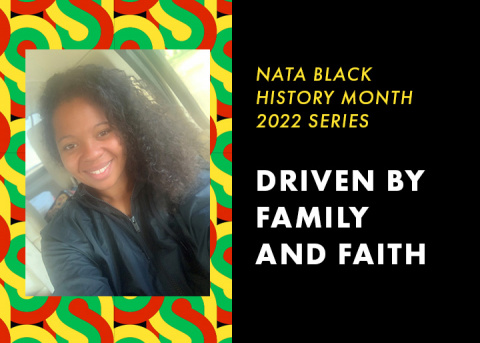 In honor of Black History Month, NATA will highlight some of our young professional leaders at the state, district and national levels and how they're advancing athletic training into the future.
As a young professional, knowing when to draw the line between work and life outside of work isn't always easy. It can come with additional stress, unhappiness at work or at home and it can lead to burnout.
In Texas, though, LaKeesha Busher, MS, LAT, ATC, an entrepreneur and NATA Early Professionals' Committee District Six representative, learned to let her values, not her supervisor, determine her path through athletic training so far.
When she was certified in 2019, though, she didn't find that path right away. Instead, she practiced at the collegiate level and in the industrial setting briefly before realizing the importance of family and faith that she needed to align with her work as an athletic trainer.
This realization led her to start her own athletic training business, and to give back to the profession by getting involved in NATA and the Southwest Athletic Trainers' Association. Making these changes also allowed her to better respect her own values, and she encourages all ATs, especially young professionals, to do the same.
"You gotta stay true to yourself, even when not everyone gets it," Busher said. "Knowing your values will help you find your people in a job, in volunteering, within committees and as a young professional."
Before opening her clinic, Key Movement Solutions, in Coleman, Texas, Busher said she always knew she wanted to own her own business, but didn't exactly plan on it happening so soon into her career.
Her experience as an assistant athletic trainer at a junior college after graduating with her master's degree in 2019 wasn't what Busher expected, who is also a single parent to her 5-year-old son.
"It wasn't the experience I was hoping for; it wasn't the life I pictured for my son," said Busher, referencing her experience with lack of childcare and flexibility.
"I was overwhelmed and I was alone," she said about feeling pressure to overwork herself and choose between time with her son and patients.
So, she left.
"And I felt an immediate weight lifted off my chest," she said.
Busher took her time finding her next role, and found an opening in the industrial setting closer to home that provided her more flexibility. But, Busher left her role at a local warehouse and dug deep to determine what she really valued in her life, and the importance of her employer's values aligning with her own.
"That's when I really started to think about it. I've always wanted to do this – why not now?" she said about starting her own clinic.
"When you own your own business," she said. "You get to choose your values."
For Busher, that was the appeal. Driven by family and her faith, the opportunity to build a space for patients that allowed her flexibility, as well, excited Busher.
"Family is one of my values; it's one thing that drives me," she said.
"Faith is another major value; God didn't put me here to fail," she said about finding her path as an entrepreneur. "He didn't put this idea in my heart for me not to do it."
Since opening the doors to Key Movement Solutions in 2021, Busher said she likes the freedom of owning her own business. She is open with her patients about her availability and dedication to being a mom.
"All my clients know my son," she said with a laugh. But, Busher has felt the challenges of owning her own business.
"Does it get hard? Absolutely. And right now, it's just me," she said. "Yes, you have flexibility, but you also have to have discipline."
Busher often turns to mentors in athletic training that can offer advice in entrepreneurship, and those connections also led her to NATA and SWATA, where networking with other athletic trainers has also been helpful.
"I knew I wasn't the only one out there – a young profession who doesn't want to work under anyone else," she said. "I know I'm not the only young professional out there who's a single mom; I know I'm not the only young professional out there who's fighting all the odds.
"And when I started this journey, I knew I wanted to give back to the profession – I try to make an impact and show people that, you know, you can do it, too."
Joining the NATA Early Professionals' Committee and representing District Six has solidified a passion in Busher that revolves around knowing personal values and respecting those as young professionals.
"You need to know who you are as an individual," she said. "If you know who you are as a young professional, if you know what you want and know what you value, it's going to help with work-life balance. Knowing where you stand helps you draw the line.
"It's going to give you more appreciation for the profession and more appreciation for your peers."
Busher encourages athletic trainers to ask themselves, "What are the things you value?" Determine those and then seek out opportunities that align with those values.
"Don't mold yourself to fit anything except what you want," she said. "When you do that, you get exhausted trying to be someone you're not. … That's how burnout can happen."
As a young professional in athletic training, Busher's journey might not look traditional on the surface, but it has given her an early appreciation for knowing self-worth and its importance in job and life satisfaction.
By volunteering at her district level and with NATA, Busher is giving back to the profession in a way that she hopes helps other athletic trainers find their paths and continue to find, or make, opportunities that align with their values.
"When we do that,I think that's when we start to change," Busher said
Get Involved
NATA provides multiple opportunities for members to get involved and pursue leadership positions. With more than 28 committees, NATA has a committee to fit every setting and niche. View the list of committees on the NATA website.
To find which committees currently have openings, visit Gather and click the Participate tab.
Additionally, check out the volunteer page on the NATA website for a full break down of all the volunteering opportunities, such as liaisons, state/district positions and short-term opportunities.