August 28, 2020 by
Claire Williams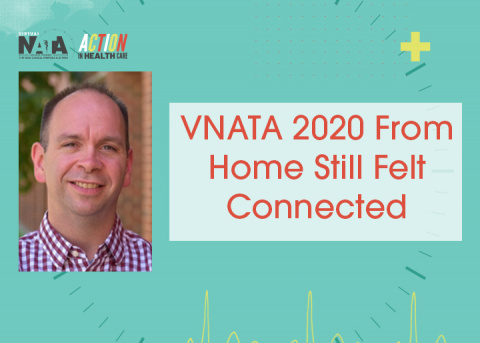 Editor's note: NATA reached out to athletic trainers who participated in the 2020 NATA Virtual Clinical Symposia & AT Expo to learn about their experiences for a blog series called My VNATA Experience. If you would like to share your thoughts on VNATA 2020 as well, email marketing@nata.org. 
Jake Resch, PhD, AT, is a regular at the NATA Clinical Symposia & AT Expo, and he said there was no question in if he'd still attend virtually in 2020.
"The NATA Clinical Symposia [& AT Expo] is an event I look forward to each year and this year was no different. I attended the NATA Virtual Clinical Symposia [& AT Expo] to support our association as well as our students and colleagues who presented their outstanding research," he said.
A collegiate athletic trainer and academic, Resch felt connected to the athletic training community, even from a home office, during VNATA 2020. The virtual component of the experience allowed him to still feel connected, but that catching up didn't prohibit him from viewing sessions he was excited about thanks to the on-demand features of the event.
Learn more and register for VNATA 2020 through Sept. 10. The live portion of the event has ended, but on-demand content and access to the AT Expo is still available.
What was your favorite part(s) of VNATA 2020?
My favorite part of VNATA 2020 was the ability to digest the content of each presentation that I wanted view. Each year the Convention Program Committee does an outstanding job at creating an information packed schedule. Unfortunately, I typically do not have the opportunity to attend every lecture that interests me. VNATA 2020 allowed me to view the lectures that I was interested in without the concern of being able to make it to the next session or missing a concurrently scheduled talk. Another aspect of this year's program that was exciting was the Free Communications program. I really appreciated the stream of "Twitter" posters and oral presentations that were prerecorded. I hope that one or both formats will be intact for future meetings.
What new knowledge/takeaway from VNATA 2020 will you use in your daily practice?
The largest idea that I will take away from VNATA 2020 is how rapidly the science around sports medicine is evolving with topics ranging from concussion to wearable technology. I appreciated each presenter's measured stance of where the science currently is and what is needed to make it clinically relevant.
Why would you recommend VNATA 2020 to your fellow ATs?
The question is why wouldn't I recommended participating in VNATA 2020. The ability to learn from leaders within and outside of athletic training on a variety of topics on your schedule is really impressive. It is even more impressive considering the cost and number of CEUs available for attendees. Overall, participating in continuing education is our professional responsibility and the NATA leadership made the content from VNATA accessible in every sense of the term.
Is there anything else you'd like to tell us about your VNATA 2020 experience?
One sentiment I did not expect to experience was the sense of community. Despite sitting in my home office and viewing several talks via the VNATA portal, I still felt I was part of a large community of athletic trainers who strive to provide excellence in health care to their patients. The NATA leadership, the CPC, the [NATA Research and Education] Foundation and Free Communications Committee deserve a tremendous amount of credit for an outstanding conference that was executed despite several obstacles.