December 30, 2020 by
Claire Williams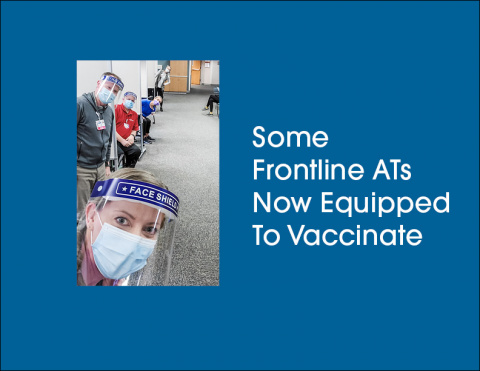 As unpredictable as the last nine months of the COVID-19 pandemic have been for everyone, athletic trainers are uniquely trained to handle the unexpected. Some outreach athletic trainers deployed to the front lines in non-traditional roles, such as coronavirus screeners, became some of the first recommended groups to train and administer the COVID-19 vaccine, and to receive it.
Jay Hanson, LAT, ATC, an athletic trainer employed by a local health care system, is part of a 20 to 25-person athletic training team that has been on the front lines of the COVID-19 pandemic since March, when secondary schools sports stopped and they were redeployed to screen hospital patients for the coronavirus. Since then, Hanson said, they have been working in different capacities wherever there is help needed, from screening at the hospital and various clinics in the community, to administering flu shots in the fall, and now, being selected to administer the COVID-19 vaccine, as state law allows.
As one of the first groups of people in the local health system selected for vaccine training when the COVID-19 vaccine was released, Hanson said he felt comfortable and ready for the job.
"Our training as athletic trainers and our ability to work in a variety of roles and adapt to different situation allows us to grab a role and go with it," he said.
Prior to the COVID-19 vaccine release, Hanson was trained to administer the flu vaccine throughout the community, as well. He said this training on skin prep and needle safety, was helpful in preparing him to administer the COVID-19 vaccine when it arrived for frontline health care workers just over two weeks ago.
After understanding how to reconstitute the vaccine, how many doses can be pulled from a single vial of the vaccine and how to properly inject the shot, Hanson was ready to go. Since the vaccine arrived for distribution, Hanson said he and his coworkers have administered about 4,000 doses to hospital staff, who are selected based on a tiered process.
As an athletic trainer, Hanson said this experience has given him an opportunity to educate a larger patient population and hospital administration on the athletic training skill set. The basics needed for screening for the coronavirus and administering the vaccine are learned early and repeated often in health care, but the time spent screening and vaccinating also helped Hanson further develop his communication skills with a new patient population.
Training to administer vaccinations has expanded the athletic trainers' exposure to hospital staff, management and administration. Hanson and other athletic trainers employed at the hospital are increasing awareness of how much athletic trainers are capable of, just like so many other ATs worldwide.
Although grateful to find a place in battling the pandemic and to be on the front lines during this time of dire need, Hanson said it's challenging not being able to treat patients at the secondary schools. Without full telemedicine capabilities, Hanson has not been able to consistently treat some of the student athletes he was working with before shutdown in March. He said he's eager and prepared to return to the athletic training facility at his local high school to continue treatment in 2021, although that timeline is still uncertain.
For now, Hanson and his coworkers will continue working in groups to administer the vaccine with other nurses and medical assistants. The unpredictability of the pandemic is continuing into the new year, but knowing athletic trainers have been working as a part of the solution since day one, the certainty that athletic trainers are health care is more apparent than ever.
For more information about the COVID-19 pandemic and for resources athletic trainers can utilize, visit the NATA COVID-19 Resources webpage. Since March, NATA has compiled resources from national organizations and uploaded resources created by NATA committees specifically for athletic trainers working in all settings.