March 16, 2021 by
Claire Williams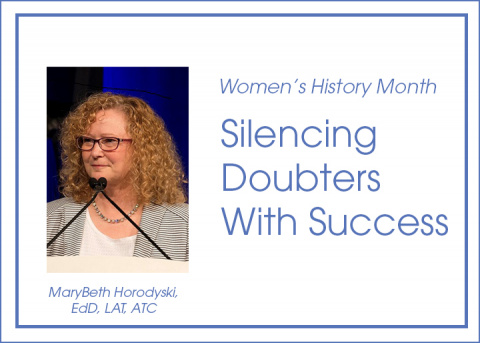 The March NATA News features an article about women in leadership and how to address barriers and challenges to becoming a leader. In honor of Women's History Month this March, NATA would like to keep this conversation going through a monthlong blog series highlighting our female leaders. Each blog will feature a different NATA council or committee chair, who will share insights into their leadership journey and what they've learned along the way.
Chair of the NATA Executive Council for Education MaryBeth Horodyski, EdD, LAT, ATC, discusses the obstacles in her path to leadership as a woman. The naysayers and doubters that may have questioned her career aspirations in the past pushed Horodyski to prove them wrong, and as an athletic trainer, mother, supportive spouse and involved volunteer with NATA, she did just that.
What has been the most rewarding part of being a woman in a leadership position?
The most rewarding part of being in a leadership position is all the amazing people you meet and with whom you get to work. I am sure I have learned more from meeting all these people than I have given in return. What is even better is that many of the people you meet along your leadership path become lifelong friends.
Have you felt you've been treated fairly/equally as a woman in a leadership position? Have there been an obstacles you've had to overcome? If so, how did you overcome/address them?
I have had obstacles throughout my career. People did not think I could be a mom and an AT. People did not think I could get my doctorate when I already had children. People thought I could not lead others (should not be a district director) because I was a woman and would be too soft when decisions needed to be made! Keep your head up and try. I also tell younger folks, select your spouse wisely. Make sure they understand your profession, your goals and your aspirations. Support your spouse in their profession, goals and aspirations.
How do you manage to balance work, life and volunteer leadership positions?
Life is never exactly balanced. What is important is to be able to recognize when you need a time out from work for yourself and your family. 
What advice would you give to women who want to take on leadership roles but worry about not having the time or finding that balance?
Set priorities and boundaries. Very few things in life are critically urgent. It is OK to schedule things the next week if this week is already full.
If younger you was looking at yourself now, what do you think they'd say? Would they have believed you'd become such a successful woman?
I was always told I couldn't do something or I would not make it. I was even told I was not smart enough to be an AT! I am not sure what they would say now, but I am really enjoying my career path even if others did not believe in me.
What is the key to becoming a successful woman in leadership in athletic training?
Don't give up! There is a place for you in leadership. It might not be the first position you apply for, but it will come. Support your friends in the profession and they will support you more than you would ever expect.