April 22, 2021 by
Beth Sitzler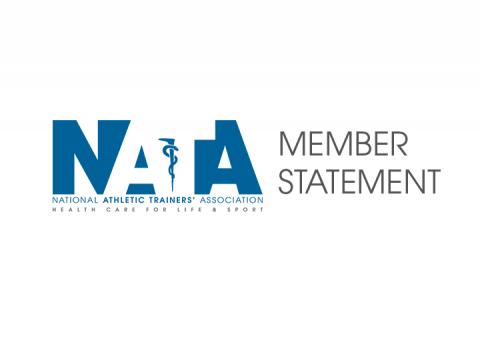 Note: In August 2022, NATA released an updated statement on gender-affirming care. Please read the most up-to-date version here.
Several states have initiated and/or passed legislation that affects health care for transgender youth in sport. Given that transgender individuals suffer behavioral health issues at a higher rate than their cisgender peers, it is imperative that athletic trainers (ATs) are cognizant of how these laws affect the well-being of their transgender patient population.1-3
Approximately 25-30% of transgender individuals have reported being denied care by their health care provider because of their gender identity.4-5 This results in an avoidance of seeking medical care, which, in turn, leads to an increase in behavioral health conditions including depression, anxiety, suicide ideation and suicidal attempts.6
As health care professionals, bound by the NATA Code of Ethics, ATs have an obligation to provide the best care to all patients, "regardless of the patient's race, religion, age, sex, ethnic or national origin, disability, health status, socioeconomic status, sexual orientation, or gender identity."7 ATs develop relationships with their patients based on trust, understanding and acceptance, and may be the only health care provider patients feel comfortable talking to about their health care needs, especially those who work in underserved or rural communities.
In 2017, the NATA Board of Directors established the NATA Lesbian Gay Bisexual Transgender Queer/Questioning+ (LGBTQ+) Advisory Committee to provide educational resources on emerging topics and concerns relevant to diverse sexualities, gender identities and gender expressions. These resources can assist athletic trainers in creating an inclusive environment for their Lesbian Gay Bisexual Transgender Queer/Questioning Intersex Asexual+ (LGBTQIA+) patients, students, athletic training peers and others.
Athletic trainers are essential to health care and share a dedication to providing compassionate care for all. NATA remains vigilant in our efforts to ensure all patients have access to patient-centered health care, including an athletic trainer.
References
Perez-Brumer A, Day JK, Russell ST, Hatzenbuehler. Prevalence and correlates of suicidal ideation among transgender youth in California: findings from a representative, population-based sample of high school students. J Am Acad Child Adolesc Psych. 2017;56(9):739-746.
Arecelus J, Claes L, Witcomb GL, Marshall E, Pierre Bouman W, Risk factors for non-suicidal self-injury among trans youth. J Sex Med. 2016:13(3):402-412.
Veal JF, Watson RJ, Peter T, Saewyc. Mental health disparities among Canadian transgender youth. J Adolesc Health. 2017;60:44-49.
Mirza S, Rooney C. Discrimination Prevents LGBTQ People from Accessing Health Care. Center for American Progress. https://www.americanprogress.org/issues/lgbt/news/2018/01/18/445130/discrimination-prevents-lgbtq-people-accessing-health-care/. Published 2018.
Jaffee KD, Shires DA, Stroumsa D. Discrimination and Delayed Health Care Among Transgender Women and Men. Med Care. 2016;54(11):1010-1016.
Sturtevant J. The Impact of Health Care Discrimination on the LGBTQ+ Population. NATA News. June 2020, 31-32. https://www.nata.org/sites/default/files/the_impact_of_health_care_discr...
NATA Code of Ethics. Updated March 2018. Accessed April 7, 2021. https://www.nata.org/membership/about-membership/member-resources/code-of-ethics
Key Resources
LGBTQIA+ 101
LGBTQIA+ Terminology 101 The plethora of terms used in the LGBTQIA+ community can seem confusing and overwhelming. The most important thing to keep in mind is to always describe people with the words and pronouns they ask you to use. Terminology evolves, and is updated regularly.
LGBTQ+ Myths and Misconceptions within the Health Care Community. In order to have healthy conversations about LGBTQIA+ issues and needs as it pertains to health care, we must move past stereotypes, myths and misconceptions. In this NATA News article, the NATA LBGTQ+ Advisory Committee aims to clarify some of these myths and misconceptions in order to help athletic trainers better serve as advocates for the LGBTQIA+ community.
The Impact of Health Care Discrimination on the LGBTQ+ Population. This NATA News article highlights the main reasons why LGBTQIA+ individuals experience health disparities: discrimination, stigma, victimization & violence, cultural and social norms that prioritize heterosexual and cisgender individuals, and minority stress associated with sexual orientation and gender identity.
Infographics
LGBTQIA+ Health Care Discrimination Infographic
Checklist for Creating an Inclusive & Welcoming AT Facility
Treating Transgender Student Athletes
Transgender Health Care: Ethical and Legal Considerations for ATs (NATA Now blog, June 2020)
Considerations for Developing a Transgender Policy (Sports Medicine Legal Digest, Summer 2020, pdf)
Understanding Implicit Bias in Health Care. This NATA Now blog post explains implicit bias and provides tools for recognizing and addressing your own bias.
For more information and resources, visit the Inclusion Resource webpage under the Professional Interest section.