June 5, 2020 by
Claire Williams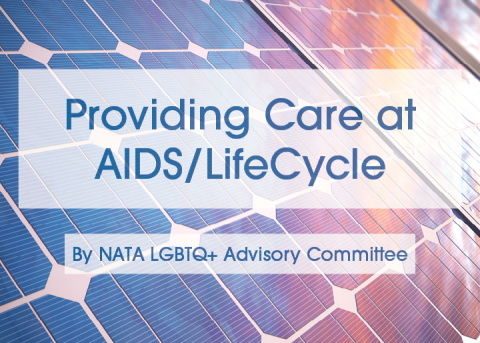 By Kiah Sundermeir, MA, ATC, Preslee Rivera, ATS, Ney Jimmy Rodríguez, ATS
Editor's note: Throughout June, NATA News will share content written by members of the NATA LGBTQ+ Advisory Committee related to different facets of LGBTQ+ health and patient care.
For seven days every year, more than 2,500 cyclists and an additional 600 roadies complete the 545 mile journey from San Francisco to Los Angeles in the AIDS/LifeCycle ride to raise money and awareness of the HIV/AIDS epidemic. Although the event is classified as a ride, rather than a race, cyclists are still in need of a sports medicine team along the way to ensure a safe trip.
As cyclists make their way through California, health services, which includes a medical team, massage team, chiropractic/acupuncture team and a sports medicine team (SMT), are set up at each checkpoint.
The SMT is a volunteer multidisciplinary team that encompasses various sports medicine professionals, including athletic trainers, athletic training students, physical therapists, certified massage therapists and other health care providers to assist with orthopedic injuries sustained during the ride.
The SMT works closely with the other health services teams to provide complete and a high standard of treatment to cyclists. With health services tents all stationed together, the teams are able to collaborate on evaluations and treatments, when necessary, to ensure the most comprehensive treatment is completed.
Although captainship has changed over the years, the SMT is currently led by an athletic trainer and athletic training student, who report to a medical director.
Daily, the SMT typically sees 100 to 200 cyclists for before takeoff in the morning; 80 to 120 cyclists for "quick fixes," such as stretching and taping, at lunch; and 250 to 350 cyclists in the evening for more intense treatments, continuity of care, discussion and education about life beyond the ride.
Most often, athletic trainers are treating for overuse injuries, such as soreness, fatigue, patellar tendon tightness and minor sprains, but occasionally will treat cyclists for injuries sustained during collisions. These could vary from ankle sprains and shoulder dislocations to injuries that require transportation to a local hospital by the medical team.
Time is always valuable throughout the week and members of the SMT must have the ability to complete thorough evaluations and make treatment decisions quickly. Each day begins at 5:30 a.m. and is brought to a close with a team debrief meeting around 9 p.m. that allows the members to review the day's high points, share any stories, issues, gratitude and prepare for the following day.
The cyclists and roadies are very diverse, and that diversity helps incredibly when treating the athlete as a whole. Diverse backgrounds lead to great conversation, and is a highlight for many of the volunteers.
Throughout each day, the SMT is also responsible for packing up and unloading equipment, including regular tables, massage tables, adjustment tables, folding chairs, foam rollers, personal tents, personal luggage and more, at each campsite.
"It had to be the most exhausted I have been in a very long time, physically, mentally and emotionally," said an athletic trainer of their experience on the SMT in 2019. "However, from the first day I arrived in San Francisco, I was greeted with a smile and treated with a level of love and respect I have never witnessed before from complete strangers. … I met people from all over the United States, who had joined in solidarity to support an event so incredibly moving there are no words to describe it unless you have experienced it first-hand."
Volunteer Randi Spencer, LAT, ATC, said her experience with AIDS/LifeCycle provided her with strong connections.
"When I first volunteered as a student, it allowed me to apply my skills and get experience with a sport that I did not have ability to work with at my university. I was also able to network with students, ATs and other sports medicine professionals from around the country," she said.
The AIDS/LifeCycle ride culminates in closing ceremonies held in downtown Los Angeles. Cyclists and roadies alike cross a finish line while being cheered on by a crowd of people. There are tears, hugs, pictures and plans for next year before everyone parts ways, heading back to various parts of the country, bringing a bit of the love bubble with them.
"There is so much love and respect in this event, they call it the 'love bubble,'" the AT volunteer from 2019 said. "I did not know anyone on the SMT or at this event, but they welcomed me with open arms to their love bubble."
 "[The AIDS/LifeCycle ride] will always be one thing I look forward to every year knowing that all I'm going to receive when I step into that atmosphere is love," said volunteer, Lea Gossett, ATC,