July 2, 2020 by
Claire Williams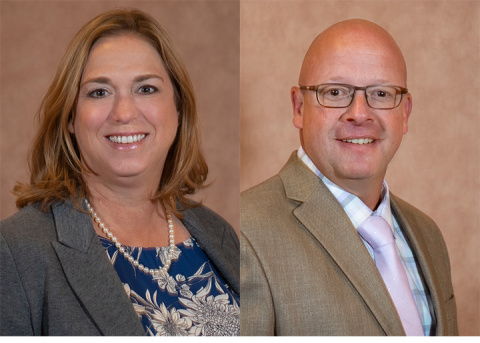 The July NATA News introduced the two new board members representing Districts Two and Five. NATA officially welcomed Tanya Dargusch, LAT, ATC, representing District Two; and Rob Marshall, ATC, representing District Five in June. Read on to learn more about Dargusch and Marshall, the newest NATA board representatives, who sat down to answer some questions about their passion for athletic training.
Why did you want to join the NATA Board of Directors?
Tanya Dargusch, LAT, ATC: Athletic training in the 21st Century has evolved and changed from athletic training in the past. This has been possible due to the foresight and dedication of our past and current leaders. We are in a very exciting time with our increased presence on the national stage. I wanted to continue to carry the torch of these leaders and reflect our members' voice in the board room. I believe that there is no better profession than athletic training and the value ATs bring to their patients. I can think of no better service than being a part of the Board of Directors and helping to usher this profession into the next chapter of our evolution.
Rob Marshall, ATC: Getting a position on the NATA Board of Directors was never really a goal I had set for myself.  My original goal was to be involved and be part of advancing the athletic training profession within the state of Nebraska. As I progressed through different service opportunities, running for an office within the Nebraska State Athletic Trainers' Association (NSATA) and the Mid-America Athletic Trainers' Association (MAATA) eventually became a possibility. I am very blessed to have these opportunities at the state level and later at the district level. I have always enjoyed my time on these boards. The next step was to run for the NATA Board of Directors.
Some would look at these positions as service to the profession, but I have always looked at them from a different angle. At each level, I was able to work alongside some of the most incredible and dynamic leaders in this profession. For many years, during national convention, I would sit in on the NATA board meetings and watch the board work. I was always very impressed with the depth of knowledge these people had about seemingly every area of athletic training. It was easy to see that they were the leaders among leaders. A year ago, I was given the opportunity to become the District Five director. During my time as director-elect, I have been able to watch many of the amazing people this profession produces. The NATA board, national committees and NATA staff are truly gifted professionals. I am very excited for the chance to work with them while working towards advancing the mission of the NATA for all NATA members.
What do you hope to accomplish during your time on the board?
Dargusch: There are several programs I would like to initiate at the district level that support our national vision and NATA's strategic initiatives. We will map out a plan concentrating in three areas: communication, continuity and professional advancement. These programs will support two-way communication with our membership and leaders.
I want to improve the promotion of the value of the AT on the national health care stage and with key stakeholders. Cultivate past relationships and create new ones where we work together with other health care professions on common projects to improve patient care and community health. I want to continue to promote the expansion of secondary school athletic training jobs and increase the percentage of secondary schools that have access to ATs. We have made great progress, but this is still an underserved market that greatly needs the AT's expertise. Expansion and continued support of initiatives to promote third-party reimbursement at the national and state level and the expansion of our research and promotion of outcomes are also important. Many of our members and all of our leaders have a passion for athletic training with a common thread to see this profession flourish. Together we can accomplish these goals.
Marshall: My immediate goal for my time on the NATA Board of Directors is to listen and learn first. The profession has experienced explosive growth across settings within the United States and around the world. We all have common issues we face on a daily basis, but as we grow, we will face challenges we haven't even thought of yet. A wise man once told me, "The good Lord gave you one mouth and two ears for a reason!" My sincere hope is that, during my short time on this board, I will be someone who listens to all sides and becomes a productive part of the solution.
Why is volunteerism within the profession important to you?
Dargusch: I was taught early in my athletic training career that giving back to the profession was important. My mentors, Ron Sendre, AT Ret., and Ken Kopke, AT Ret., led by example in blazing new trails for the profession. I feel that every day athletic training gives me so much through my relationship with my patients and the students who have made an impression throughout my life. There is nothing better than seeing a patient get better and back to doing what they love. There is an invaluable reward in that. That has motivated me to give back to this profession that has given me so much. I would like to see all patients have the outstanding care of an AT. By giving back to this profession, I might be able to bring this message and value to so many more. You only live a short time on this earth. It is the impact you have that becomes your legacy.
Marshall: The simple truth is that NATA and this profession couldn't flourish without the army of volunteers we have. I have always found that volunteering seems to be a natural characteristic of most ATs. Regardless of where they live or work, ATs across the country step up daily to advance this profession. Personally, I believe it's my responsibility to give something back to a profession that I love and has done so much for me. Along the way, I have been incredibly blessed with relationships and opportunities I would have never had without the service to the profession. If anyone is considering getting involved, I can assure them that they will be forever thankful that they did.
What drew you to the athletic training profession?
Dargusch: I had seen an episode on a news program about athletic training. I remembered thinking how it was a job that I could combine all the things I love: athletics, science and helping people. Just after that, I sustained a knee injury while competing before a big regional track meet. I was afraid to go see the physician because I knew he would tell me I had to rest and could not compete. Unfortunately, I went to the track meet and ended up faulting three times. I could not get my approach steps right because I was limping so bad. I knew then I wanted to be an athletic trainer so that I could actively help athletes get better and back in their sport.
Marshall: I grew up in a very small town and I played eight-man football. I wasn't exposed to the profession in any meaningful way except to say I watched people taking care of athletes during the games I watched on TV. When I got to college and began investigating athletic training, I fell in love with it. The part that drew me in most was problem solving. How do I take an athlete who is injured on the field, in a stadium full of fans, and work through the pain and emotion of the situation to arrive at a decision with all those people watching? It all seems normal now, but when I started, I was in awe of the ATs who did it so effortlessly. In addition to the injury aspect, they solved staffing and multiple practice location issues. Every day seemed to bring a new challenge, and I learned to love the process of problem solving. When I finally got my first job, I found all those challenges waiting for me to solve for myself. To this day, one of the things I love about this profession is that each day will have a few surprises.
Who has influenced and mentored you in your career?
Dargusch: I was fortunate enough to be educated by Ron Sendre, AT Ret., and Ken Kopke, AT Ret. If it wasn't for Ron I may not have been an athletic trainer; he gave me the courage to pursue the profession I love. They both taught me to think outside of the box when it comes to athletic training and the patients we help. They created the industrial athlete model which I had the privilege to be a part of.
Through my career, my athletic training colleagues have been a huge influence on me with their passion for the profession and their intelligent perspective. Jeff Ryan and Chad Starkey, PhD, ATC, FNATA, pushed me to first get involved on the national level. Michael Carroll, MEd, LAT, ATC, Eileen Bowker, MA, LAT, ATC, Mary Kirkland, MS, LAT, ATC, Steve Bair, AT Ret., Bill Von Leer, MA, LAT, ATC, Eric Schwartz, MEd, LAT, ATC, and Linda Mazzoli, MS, LAT, ATC, have always been there to be my sounding board for problems, frustrations and solutions. Charlie Thompson, MS, ATC, Michael Goldenberg, MS, ATC, CES, and AJ Duffy, MS, ATC, PT, have been strong leaders in the profession and are on my speed dial. There are so many others. The complete list is too long but they have all left impressions that will last a lifetime.
Marshall: During my years at the University of Nebraska, I was very fortunate to work under three members of the NATA Hall of Fame. George Sullivan and Jerry Weber, ATC, PT, were always present in the athletic training room. Duke LaRue was my program director. Looking back, I appreciate the influence that these three had on shaping me as an athletic trainer. Truthfully, at the time, I was scared to death of them. To this day, if I lean against the counter in the athletic training room, I get a faint stinging sensation on the back of my neck. 
I spent several clinical rotations at an area high school in Lincoln, Nebraska, that really changed the course of my career. Mac McCuiston, ATC, was the athletic trainer at Lincoln East High School. He was, and is to this day, a mentor to me. On a daily basis, he would challenge me to think critically and back up my decisions with solid reasoning and facts. Any time we would discuss topics within the profession he would insist that if I thought it should be different, then I should get involved and work for change. That is exactly what I've tried to do. My years of service and my love for the secondary school setting are a direct result of my time with Mac.
The two strongest influences on me personally and my career have come from peers. Jason Jenkins, MSE, LAT, ATC, and Rusty McKune, MS, ATC, started with me all those years ago. We talk almost daily even now.  I don't think I have made a single professional or life decision without the input of those two great men. If you are lucky, you will find a lifelong friend who knows the ups and downs that life and this profession can bring. I am incredibly blessed with two.