May 12, 2020 by
Claire Williams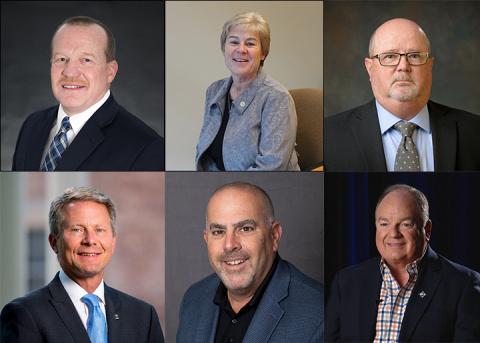 The May issue of NATA News features a special look at each of the six athletic trainers inducted into the NATA Hall of Fame this year. From their accomplishments and contributions to the profession to their own personal passions and influences, each one has a great story to tell. We are continuing the conversation on the NATA Now blog in May. Stay tuned for more insights from these impressive athletic trainers.
What's your most memorable moment in the profession?
Glen "Larry" Cooper, MS, LAT, ATC
Any time spent with the students and athletes was very special. The absolute best however was when I had some former students or student athletes tell me that they just passed their BOC exam. It can be an amazing feeling knowing that you piqued and developed the interest of a young person enough to have them want to join the profession that you have so much love for.
Denise Fandel, MBA, CAE, AT Ret.
When the Strategic Alliance came together for the discussion about the change for the professional degree. The momentum from that cooperation and collaboration was transformative for the profession and most importantly it has continued and become more impactful as the professional takes on more comprehensive strategic initiatives.
Greg A. Gardner, EdD, ATC, LAT
One of my most memorable moments in athletic training came after I had been to Jordan to work with the Jordanian Olympic Committee. The year before, one of their athletes had died due to an airway issue. During the year after we taught an introductory course there in Amman, two additional athletes suffered the same thing, an airway compromise. Both athletes were treated by students that took our course four months earlier and both athletes survived due to proper airway management. The work we did in Jordan was significant and continues to have a direct impact.
Kevin M. Guskiewicz, PhD, ATC, FNATA
Leading the NATA's pronouncement committee for the management of sport concussion in 2003-04 was an extremely rewarding experience. This was a critical period of time for bridging the gap between concussion research and clinical practice, and I'm proud that we were at the forefront as a profession. The widespread impact that these best practice guidelines have had on protecting and treating athletes at every level of play has been a highlight in my career. Additionally, in 2010-11, I had the opportunity to draft legislation for the The Gfeller-Waller Concussion Awareness Act in North Carolina, aimed at protecting the safety of student athletes. This bill was signed into law on June 16, 2011, and made for a very special day for our Gfeller Center team, as well as the Gfeller and Waller families.
Jeff G. Konin, PhD, ATC, PT, FACSM, FNATA
I have truly been blessed with some amazing moments in my career. In some cases, it was the opportunity to work alongside some of the very best athletic trainers this profession has known. Other times, memorable moments came from the athletes I treated who returned to play successfully and achieved their goals. Without question, working on the medical staff at the 1996 Olympic Games in Atlanta brings back very special memories, as does publishing a textbook as a very young athletic trainer with minimal street credibility. However, winning a gold medal at the 2010 World Championships in Vancouver as part of Team USA Wheel Chair Rugby was something I will never forget. Being on the medal stand, having a gold medal draped over my neck, watching the American flag raised while the national anthem was playing is embedded in my mind and gives me the chills to this day every time I think about it. The experience of being in a Team USA locker room for a pregame speech with 12 of the sport's best athletes and a coaching staff that possessed immeasurable leadership skills could never be learned in any classroom.
Mark A. Letendre, ATC
There are so many moments that affected me.
The call from Jack Butterfield that I had been hired by the New York Yankees. The call from Yankees general manager Bill Bergesch that I would be joining long-time head athletic trainer and one of my mentors, Gene Monahan, LAT, ATC.
Al Rosen, president and general manager of the San Francisco Giants, informing me I would become the head athletic trainer. Major League Baseball Executive Vice President Sandy Alderson calling to say I had been granted the opportunity to build the first ever in professional sports wellness program for MLB umpires.
Upon my retirement, hearing from former New York Yankees, San Francisco Giants and Major League Baseball active and former umpires thanking me for me years spent caring for their health.