November 18, 2020 by
Claire Williams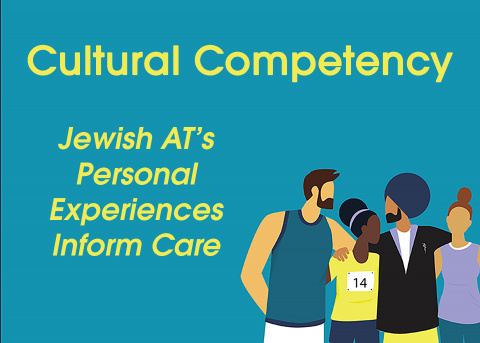 Being a culturally competent health care provider is not limited to understanding variances in gender identity, race or ethnicity – ATs must also be aware of their patient's religious values. This type of education and awareness can come from personal experience and/or a proactive effort to increase personal awareness of religious traditions that may vary from the one's own. 
For Karen Lew Fierman, DHSc, LAT, ATC, an observant Jewish woman who has personally experienced a lack accommodation from health care professionals for her own treatments, understanding religion's place in cultural competency is even more important.
Recounting an experience she had with her physician when she felt her observances of Jewish holidays were not accounted for when scheduling procedures, Lew Fierman said asking questions and encouraging open communication with patients are important for ATs as culturally competent health care providers.
"With the Jewish holidays potentially falling within my treatment dates, I was very specific to ask questions about expectations," Lew Fierman said, also confirming that she spoke with the clinical staff, practice manager and physician on multiple occasions noting she needed an earlier appointment as the Jewish holidays begin at sundown the night before.
"I was offered a 4:30 p.m. appointment or one the next day at 9 a.m. While understanding the time sensitivity, I was willing to make accommodations, but I felt as if my religious beliefs were not being heard.
"My biggest concern is the immediate dismissal for my religious view and no one took the time to ask questions or research."
Although Lew Fierman is hyperaware of religious traditions and values when treating her own patients because of the personal experience she has had as a Jewish woman, not all athletic trainers have personal experiences to inform their own practice. Instead, she encourages athletic training students and all ATs to treat each patient individually. 
"Do not make broad assumptions. Patient outcomes may be impacted by lack of cultural competence and inclusion," she said.
Athletic trainers should be aware of the religious and cultural trends among their patient populations, Lew Fierman said.
To increase awareness, there are several strategies ATs can use to improve cultural competence as a health care provider, such as Linda Leavitt's three-step strategy, which was outlined in a 2017 NATA News article and included in a cultural competence infographic available on the NATA cultural competence webpage:
Reflect on your personal experiences when specific values have influenced your decisions as a patient and as a clinician.
Learn about the different values that influence outcomes and have positive and negative influences on patient experience.
Value the communication between patients and clinicians – don't be afraid to start a conversation and ask questions
To provide a specific example, an athletic trainer working in New York City may need to be more aware of Jewish holidays due to the large Jewish population there. It is likely that an athletic trainer will treat observant Jewish patients, and their treatment may vary based on availability or values. Learning about different religions can better inform treatment plans, and the patient experience.
Additionally, ATs should be aware of any dietary restrictions associated with certain faiths, such as Judaism and Islam. Make accommodations for treatment, including both in-person or at home recommendations, for religious fasting practices, such as those that take place during the Muslim holy month of Ramadan.
Conversely, athletic trainers should be aware of asking questions about religious values when treating patients because, as in Lew Fierman's case, observing Jewish holidays is not as common where she lives. ATs should respectfully communicate with patients to understand their individual values, regardless of setting or location.
For more information about providing culturally competent care as an athletic trainer, read the November NATA News and visit the NATA Cultural Competence webpage.