July 14, 2020 by
Claire Williams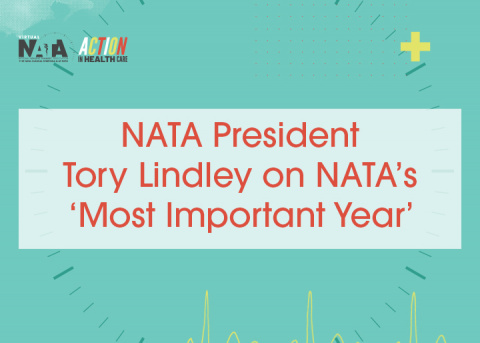 Although attendees at the 2020 NATA Virtual Clinical Symposia & AT Expo were watching the General Session from behind a computer screen, NATA President Tory Lindley, MA, ATC, made it clear that this year's convention will not be less impactful – and emphasized that this year will be the most important year in the association's history. Lindley delivered an encouraging State of the Association address July 14 during General Session at VNATA 2020.
Welcomed via thank you video from Dwayne "The Rock" Johnson, VNATA 2020 attendees tuned in to hear Lindley share updates, thanked outgoing board members, introduce new district directors and announce new NATA developments with a particular focus on the impact of COVID-19 and racial injustice on the athletic training profession.
"Make no mistake, 2020 will be the most important year in NATA history," Lindley said. "The events and the experiences from this past year, unprecedented in our lifetime, will forever unite us as a professional association."
Lindley provided updates based on the three pillars that make up NATA's strategic plan: advocacy, engagement and development. He highlighted success and progress over the past year in each one, crediting volunteer leaders and NATA staff. He focused on passing ground-swelling federal legislation, expanding professional development opportunities for ATs and investing more than $1.5 million in research, innovation and projects to improve patient care.
In advocacy, highlights included recognizing 285 schools that earned the Safe Sports School Award, signifying dedication to athlete safety best practices; registering the third week of October as National Youth Sports Specialization Week; AT Your Own Risk and NATA launching the Prepare to Play program with the Kansas City Chiefs; and Lindley testifying on the U.S. Senate floor in favor of athlete safety and the integrity of U.S. sports.
Additionally, NATA tracked more than 650 legislative bills across all 50 states; launched and hosted five Legislative Boot Camps at state associations to advanced state-specific efforts; and launched the Accountable Care Organization Management Services Organization Demonstration Project with the first pilot group that will collect data related to the efficiency of AT-provided services selected.
To move engagement forward, NATA launched the Mentor Match Program on Gather, pushed the AT EducATionalist Community to expand and grow in athletic training education and transitioned NATA Chats virtually via Facebook Live.
Lindley credited the NATA structure to success in development, especially during the response to the COVID-19 pandemic.
"This was led, most notably, by the nimble actions of our NATA committees and dedicated staff," he said. "Our ability to attack immediate member needs is evidence of another strength of our association, our structure. The expansive committee structure advances our ability to meet members where they are and address their unique needs while traversing through a host of variables."
He highlighted the NATA Intercollegiate Council for Sports Medicine, NATA Council on Practice Advancement, NATA Executive Council for Education and NATA Secondary School Athletic Trainers' Committee as "flourishing example[s] of the importance of our structure and the significance of subject matter expert clinicians poised to create original guiding resources."
Lindley followed a review of a successful year with the strategic priorities the association continues to focus on advancing in athletic training and patient care, including:
Advancing third-party reimbursement for AT services
Increasing the demand for ATs in all settings
Improving cultural humility and competence of all leaders
Increasing diversity in leadership and in the practice of athletic training
Promoting the practice of athletic training to the fullest extent of skill set and training
The NATA president closed the session with a focus on the "racial awakening of inequity and injustice in the Black community" and addressed the association's response. Lindley also outlined how NATA plans to move forward – by listening and creating measurable goals that will address common themes from an upcoming internal assessment.
"This pandemic, along with the continued displays of racism, police brutality, civil and social oppression, have shown a glaring light onto the deepest fault lines in our society," Lindley said. "It calls on us to recognize our need to act.
 "NATA will use these societal challenges to build a more just, more humane and a more agile, member-focused organization than we have ever been before."
Before signing off, Lindley introduced a video compilation of so many ATs in action during the COVID-19 pandemic. The photos included were collected through NATA's ATs in Action campaign and submitted by athletic trainers from around the world working on the front lines and in different ways to support their patients and communities.