June 22, 2021 by
Claire Williams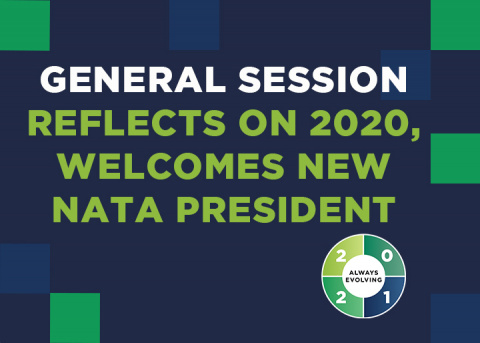 Kicking off the 2021 NATA Virtual Clinical Symposia & AT Expo, for the first time in recent convention history, was the General Session and Changing of the Guard ceremony. Before passing the baton to NATA's 15th president, Kathy Dieringer, EdD, LAT, ATC, for her first association address, NATA Past President Tory Lindley, MA, ATC, reflected on the challenges and successes of the past year.
As part of the virtual General Session, Lindley recognized outgoing NATA directors, Marisa Brunett, MS, LAT, ATC, of District Nine and Chris Hall, MA, LAT, ATC, of District Six, for their service and welcomed the incoming directors for Districts Six and Nine, Scott Galloway, MBA, LAT, ATC, and Donna Wesley, MS, LAT, ATC, respectively, to the NATA Board of Directors.
In addition to welcoming Galloway and Wesley to the board, Lindley also announced District Ten Director Tony Fitzpatrick, MA, LAT, ATC, as the next NATA vice president.
For the first all-attendee event of VNATA 2021 Tuesday, June 22, the General Session included an update on association finances from Hall before announcing Diane Sartanowicz, MS, LAT, ATC, as his NATA treasurer and Finance Committee chair successor.
Hall acknowledged a loss in revenue from not hosting the 71st NATA Clinical Symposia & AT Expo in person, but reassured attendees of the association's strong financial reserves that have allowed NATA to continue to grow. In 2020, Hall said, more than half of program expenses were for advocating for athletic trainers and education, especially at the beginning of the COVID-19 pandemic when members needed support the most.
In his final State of the Association address, Lindley highlighted NATA's efforts in pushing the association mission forward for members and the profession, and encouraged members to continue to "thrive on" – his guiding motto throughout his three years as president.
"2020 challenged each of us in many ways both personally and professionally," he said. "Through the tireless work of our great board of directors, our volunteer leaders and our staff, we remained diligent navigating the layers of uncertainty, guided by our mission and our members. We searched for and created opportunities."
Those opportunities included NATA's response to the pandemic.
"By May of 2020, NATA was a model for health care member associations around the country," Lindley said. "No other organization, no society, no alliance, no club of the month performed on behalf of the member and on behalf of the profession like NATA."
Those opportunities also included introducing several setting-specific conferences that covered groundbreaking research and creating opportunities for peer-to-peer learning over the past four months of 2021.
Lindley also acknowledged the opportunities seized to advocate for the profession and educate the public on the role of ATs, specifically during the pandemic, when ATs were thrust to the front lines of care. In 2020, NATA earned more than 1.7 billion media impressions and is on track to surpass that in 2021, already garnering 850 million impressions so far this year.
He touched on the increase and development of partnerships with other health care professions, such as the American Physical Therapy Association, and the growth of NATA's third party reimbursement efforts.
As Lindley concluded, he opened the virtual floor to Dieringer after thanking the association for the opportunity. 
"Looking back fondly and proudly, it has been the highlight of my professional career and an honor to serve as the president of this incredible association," he said.
"Looking ahead, the horizon is brilliantly lit. No NATA president is more decorated, more experienced or more prepared to lead us than Kathy Dieringer. Her health care business IQ, skilled listening ears and extraordinary humility is exactly what our association needs, right now, as our 15th president."
In her first association address, Dieringer opened with a reflection of NATA's successful past, especially during the pandemic, and iterated the importance of looking ahead.
"'Built for This' is the perfect description of our ability to practice at the top of our skill set when the call comes," she said. "We are indeed built for doing whatever is necessary to provide optimal patient care, regardless of the situation presented to us. It is a point of pride to recognize you for your response these last 18 months.
"While reflection creates pride and appreciation for you, our members, we also remain cognizant of the future and the many imperatives facing our profession."
Dieringer focused on outlining her business imperatives for NATA over the next three years, which include:
Securing athletic training as a destination profession
Recruiting the next generation of athletic trainers
Continued support and cultivation of various practice settings
Increasing diversity in athletic training
She highlighted her intentions to increase effort in third party reimbursement, addressing compensation for the profession and expanding athletic training education and recognition across all settings.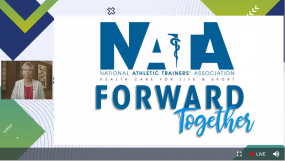 "'Every athlete deserves an athletic trainer' isn't just a catch phrase to us," she said, "but rather a goal that we will continue to pursue and prioritize." 
Dieringer's focus on diversity will continue with NATA's Diversity, Equity, Inclusion and Access Plan and the recently appointed DEIA Task Force to lead the association there.
"We're not taking the quickest or easiest path, but rather the one that we believe – from expert counsel – will have the most sustainable impact," she said. "We will continue to be intentional about this work – and hold ourselves accountable to the outcome we want to see."
Dieringer closed with a positive outlook and call to action for members to collaborate, as well.
"Nothing can stop us if we are aligned in our mission, our strengths and our strategies," she said. "We, each and every one of us, are woven into this fabric we call athletic training. Our strength and our place in health care depends on our ability to work as a cohesive unit, while listening to new ideas and visionary thought from each of you."
Her closing statement encompasses her goals to work cohesively and collaboratively on behalf of all NATA members: "Forward together."