June 9, 2021 by
Claire Williams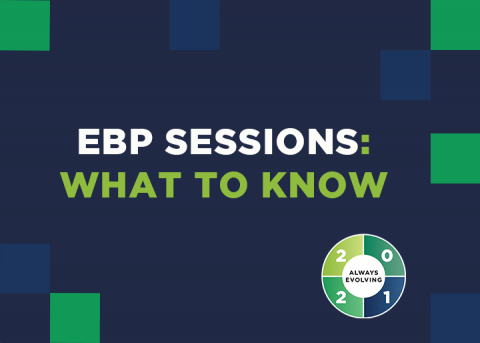 The 2021 NATA Virtual Clinical Symposia & AT Expo is one of the best opportunities to earn CEUs with the opportunity to earn up to 25 CEUs – and that includes access to earning 7.5 Evidence-Based Practice CEUs as well. EBP lecture sessions at VNATA 2021 incorporate the newest evidence into clinical decision-making, with the goal of improving patient outcomes. 
During the VNATA 2021 live dates, June 22-24, there will be eight EBP sessions offered. They will also be available on-demand through Sept. 30. The EBP sessions cover VNATA 2021 themes – ergogenic aids, mental wellness and emergency preparedness/response – as well as other topics relevant to athletic trainers and the profession.
Each of these lectures incorporate data from relevant and recent research, clinician expertise and patient preferences that will help guide clinical decision-making for practicing ATs. Research has shown that health care that is evidence-based and conducted in a caring context leads to better clinical decisions and patient outcomes.
The following are the EBP sessions offered during VNATA 2021 live and on-demand. For more information about EBP sessions and all educational programming at VNATA 2021, visit the Education section of the VNATA 2021 website.
Concussion Rehabilitation for Adolescent Athletes: What Feasible Methods Can Athletic Trainers Implement To Improve Outcomes?
11:15 a.m. to 12:15 p.m. CDT June 22
Presented by David Howell, PhD, LAT, ATC
This presentation will explore ways to implement individualized rehabilitation programs for adolescents with concussion.
The Effectiveness of Diet, Nutritional Supplements and Physical Activity Versus Medications for the Treatment of ADHD
1:30 to 2:30 p.m. CDT June 22
Presented by Dawn Weatherwax, ATC, RD, CSSN
This session will examine evidence comparing the effectiveness of medication, diet, supplementation and physical activity in the treatment of attention deficit hyperactive disorder .
What To Do Before Shots Are Fired: Designing an Emergency Action Plan for an Active Shooter Incident at Your Institution
2:45 to 3:45 p.m. CDT June 22
Presented by Edward Strapp, Maryland State Police
This presentation will describe evidence-based prevention strategies for active assailant event response and explain how differences between the classroom settings and athletic environments significantly alter the required response to those building an emergency action plan.
Effect of Sleep Performance on Athletic Performance and Well-Being (Sponsored by IcyHot)
10 to 11 a.m. CDT June 23
Presented by Ben Potenziano, MEd, ATC, and Meeta Singh, MD
This session will describe the effects of sleep loss on athletic performance, how to identify sleep-related health issues in athletes and how implement intervention strategies to assist athletes with sleep issues.
Body Dysmorphic Disorder, Eating Disorder Risk and Dietary Supplement Use in Physically Active Populations
11:15 a.m. to 12:15 p.m. CDT June 23
Presented by Toni Torres-McGehee, PhD, SCAT, ATC
After this session, attendees will understand how to identify feeding and eating disorder risk and how body dysmorphia is critical and athletic trainers need to be aware of types of dietary supplements commonly used, which in turn may be detrimental to a patient's health.
Utilization of Epidemiological Data To Create Heat Policies and Reduce Risk Rates
2:15 to 3:15 p.m. CDT June 23
Presented by Bud Cooper, PhD, ATC, and Yuri Hosokawa, PhD, ATC
Recent research has shown that there is a need for either regional or statewide environmental evaluation in order to best provide the basis for pertinent policy development. At the end of this session, attendees will be able to explain the basic principles of environmental heat assessment and its impact on human thermoregulation, describe variables to consider when making policy changes for exercise in hot weather environments and describe whether WBGT values are affected by athletic playing surface or not.
Improving Hydration During Sport and Physical Activity: Habitual Fluid Intake and the Role of Hydration Supplements (Sponsored by MX3)
10 to 11 a.m. CDT June 24
Presented by William Adams, PhD, ATC, FACSM
Following this presentation, athletic trainers will better understand proper fluid intake recommendations and be able to optimize the hydration practices in their clinical settings.
Utilizing Emotional Intelligence in Your Clinical Practice (Sponsored by IcyHot)
11:15 a.m. to 12:15 p.m. CDT June 24
Presented by Lisa Kluchorsky, MEd, AT, ATC
At the end of this session, attendees will be able to define the emotional intelligence model and associated competencies, describe the importance of applying various strategies to fit the situation and people involved and identify personal strategies for incorporating emotional intelligence to influence clinical care.
Register Today!
Early registration for VNATA 2021 – $179 for current professional members – is available through June 21. After that date, registration will increase to $229 for current professional members through Sept. 30. Current professional members can save an additional $50 by prepaying their 2022 NATA membership dues. Retired and honorary members can register for VNATA 2021 for free.
For the entire pricing breakdown, more information and to register, visit the convention website.