July 10, 2020 by
Claire Williams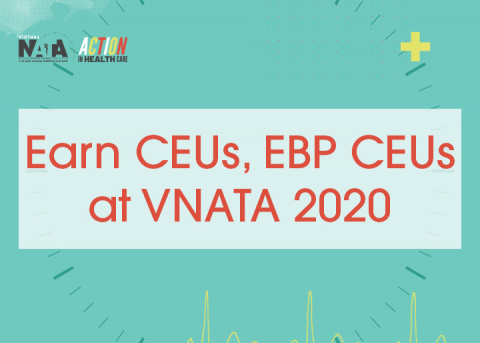 Certified athletic trainers attending the 2020 NATA Virtual Clinical Symposium & AT Expo, live and on-demand, have the opportunity to earn up to 25 CEUs, including 5 EBP CEUs. Attendees can participate in any combination of live and on-demand sessions to reach the maximum number of CEUs allowed.
To earn CEUs, ATs must view a session in its entirety and complete an assessment. Completed assessments must be turned in by Sept. 10 through the VNATA 2020 platform. Attendees are encouraged to complete assessments as they complete each session during VNATA 2020. If assessments aren't submitted by the deadline, participants will not receive CEUs for the session.
During the live portion of VNATA 2020, it is important that attendees are on time for sessions as participation in each session will be tracked by the minute and the entire session must be viewed in order to take the assessment. If needed, attendees can validate the time spent in each event you have attended by clicking on Help Center, Privacy Center, and then Profile Usage in the VNATA 2020 platform. This will show confirmation of time spent in educational sessions. 
On-demand attendees must still watch the full session, but can pause and rewind as needed. At the end of each session, click the "Assessment" button located above the screen in the session room. Attendees can also access assessments through the Help Center.
VNATA 2020 attendees can earn up to 5 EBP CEUs. Evidence-based practice sessions are available to view and complete during the live portion July 13-16 and will also be available on-demand through Sept. 10 on the VNATA 2020 platform.
Monday, July 13

9:15 to 10:15 a.m. CDT: "Enhancing Secondary School Athletics Health and Safety Policies: Examining the Evidence, the Progress and the Challenges"
2:45 to 3:45 p.m. CDT: "Application of Precision Sports Medicine to the Management of Sport-Related Concussion"

Tuesday, July 14

1:15 to 2:15 p.m. CDT: "Got Data? Using Patient Care Documentation to Drive Clinical Decisions and Improve Care"

Wednesday, July 15

1:45 to 2:45 p.m. CDT: "Treatment of Ankle Sprains & Instability: Linking Theory to Practice"

Thursday, July 16

10:15 to 11:15 a.m. CDT: "Evaluation and Treatment of Peripheral Vestibular Dysfunction: Demystifying Benign Paroxysmal Positional Vertigo"
Check out the VNATA 2020 programming schedule for more information about educational sessions to earn CEUs, and to mark which ones to attend, either live or later on-demand.
Statement of Credit
In line with BOC requirements, NATA provides statements of credit post-event. After the evaluation period closes Sept, 10, an email will be sent to all confirmed attendees eligible for CEUs with instructions on how to access and print their statement of credit. This email will be sent after Oct. 1.
It is the attendee's responsibility to check their statement of credit, upon receipt, to confirm it is accurate. If you have a question about your statement, email knowledgeinitiatives@nata.org.