December 15, 2020 by
Claire Williams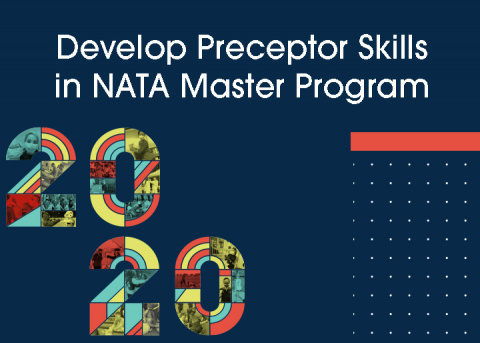 According to the data seen in the December NATA News, which also serves as NATA's annual report, more than 500 athletic trainers who also serve as preceptors are on their way to becoming masters. Since its launch in 2017, 527 ATs have completed the Master Preceptor Program Level One and are ready to move onto newly launched Level Two. 
Level Two, launched this year, is the second of the three-part development program available to NATA members through the NATA Professional Development Center (PDC). The courses are EBP CEU earning and created to assist preceptors, or practicing clinicians interested in serving as preceptors, in effectively facilitating high-quality clinical learning experiences for students.
Kevin Schroeder, DAT, LAT, ATC, clinical education coordinator at University of New Mexico, worked with UNM Director of the Athletic Training Program Sara Nottingham, EdD, LAT, ATC, to offer Level One of the Master Preceptor Program as part of the program's required ongoing training for ATs working as preceptors with students at the university.
The Master Preceptor Program is a "one-stop shop" for continuing education for preceptors, as Schroeder described it.
"This was a really nice, robust course to see what skills we could introduce to preceptors to help them bridge gaps between very foundational information to advanced clinical reasoning in our learners," Schroeder said.
"[The courses] start from the very beginning and just define what is clinical education, what is successful, quality clinical education and how do we create that environment at our clinical sites? … All the way through to a lot more advanced skills, like how to incorporate evidence-based practice into the clinical education experience for learners and how do you use patient outcomes to drive clinical practice?"
Level Two of the Master Preceptor Program picks up where Level One closes, ready to expand on and dive deeper into the basics learned in the previous modules. Modules 5, 6 and 7 of Level Two (following Level One's 1, 2, 3 and 4) focus on clinical reasoning and developing ethical and cultural competency, and include opportunities for AT reflection on their own clinical practice.
In addition to expanding on the skills needed to provide athletic training students with appropriate tools for clinical practice, Schroeder appreciates the reflection on personal experience as a clinician that the courses provide.
"[Athletic training education] gives skills to the learner to become a professional," he said. "If we're not providing strong evidence-based practice learning strategies to the learner, we're just preparing technicians – we're not preparing clinicians."
He said it's important for preceptors to understand that all students learn differently, as well.
"These skills that are being presented in this course can help a preceptor recognize areas that the student learner is doing well in and not doing well in and … gives preceptors the opportunity to adapt clinical education and preceptorship to the individual learner as opposed to making it one big blanket experience [for all athletic training students]," Schroeder said.
The Master Preceptor Program is available to NATA members through the PDC. The PDC offers courses that cover a wide range of topics athletic trainers encounter daily – everything from mental health to telemedicine.
There are several more benefits to being an NATA member. Learn more about them on the member benefits webpage and join or renew your NATA membership today. The deadline is Dec. 31.
We know 2020 has been a difficult year for many of our members who are facing challenges from unemployment to uncertainty. NATA has options available to members who are experiencing economic hardship. The first step is to contact Member Services and let us share how we can help. Our commitment has been – and will always be – advancing and uplifting athletic trainers and the athletic training profession. Contact Member Services via email or by phone at 972-532-8897.