March 2, 2020 by
Claire Williams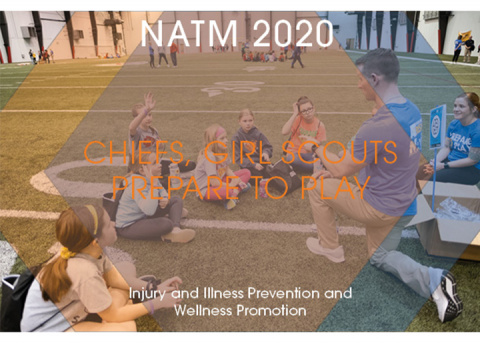 Editor's note: In honor of National Athletic Training Month, NATA is conducting a twice-weekly blog series throughout March that showcases how ATs use the five domains of athletic training to improve the health and well-being and their patients. This blog post highlights domain one, Injury and Illness Prevention and Wellness Promotion, and how members are embodying this year's NATM theme, "ATs Impact Health Care Through Action."  
Any other Saturday during the season and the Kansas City Chiefs athletic trainers would be rehabbing, prepping, training players as hip-hop music blared through the practice field speakers. But Saturday, Feb. 29, was different – instead, the athletic training staff and about 15 local athletic trainers from The University of Kansas Health System welcomed 150 Girl Scouts and their parents to Prepare to Play, a sports safety and wellness camp.
Instead of hip-hop, the speakers blared "Don't Stop the Feelin'" and Jock Jams classics, and instead of players, the athletic trainers walked the fourth through eighth graders through interactive stations each representing common injuries and injury prevention. By the end of the morning, as Chiefs assistant athletic trainer Tiffany Morton, MS, ATC, LAT, put it simply: Everybody had learned the first steps of how to save a life.
Hosted by NATA and its public awareness campaign, At Your Own Risk, and in partnership with the Chiefs and The University of Kansas Health System, Prepare to Play was designed to educate area youth and their parents on important health and safety topics, promote general wellness and highlight the valuable role that ATs play in work, life and sport.
"The Prepare to Play program is very unique," said Tyrann Mathieu, Kansas City Chiefs safety and team MVP and one of the day's keynote speakers. "We always tell kids to stay active, play sports, but we don't necessarily give them the resources to have them do it the right way.
"It was great to see that it wasn't just athletes attending but the broader population, which can often be overlooked. Everyone should be active and be given the resources to know how to do it in a healthy way."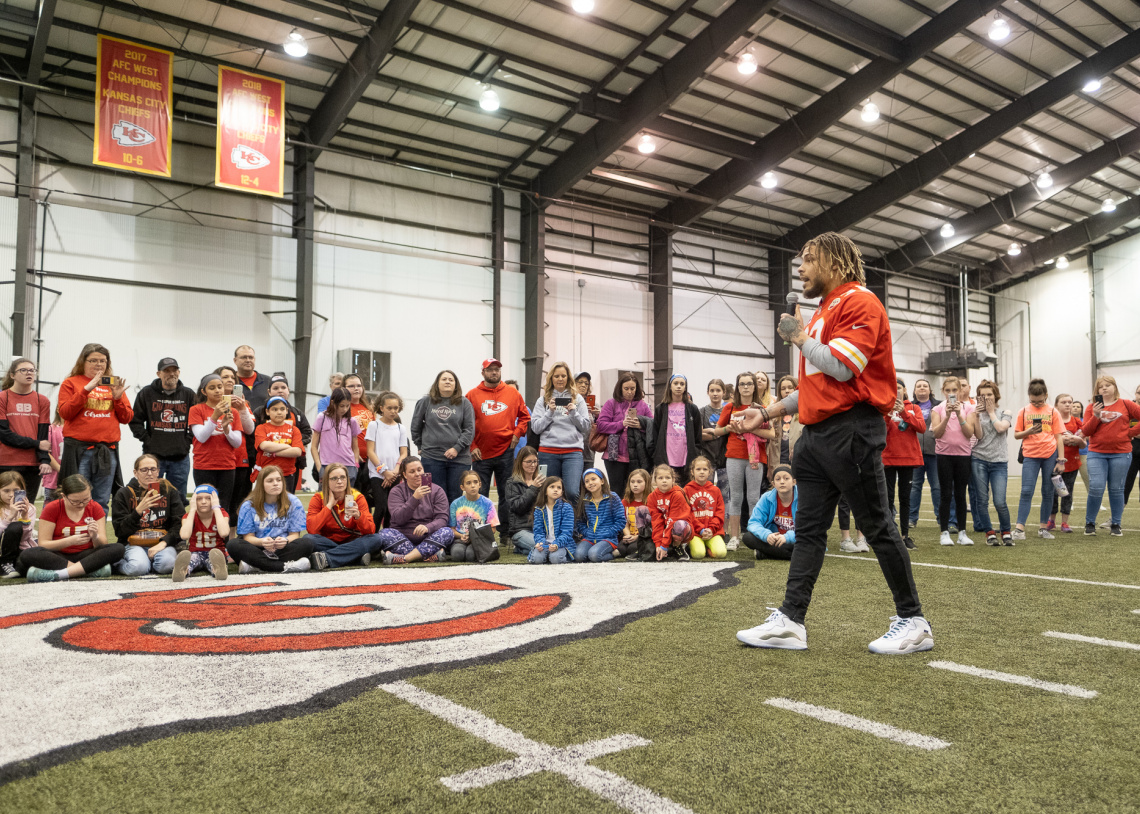 The University of Kansas Health System provided athletic trainers to serve as group leaders and man stations during the event. The health system also serves as a tangible resource for parents in the community looking for sports medicine health care, providing athletic trainers to 27 high schools and middle schools in the Kansas City area, as well as being the official healthcare provider of the Chiefs.
During Prepare to Play, the University of Kansas Health System Training Complex became the setup for athletic trainers to lead Girl Scouts through the steps of CPR and the importance of locating an AED when treating sudden cardiac arrest.
The athletic trainers walked the girls through a SCAT test, one of the tools athletic trainers and health care professionals use to evaluate concussions. The girls also went home with sunglasses to protect their eyes from light sensitivity, a common symptom associated with concussions.
Each girl also had the opportunity to dunk their hand in an ice bath, simulating on a smaller scale the typical treatment for heat illness.
After running through stretches and warmups to prevent overuse injuries, each Girl Scout breathed through yoga poses while discussing the importance of mental health with the Chiefs' assistant athletic trainer David Glover, LAT, ATC.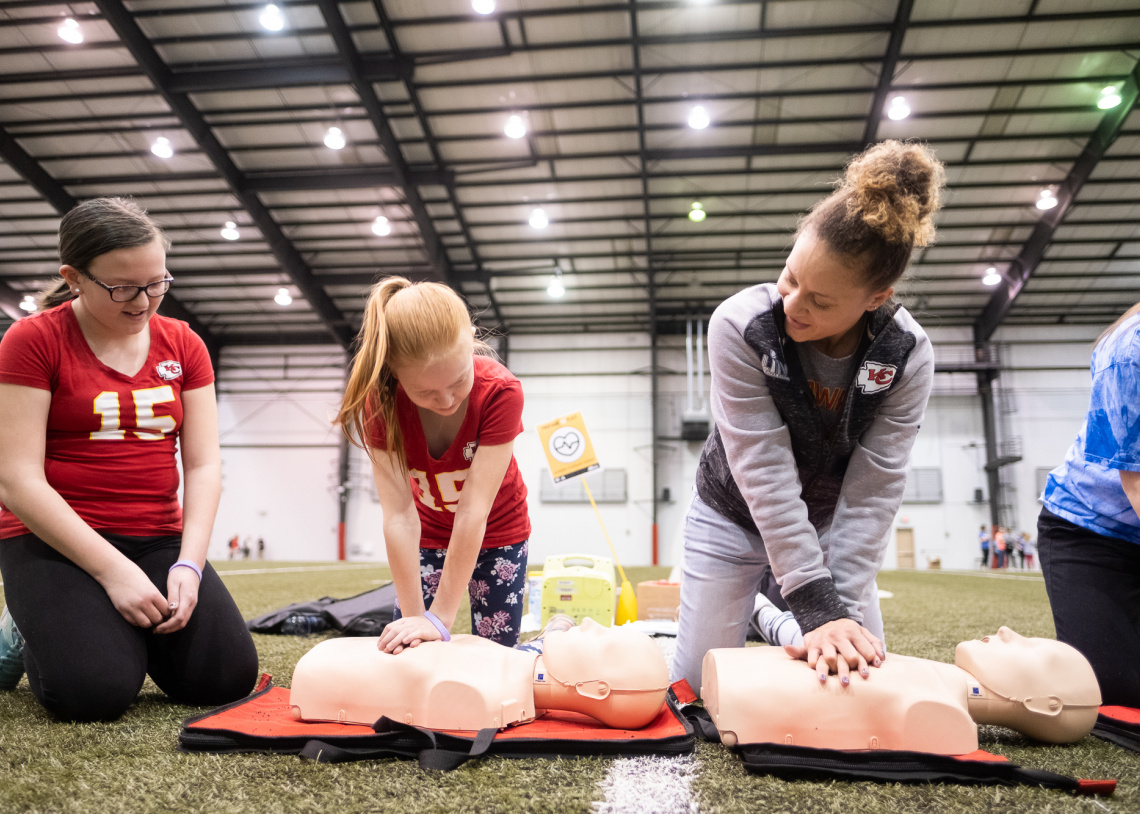 Vice president of the NATA Board of Directors, Marisa Brunett, MS, LAT, ATC, provided a welcome and a big thank you to the event's sponsor, The University of Kansas Health System, as well as the Chiefs and the Girl Scouts. The NATA Public Relations Committee also provided support in planning and execution of Prepare to Play.
Incoming District Five Director Rob Marshall, ATC, and Rusty McKune, MS, ATC, for Board of Certification Inc. president, rounded out Prepare to Play and kept each station moving smoothly throughout the morning.
Speakers and special guests Morton and Mathieu each closed the event with their own personal insights into athletic training for them and for the community. Morton addressed her own journey as a Girl Scout and her experience chasing her dream and becoming one of nine female ATs in the NFL.
Mathieu, or more well-known around town as the Honey Badger, expressed the importance of staying active, whether that's through sports or just by spending time outside with your family. He also encouraged the girls listening to pay attention to their own mental health and check in on their friends.
Kansas City Chiefs VP of Sports Medicine and Performance Rick Burkholder, MS, ATC, and chair of the NATA Public Relations Committee, also addressed the girls and enlightened them on the hard work it takes to become an athletic trainer before taking their parents on a tour of the Chiefs' athletic training facility and discussing how they can become advocates for sports safety and the athletic training profession.
As much as Prepare to Play is an event for young people to learn about the importance of athletic training, educating parents on the profession is another important goal for At Your Own Risk.
Exposing parents to athletic training, NATA Director of Marketing and Public Relations Tamesha Logan said, is another way to advocate for employing full-time athletic trainers in their local school districts.
According to NATA, only 34 percent of high schools currently have access to a full-time athletic trainer.
NATA and At Your Own Risk are encouraging other states to partner with community organizations to host Prepare to Play events in their cities for girls and boys. By providing more opportunities for education in the community, ATs can continue to promote the profession through action and connect with a patient population that still has years to grow.
For one morning in Kansas City, Prepare to Play took the lead in kicking off National Athletic Training Month and Women's History Month for NATA. Throughout March especially, NATA encourages athletic trainers to share, advocate and communicate with their communities to show their value through real action.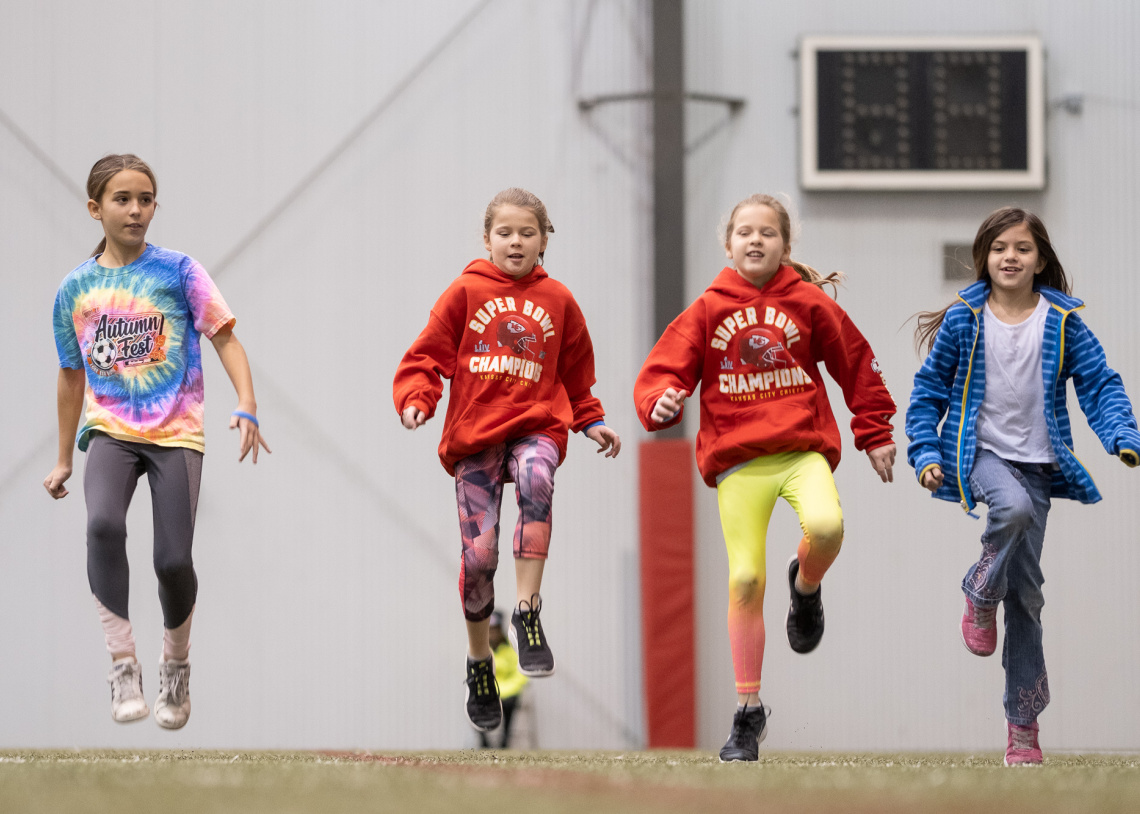 For more information about At Your Own Risk, visit the At Your Own Risk website, and connect with the NATA marketing team for more information about upcoming Prepare to Play events at marketing@nata.org.
Throughout March, the NATA Now blog will feature more coverage for National Athletic Training Month. This biweekly series will showcase athletic training taking action as they work in the five domains of athletic training.
Continuing Education Opportunities
Log into the Professional Development Center and search for the following courses that relate to Injury and Illness Prevention and Wellness Promotion. You can also explore upcoming webinars to earn additional CEUs within the PDC.
When Will My Athlete Be Back to Play? Survival Analyses Applied to Sports Injury Surveillance