August 29, 2019 by
Beth Sitzler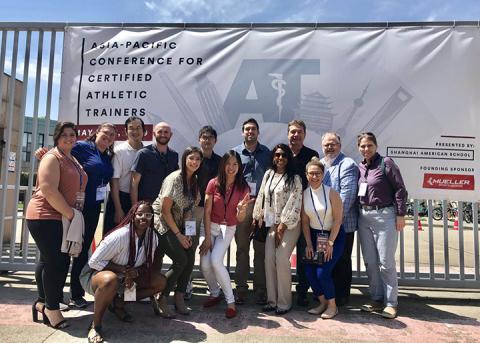 By Josh Euten, ATC, MAE, Eva Frank, PhD, ATC, and Erin Ulrich, MS, ATC, LAT
Globally elevating the athletic training profession is done through grassroots efforts and, in part, by the efforts of the athletic trainers who work abroad. To complete this work, these ATs have to main their certification. It is a difficult endeavor for ATs abroad to earn continuing education units (CEUs).
Although organizations, such as the World Federation of Athletic Training and Therapy (WFATT), Professional Baseball Athletic Trainers' Association (PBATS) and the Japanese Athletic Trainers' Organization (JATO), offer CEU events, there are a number of barriers to attending those events. Global location, obtaining a visa, timing or financial concerns all play a significant role. To help more international ATs earn their needed CEUs, the Asia-Pacific Athletic Trainers' Society (APATS), and its roughly 50 members, hosted an annual conference ATs in the Asia-Pacific area.
Due to the challenges that influence obtaining CEUs in the Asia-Pacific area, a few trailblazing ATs who reside and work in the People's Republic of China and the Asia-Pacific area took it upon themselves to provide opportunities CEUs for ATs in that part of the world. The first conversation about hosting a symposium in China was four years ago. The group got together with Brett Mueller and Gertrude Lim, from Mueller Sports Medicine, and discussed the hardships of ordering supplies, treating injuries in a foreign culture and adjusting to life as an AT working and living in China. In the past two years, Concordia International School of Shanghai hosted an educational conference leaning on local experts as speakers. In addition, local businesses have provided support via monetary sponsorship, by providing experts for presentations or a place to meet for social gatherings. All conferences have touched on diverse topics with attendance continuously climbing. Formerly the Certified Athletic Trainers of China, APATS established itself and offered the third annual Asia-Pacific Conference for Certified Athletic Trainers May 4-5 at the Shanghai American School (SAS) in Shanghai, China.
This two-day event welcomed ATs from the greater China area, Thailand, Japan and the U.S. It was a special honor to have had former NATA President and NATA Hall of Famer Scott Sailor, EdD, ATC, in attendance. Also, students and faculty attended the conference as the Lebanon Valley College Athletic Training Program infused the conference into a study abroad trip to China. A lot of work was put into organizing and seeing through this conference that offered Category D CEUs to the registered ATs.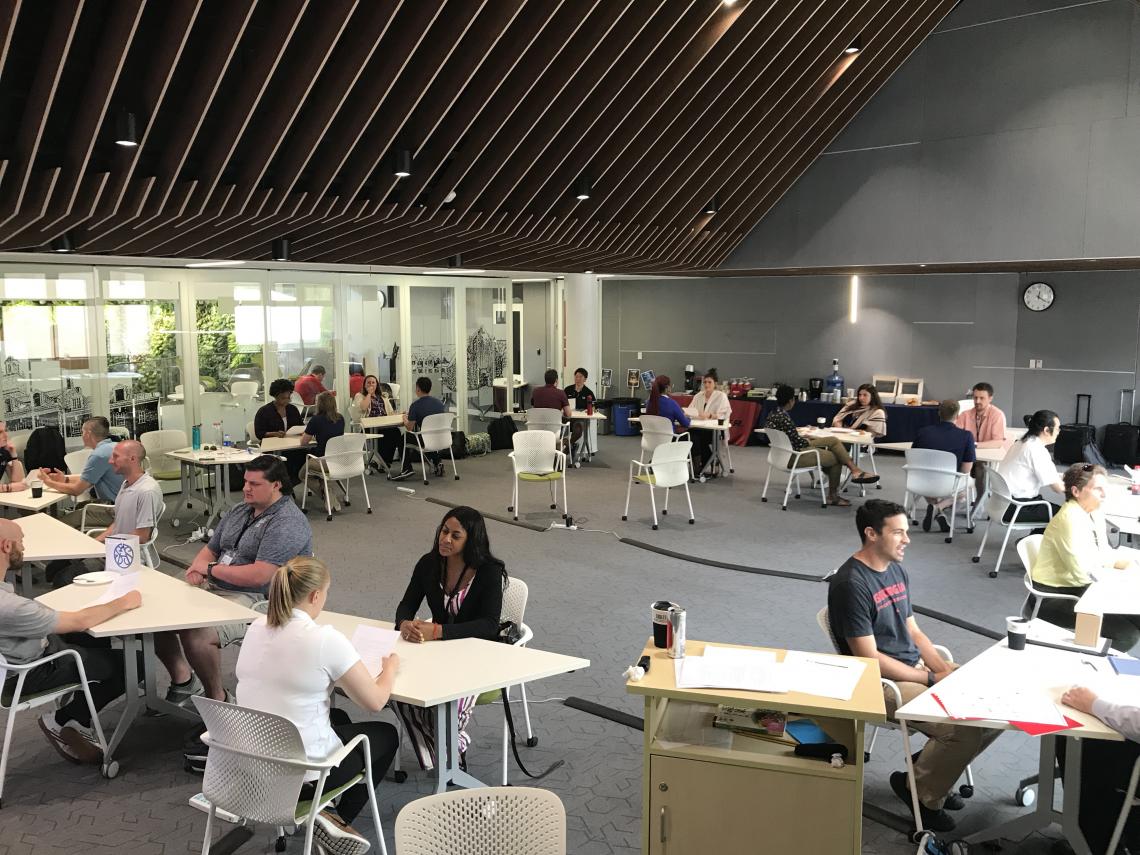 Leading the conference May 4 was a talk on pain management by Dr. Derk Rietveld, a Shanghai surgeon who has worked at Shanghai United Family Healthcare and XpertHealth for more than three years. Originally from the Netherlands, his talk addressed recommendations and diverse approaches to pain management. Following him were two concurrent breakout sessions: "Essential Oils in AT Practice" and "Introduction to Mindfulness." The presentation on essential oil use of was led by Maggie Ye and Kathy Lawn. Participants learned about the uses and impact of essential oils. "Introduction to Mindfulness" was presented by Bick McSwiney, English teacher at SAS. McSwiney infuses mindful practice into his course at SAS to help center his students. He practices with them to find comfort in the space between stimulus and response. Regular practice of mindfulness trains the mind to be at ease, more relaxed, conscious, kind and resilient, especially during times of stress.
After lunch, sponsored by Mueller Sports Medicine, the afternoon session was kicked off by Sailor, who presented the latest research on concussion protocols and procedures.
Closing the first day was a talk by Dr. Joseph Murphy, program director at Lebanon Valley College, who presented on large scale planning and crisis management. He shared his story of working at the Boston City Marathon on that fateful day in 2013. His personal outline of the day, sequence of events and mental health challenges brought forth in the aftermath shed light on a common problem amongst health care professionals. After a tragedy, those who make their living helping others tend to return right back to work and fail to deal with themselves. Murphy discussed the NATA ATs Care program, which offers peer-to-peer support to deal with the psychological impact that comes with a catastrophic event.
The evening concluded with traditional Chinese cuisine sponsored by Shanghai United Family Healthcare. Professionals and students were able to network, interact and build global bridges.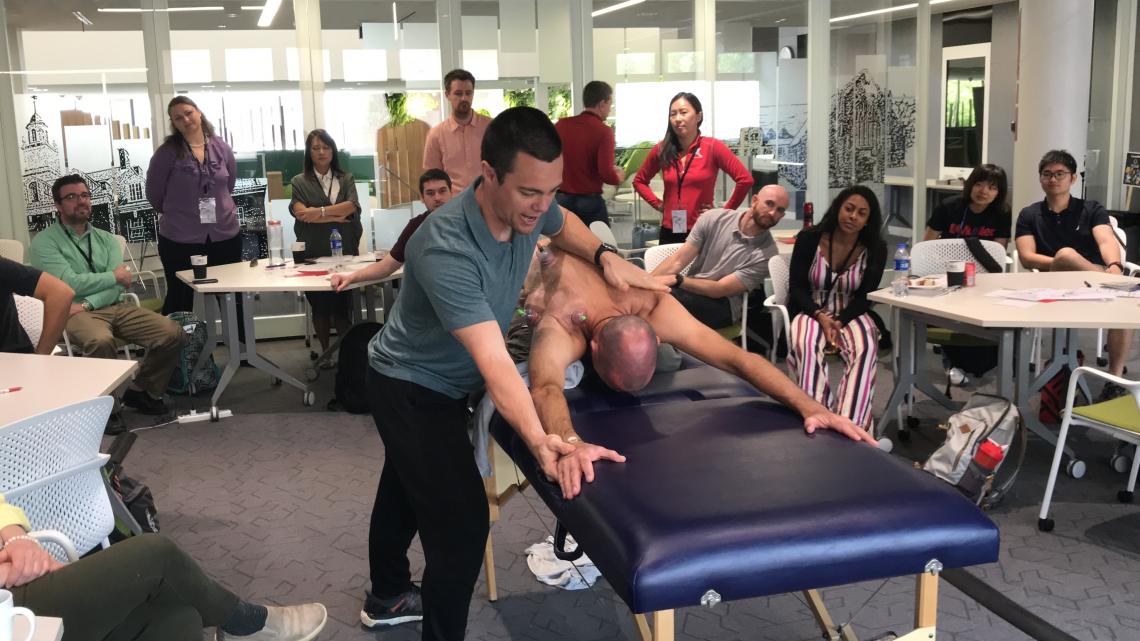 May 5, the second day of the conference, began with a presentation on alternative treatments from Dr. Cory Arth of the UP Clinic. As a local physical therapist, he shared experiences and techniques, specifically cupping and scraping, that are traditionally rooted in Eastern medicine. As a Western educated practitioner, he has merged Eastern and Western techniques. He added a twist by using origins, insertion, and muscle movement/patterns to guide his techniques, rather than using the chakra or yin and yang as the foundational methodology. Concurrently with Arth session was a talk by local chiropractor Dr. Atipa Limpisvasti. He taught attendees cervical mobilization methods that can be easily implemented in an athletic training practice.
After a brief break, the morning shifted gears. A lot of the ATs who work in China are considered young professionals. Dr. Eva Frank, LVC assistant professor of athletic training, presented "Personal Branding: Effectively Working a Room and Interview." Frank's interactive lecture encouraged participants to reflect on their strengths, technical skills and unique qualities in a way that increases their marketability across three platforms: in person, online and on paper. She incorporated a mock interview activity benefiting all participants and providing them an opportunity to experience being an interviewer and interviewee.
Sailor then discussing clinical prediction rules and how they can and should be utilized in clinical practice. Right after, Erin Ulrich,  LVC clinical education coordinator, and student Julianna Curry shared their research project, "A Stronger You," on community wellness. They provided tools directly implementable to collect outcomes. Finishing out the conference, was a new member to the APATS community, local orthopedist Dr. Robert Yu, who recently started working with foreigners in Shanghai and delivered an interesting talk from an Eastern perspective.
The conference was a huge success and brought together likeminded professionals to learn, collaborate and support each other. Working in a foreign country with a very different culture can be challenging. It is important to create a space to make connections with other ATs across the Asia-Pacific area. Events such as the APATS Conference not only bring comradery among professionals, but also shed light on the athletic training profession in Asia, including China, Hong King and Taiwan. These events also provide ATs in the region with another option to earning CEUs to maintain their certification. These ATs abroad truly help to "elevATe" the athletic training profession globally.