June 24, 2019 by
Beth Sitzler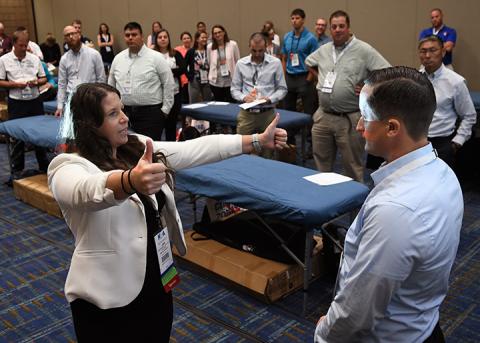 Certified athletic trainers who attend all three days of the 70th NATA Clinical Symposia & AT Expo will earn up to 25 CEUs. Additional CEUs can be earned by attending Monday's Advance Track Seminars (6 CEUs for the 8 a.m. to 3 p.m. events and 4 CEUs for the 8 a.m. to noon events) and Minicourses (1 CEU per Minicourse). Pricing and CEUs vary.
This year, there are seven sessions at the NATA convention eligible for Evidence-Based Practice CEUs. Some of the EBP events run concurrently so registrants will be able to attend up to four of the seven, for a total of 5 EBP CEUs. This year's EBP CEU events are:
3 to 4 p.m. Tuesday, June 25
"A Systematic Approach to Return-to-Sport Testing and Management Following Lower Extremity Injury" Mandalay Bay H
"The Hydration Debate: Making Sense of the Mixed Messages" Shoreline
4:15 to 5:15 p.m. Tuesday, June 25
"It's Not Just Physical: How Can Athletic Trainers Assist with Improving Mental Health Care for Student Athletes?" Shoreline
11:45 a.m. to 1:45 p.m. Wednesday, June 26
"Evolving Concussion Prevention and Care Across the Life Span" Shoreline
"Moving Beyond Cost-Savings: How Aligning With the Triple Aim of Health Care Can Demonstrate the Full Value of Athletic Trainers to Stakeholders" Mandalay Bay H
9:15 to 10:15 a.m. Thursday, June 27
"Lengthening Your Perspective: Using Eccentric Exercise to Treat Neural and Morphological Deficits After Injury" Mandalay Bay H
"Managing Back Pain Using Manual Therapy Techniques" Shoreline
Participants must complete an online assessment for each EBP event attended to receive their EBP CEUs. Each day during convention, eligible attendees with confirmed attendance will receive an email to complete evaluations for that day's events. These emails will be sent to the email address used to register for convention.
Assessments must be completed and turned in by the July 31 deadline to receive EBP CEUs. Participants are encouraged to complete the evaluations as they're received each day to ensure they are completed on time. If evaluations aren't submitted by the deadline, participants will receive Category A CEUs for the event. Have your registration number ready as you will need to enter it to complete the assessments.
If the evaluation email doesn't make it to your inbox, check your junk/spam folder. If it's not there, email knowledgeinitiatives@nata.org with the email address you need the evaluation link sent to. It is the attendee's responsibility to let NATA know if they didn't receive the evaluation email.
After you complete the evaluation, you will receive an email listing the sessions you rated. Be sure to complete the evaluation(s) for any EBP session(s) you wish to claim.
Statements of Credit
In line with BOC requirements, NATA provides statements of credit post-event. After the evaluation period closes July 31, an email will be sent to all confirmed attendees eligible for CEUs, with instructions on how to access and print their statement of credit. This email will be sent by mid-August.
It is the attendee's responsibility to check their statement of credit, upon receipt, to confirm it is accurate. If you have a question about your statement, email knowledgeinitiatives@nata.org.