March 27, 2019 by
Beth Sitzler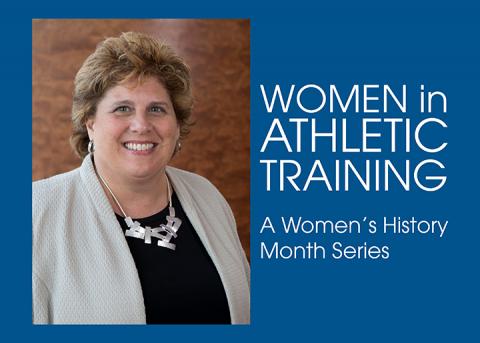 March is an exciting month for athletic trainers. In addition to being National Athletic Training Month, March is also Women's History Month. This Women's History Month, we'd like to celebrate all #ATwomen making a difference in the profession and their patients' lives, and highlight four women in particular who have owned their impact – the four women currently serving on the NATA Board of Directors.
This week, Vice President and District Nine Director Marisa Brunett, MS, LAT, ATC, CKTP, shares her journey to athletic training, athletic training inspirations and advice for her fellow athletic trainers.
How did you get involved in the athletic training profession? What was your "ah-ha moment" when you knew you were being called to the profession?
I was always interested and enjoyed science and health/medicine in school, as well as participating in sports. When I learned about the athletic training profession from a therapist that was treating me in high school, it sounded like the perfect profession for me as it combined two of the things I enjoyed most.
As I moved on to play college basketball, I became more interested in athletic training and trying to learn how to help my teammates if they sustained an injury. At that point, it became apparent to me that athletic training was my passion. I decided to hang up the basketball shoes and apply to the athletic training program at WVU. I was so ecstatic when I learned I was accepted into the athletic training program, and knew from day one that was my calling.
March is Women's History Month, can you share with us who your women inspiration(s) are? Any women in the athletic training profession?
I will name a few in various areas as there are so many amazing women who have inspired me: My mother, who has been keeping our family bakery business going with my brother and I for the past 27 years; Ann and Nancy Wilson of HEART, who were tough, ambitious and always knew what they wanted – and that was to make great rock music despite being told that "women were not supposed to be in a rock band" (and they are still rocking!); Mother Teresa, the most caring, loving unselfish person who worked tirelessly for others until her death; Bille Jean King, who changed the way women were viewed in sport and changed the entire game of tennis; Michelle Obama, who was a fantastic first lady who focused on empowering women to be what they want to be, as well as promoting "dancing/moving" to stay healthy; and after seeing the movie "Hidden Figures," Katherine Johnson, who was the first African American to attend graduate school at West Virginia University. She was employed as a research mathematician at NASA who was critical to the success of the first manned spaceflight.
My dear friend Cynthia "Sam" Booth, PhD, AT Ret., has been an inspiration and a mentor for me from the time I was one of her students and throughout my entire career. There are quite a few others and most definitely include some of our past NATA leaders: Julie Max, MEd, ATC, Sue Stanley-Green, MS, ATC, LAT, MaryBeth Horodyski, EdD, LAT, ATC, FNATA, and Kathy Dieringer, EdD, ATC, LAT. Also, BOC Executive Director Denise Fandel and past ATAF President Stephanie Lennon, MS, LAT, ATC.
How has the profession changed for women in athletic training since you started?
Well, to begin with, there was still segregation between the men's and women's athletic trainers with sports assignments and facilities when I first entered the profession. Now, there is more collaboration with the entire athletic training staff and they have the opportunity to work in the same facilities together. There is also a lot more opportunities for women in all areas of professional sports as well as the collegiate setting and many new settings. There are more women in administrative/department head positions, overall, than before and a lot more women entrepreneurs.
In 1996, the NATA membership was 44 percent female. The most recent stats have come out and it's now reversed, where it's now 56 percent female and 44 percent male. Why do you think that is?
I believe that more young women are exposed to the athletic training profession a lot earlier thank to the high school athletic training programs now available. They can see firsthand the many passionate athletic trainers caring for their athletes and community and the difference they make. They are also exposed to many other settings an athletic trainer has the opportunities to work in today, which is very exciting, thus more young women are applying to athletic training programs to enter our profession.
Any advice for females just starting their profession or are considering becoming an athletic trainer?
Go for it! Whatever it is you have dreamed of doing in athletic training, you can make it happen. You may still have to work hard and prove yourself, but don't give up. Remember to portray that you are a health care professional so it should not matter whether you are a male or female. Be the best you can be as there are so many opportunities out there. Create new opportunities! Find your "passion" in athletic training, and you will enjoy a most rewarding career.
What are some ways that any athletic trainer can be a gender equality champion?
By making it known that our education/knowledge is not gender specific and that we are all health care providers. We are health care professionals and need to let our knowledge and clinical skills do the talking!
We want to hear from you! Share your #ATwomen inspiration on social media this #WomensHistoryMonth. Don't forget to also share how you're owning your #ATimpact.