March 20, 2019 by
Beth Sitzler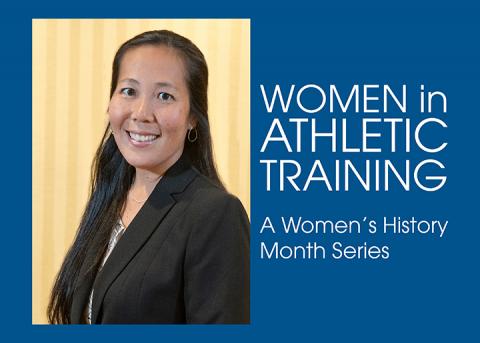 March is an exciting month for athletic trainers. In addition to being National Athletic Training Month, March is also Women's History Month. This Women's History Month, we'd like to celebrate all #ATwomen making a difference in the profession and their patients' lives, and highlight four women in particular who have owned their impact – the four women currently serving on the NATA Board of Directors.
This week, District Eight Director Lyn Nakagawa, MS, ATC, CSCS, shares her journey to athletic training, athletic training inspirations and advice for her fellow athletic trainers.
How did you get involved in the athletic training profession? What was your "ah-ha moment" when you knew you were being called to the profession?
I was lucky in that I had access to an athletic trainer in high school so I knew going into college that athletic training is something I was interested in. However, at that time, I was thinking physical therapy was going to be the degree I was going to pursue. After my first fall in college and playing Division III soccer, I got involved in the athletic training facility at the University of Puget Sound. The opportunities and experiences I had during the three and a half years as an athletic training student solidified my desire to pursue a career in athletic training.
March is Women's History Month, can you share with us who your women inspiration(s) are? Any women in the athletic training profession?
My mom is my ultimate inspiration, and growing up she was my role model, my rock, my best friend. It was because of her I initially thought I wanted to be a teacher. She was such a devoted, passionate and dedicated teacher. Her love of the profession convinced me that was what I wanted to do. However, when exposed to athletic training, I knew that it was the profession I was supposed to be in. I learned I could have the passion and dedication to the profession that she showed me was possible if you genuinely love what you are doing.
In the profession of athletic training, my initial mentors were men and, honestly, I didn't think much of it. This changed when I became a graduate assistant athletic trainer at Oregon State University and I found the women in athletic training that became my inspiration and mentors. Debra (Deb) Graff, MS, ATC, was the most amazing educator, athletic trainer, mother and genuine person I had ever had to opportunity to work alongside. She taught me about strength and courage and the reality that women can balance the life commitments of work and family. Kelli Eberlein, ATC, brought out the fun and passion in athletic training for me. Her constant strive for continued learning and improving were admirable. I am so lucky to be able to call these women my inspiration, but more so my colleagues in the great profession of athletic training.
How has the profession changed for women in athletic training since you started?
When I first started in the profession of athletic training, I didn't really think about gender roles or how they affected the profession. However, as I became more involved in leadership and giving back to the profession, I started to realize some younger female students didn't have women leaders in the profession that they can look up to. But nowadays, you can see women athletic trainers in all settings, in all levels of leadership and in all aspects of the profession.
In 1996, the NATA membership was 44 percent female. The most recent stats have come out and it's now reversed, where it's now 56 percent female and 44 percent male. Why do you think that is?
I think the increase in females in athletic training is a reflection of the growth and the evolution the profession has gone through. Athletic trainers are seen as health care providers first and foremost, not as a women working in a specific setting or only working with a certain group of patients. I think it's also a reflection of the increased participation in sports by girls while growing up and continued participation into their high school and college years. It often exposes them to athletic trainers and the opportunity to work in a health care profession and continue to be around sports makes athletic training a desirable profession. Lastly, the variety of settings that athletic trainers work in today may also make athletic training an attractive profession for those who may not want to been involved in sports but want to be in a health care profession where they can make a difference in the lives of their patients in their daily tasks, jobs or profession.
Any advice for females just starting their profession or are considering becoming an athletic trainer?
Follow your heart, follow your passion and believe that anything is achievable with hard work, commitment and dedication. This is such an amazing profession and if you find your passion and a mentor to guide you, your path is paved to attain all of your future goals. However, you can't expect anything to be handed to you. You still must commit yourself to these goals and work hard every day to achieve them. Every patient you treat, every athletic trainer you meet, every volunteer event you get involved in can impact you ability to achieve your goals. Once you reach your goals, make new ones. Continue to strive to be the best person and athletic trainer that you can be.
What are some ways that any athletic trainer can be a gender equality champion?
Anyone can be a gender equality champion by simply ensuring that all athletic trainers, regardless of gender, have the same opportunities during their education and career. Helping women step into the profession, stay in the profession and thrive in the profession is something a gender equality champion does, and these are things that anyone can do. It doesn't have to be a female leader in the profession –  it can be any athletic trainer. Simple things such as mentoring a young female athletic trainer, helping them refine their résumé or interview skills to attain that job they didn't think was possible, or encouraging them to get involved in the NATA or other leadership opportunities can make the difference. These are simple steps any athletic trainer can do that would help to promote the profession and be a gender equality champion.
We want to hear from you! Share your #ATwomen inspiration on social media this #WomensHistoryMonth. Don't forget to also share how you're owning your #ATimpact.