July 10, 2020 by
Beth Sitzler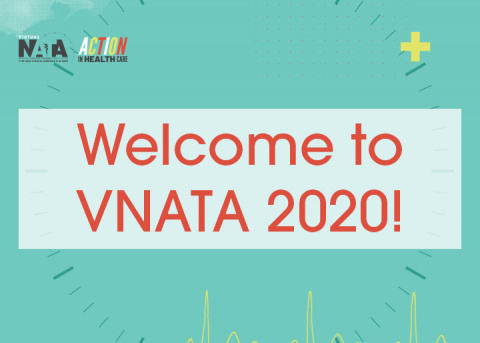 Today marks the official start of the 2020 NATA Virtual Clinical Symposia & AT Expo. Since deciding in April to transition the in-person convention to a virtual event, NATA has worked diligently to provide the same innovative and captivating experience convention-goers have come to expect over the years.
Consisting of both live elements July 13-16 and on-demand content through Sept. 10, VNATA 2020 will provide attendees with exclusive programming from esteemed thought leaders, fun features only found at the NATA convention and insights into the latest in product, services, research and clinical development.
"We're excited to bring the NATA convention – the premier educational experience for athletic trainers, athletic therapists, sport rehabilitators and similar health care providers – to the comfort of your home or office," said NATA President Tory Lindley, MA, ATC. "As the world navigates through these unprecedented times, NATA has kept members at the forefront. Not only will VNATA 2020 provide the same exceptional programming and number of CEUs as the in-person convention, the virtual event allows attendees to learn at their own pace, on their own schedule – all at an unbeatable price."
With more than 70 educational sessions available, attendees will have the opportunity to earn up to 25 CEUs in total, including 5 EBP CEUs. While educational sessions will cover a range of topics and domains, four themes were selected for VNATA 2020.
Training Load: Tools and strategies available to monitor the effort of athletes and the physically active as well as leveraging this data to mitigate injury risk.
Biometrics/Analytics: Tools available to capture large biological datasets from patients and how athletic trainers can use these datasets to inform clinical decision-making.
Motor Learning/Motor Behavior: Disseminating state-of-the-art techniques and rehabilitative strategies to enhance motor control through neuroplasticity.
Heat: Overcoming barriers to deliver best practices in recognizing and treating heat-related illness in the physically active.
In addition to exclusive educational programming, VNATA 2020 will feature a variety of interactive events during the live portion of the convention, including appearances from last year's keynote and magician Jon Dorenbos and cartoonist Steve Moore during the 15 For Fun Breaks. From the 24/7 Gather Lounge to the Virtual Happy Hours, attendees are encouraged to meet up with friends, network with new ones and join a conversation about a topic important to them. To access the Gather Lounge, visit the Gather booth in the virtual AT Expo. Attendees should also be on the look out for special appearances by some very prominent and familiar faces, all delivering a message just for members.
"VNATA 2020 is a great opportunity to not only learn about the latest in research and clinical developments, but to connect with your athletic training community," Lindley said. "Connection is more important now than ever. I encourage all attendees to take advantage of the many networking opportunities offered during VNATA 2020."
Attendees will also be able to connect with companies that support the profession through the virtual AT Expo. More than 125 companies will provide demonstrations, videos, pictures and product catalogs in their virtual booths. VNATA 2020 attendees can chat in real time with participating exhibitors during the live portion of VNATA 2020. If you can't make it during the live hours, don't worry – the AT Expo will be available on-demand through Sept. 10.
Other convention staples VNATA 2020 attendees can look forward to include the General Session and Face Time events. During General Session, from 10:15 to 10:45 a.m. CDT Tuesday, July 14, Lindley will deliver the State of the Association address, updating attendees on NATA's initiatives and successes from the last year. During Face Time, from 10:15 to 11:15 a.m. CDT Wednesday, July 15, NATA presidential candidates Kathy Dieringer, EdD, LAT, ATC, and Katie Walsh Flanagan, EdD, LAT, ATC, will answer questions submitted by the NATA membership.
Registration for VNATA 2020 is $99 for current NATA members. Current professional members who have prepaid their 2021 NATA dues will save an additional $50 and pay $49 for registration. While VNATA 2020 begins July 13, registration is open through Sept. 10, the full 60-day on-demand period. Visit the NATA convention website to register and learn more about all pricing options for members and nonmembers.
Learn more about what VNATA 2020 has in store on the convention website. You can also stay up to date on the latest news and information by following NATA's social media channels. Don't forget to join the conversation by using the #VNATA2020 hashtag.