June 26, 2017 by
Beth Sitzler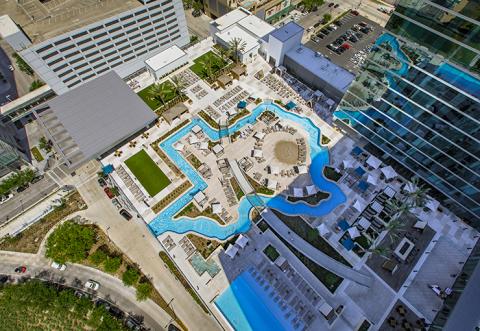 After months of planning and preparation, the 68th NATA Clinical Symposia & AT Expo kicked off Monday, June 26, with a tailgate-themed Welcome Reception at the George R. Brown Convention Center in Houston.
Throughout the next four days of convention programming, NATA 2017 attendees have much to look forward to—386 events, to be exact.
"The 68th NATA Clinical Symposia & AT Expo is a celebration of the athletic training profession," said NATA Director of Meeting Management Lori Marker. "Attendees can look forward to excellent education and networking opportunities, a larger AT Expo and a couple surprises along the way!"
More than 700 speakers will present on a variety of topics, ranging from medical-related concerns—such as concussion, osteoarthritis and heat illness—to issues that impact the athletic training profession—including AT retention, integrating within a health care team and career success.
In addition to the multitude of educational sessions offered, attendees can also take advantage of the many networking opportunities provided during the NATA convention. Whether it's catching up with former classmates during an alumni party or meeting new peers in one of our professional interest lounges, don't miss your chance to make a connection.
This year, the AT Expo will occupy 65,800 square feet within Hall C of the George R. Brown Convention Center. NATA convention attendees will be able to browse the latest products and services of more than 330 companies.
"The 2017 AT Expo will be one of the larger exhibitions to date," said NATA Corporate Sales and Exhibits Manager Chad Cranford. "Products and services that ATs use on a daily basis in the field or in their athletic training facility will all be represented. I look forward to seeing exhibitors taking their booths and displays to the next level integrating technology into their booth presentations." 
GRBCC Hall C is the place to be this year. Not only the location of the AT Expo, it is also where attendees can find registration, NATA Gear store, Career Center, Hall of Fame Booth, professional interest lounges, Hot Products Pavilion and the NATA Foundation booth and silent auction.
While you're there, stop at one of the many selfie stations located near the entrance of Hall C. Don't forget to include our hashtag--#NATA2017—with all of your social media posts.
Thank You, Volunteers
It takes many hands to bring the NATA convention together. This year, more than 190 NATA members are volunteering their time and talents to ensure that every detail is covered. We thank them for all of their efforts in making NATA 2017 a memorable experience for everyone.