April 17, 2023 by
Beth Sitzler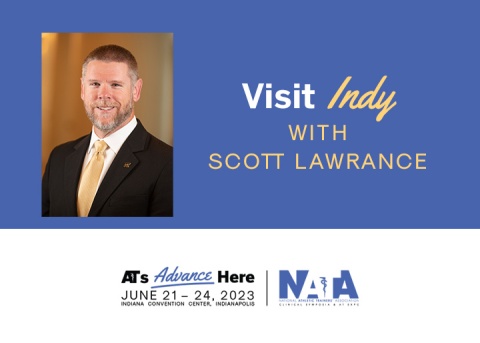 With the 74th NATA Clinical Symposia & AT Expo taking place June 21-24 in Indianapolis, now is a great time to create your schedule and plan of action. While you can use the NATA convention website to determine which sessions you want to attend, don't forget to add places to eat and things to do to your itinerary.
To help members plan their visits, local ATs are sharing with the NATA Now blog their favorite restaurants and can't-miss places to visit while in Indy. You can also check out the Visit Indy webpage to learn more what the area has to offer.
Don't forget: The early registration rate closes May 1. Register now for the best rate for the largest gathering of athletic trainers worldwide.
In this blog post, District Four Director-Elect Scott Lawrance, DHSc, LAT, ATC, shares his list of where to eat and what to do while at NATA 2023. A 20-year resident of Indianapolis, Lawrance has recommendation for every taste and interest – be it the city's best Italian restaurants or activities for the whole family. Keep reading to learn more from Lawrance.
Places To Eat
St. Elmo's Steakhouse: This is downtown Indy's famous steakhouse, and one of the oldest in the country. Great atmosphere, and the shrimp cocktail steals the show. Fair warning that you'll spend more than a typical meal if you go here.
Harry and Izzy's: The cousin of St. Elmo's, they share some menu items and the kitchens are the same. This is one of my favorites.
Mama Carolla's: One of the best Italian places in the city. Always a good meal here.
Cafe Patachou and Le Peep: Similar in concept, these are great places for breakfast or lunch. I believe both are farm-to-table concepts.
Shapiro's Deli: Frequented by famous athletes, legislators, actors, etc., this old-style deli is worth the trip to visit. Famous for its corned beef sandwich and carrot cake. 
Bazbeaux Pizza: On Mass Avenue and serves great custom pizzas.
Iozzo's Garden of Italy: Another great Italian place. It has a fun patio and great service, and is worth the short drive to get there.
The Eagle: Another Mass Avenue place that is great for a drink.
Milktooth: I've not been here, but I hear great things from those who have. Has won a lot of awards.
Chatham Tap: An English-style pub and a great place for a drink at the end of a long day of sessions.
Yats: Usually rated one of the best in Indy. This New Orleans-style place has a few locations around town and just might be the right place to get you ready for NATA 2024.
Nine Irish Brothers: One of my favorite Irish bars with great food and drinks.
BRU Burger: A custom burger bar that offers a nice casual environment.
Places To Visit
NCAA Hall of Champions: Located at the NCAA headquarters, the hall has a lot of interactive displays walking through significant happening in college athletics.
Eiteljorg Museum: A museum of Native American and Western American art, it is located in the White River Park near the Indiana State Museum, Central Canal, NCAA, zoo, etc.
Indiana State Museum: Also in the White River Park, just west of the NATA 2023 key hotel, JW Marriott Indianapolis.
White River Park - Amphitheater: The park is a great place for a walk or run. The amphitheater hosts concerts, including around the time of the NATA convention.
Central Canal: The canal is a riverway that connect downtown to the near northside. Lots of businesses and mixed residential areas border the canal. There are paddleboats and gondolas that can be rented to go up/down the water way. When you're on the canal, you lose sight of being in Indianapolis.
Indianapolis Motor Speedway: We're a race town, and the Speedway has a museum that's pretty cool, if you're into motor sports. Sometimes there are professional drivers who can take you out in street-legal Indy cars and that's a pretty great experience (does cost a fair amount of money).
Children's Museum: One of the top-rated and best children's museums in the country. It's about an eight to 10 minute Uber ride away from the convention center and worth a trip.
Monument Circle/Soldiers and Sailors Monument: This is the center of town and where Indy gets it's Circle City name from. The Soldiers and Sailors Monument at the center is one you can go to the top of and gives a good view of the city.
Lucas Oil Stadium: Home of the Indianapolis Colts.
Gainbridge Fieldhouse: Home of the Indiana Pacers.
Victory Field: Home of the AAA Indianapolis Indians and, typically, rated the best or at least a top two or three minor league ballpark in the league. This is where the NATA Research & Education Foundation is hosting its event this year.
Indiana Cultural Trail: This is an 8-mile trail through downtown connecting a lot of the different public spaces throughout downtown.
Market Catacombs Tour: I've never done this, but I've always wanted to. This is the old city buried underneath the current Indianapolis, rumored to be haunted.
Slippery Noodle Inn: Indiana's oldest bar. Blues and jazz bands perform live every night.
Indianapolis Zoo: A really nice zoo that's easy to get to from the convention area. It was rated No. 2 behind the San Diego Zoo by Conde Nast Traveler.