June 20, 2023 by
Beth Sitzler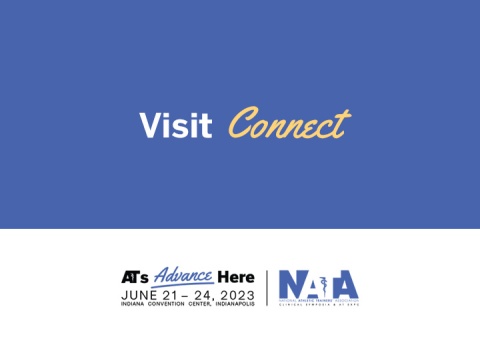 Hall I of the Indiana Convention Center is the place you want to be during the 74th NATA Clinical Symposia & AT Expo. Not only is it home to the AT Expo, the world's largest showcase of products and services for the athletic training profession, it's also where you'll find Connect.
Located at the entrance of Hal I, Connect provides attendees with the opportunity to learn more about NATA, it's various programs, initiatives and services – not too mention your chance to purchase an NATA 2023 souvenir or two. Connect will be open:
8 a.m. to 5 p.m. June 22
8 a.m. to 5 p.m. June 23
8 a.m. to 1 p.m. June 24
Here's an overview of the different features you'll find in Connect:
NATAGear Store
Stop by the in-person NATAGear Store to shop for your AT-branded merchandise. Show off your athletic training pride with apparel, tumblers, pins, stickers and more. The on-site NATAGear Store will be open throughout Connect hours.
NATA All Access
Interested in learning more about what NATA is doing on your behalf and to advance the athletic training profession? If so, visit NATA All Access! Enjoy several displays that feature just some of the NATA programs, initiatives and resources available to members. Visit our government affairs timeline, which outlines the legislative, regulatory and practice wins over the years, as well as a display that provides a deep dive into the new NATA Strategic Plan and how it was created.
Level Up! Theater
Designed to host TED Talk-style presentations, the Level Up! Theater is a new addition to Connect this year. Throughout June 22-24, various 10-minute talks will be presented by thought leaders on a variety of topics. Stop by the theater to see what's happening throughout NATA 2023. 
Hall of Fame Booth
Want to learn more about the NATA Hall of Fame and it's nearly 300 members, including this year's inductees? Then stop by the Hall of Fame Booth! You never know – you might run into a special guest or two while you're there.
Kiosks
From At Your Own Risk to NATAPAC, several NATA initiatives and programs – as well as a few special guests – will have kiosks in Connect to provide attendees with additional insight. Stop by any of the following kiosks to learn more and speak with a volunteer or staff member:
At Your Own Risk Kiosk
ATs Care Kiosk
NATA 2024 New Orleans Kiosk
NATA Research & Education Foundation Kiosk
NATA Scientific Journals Kiosk
NATAPAC Kiosk
PFATS Kiosk