May 8, 2019 by
Beth Sitzler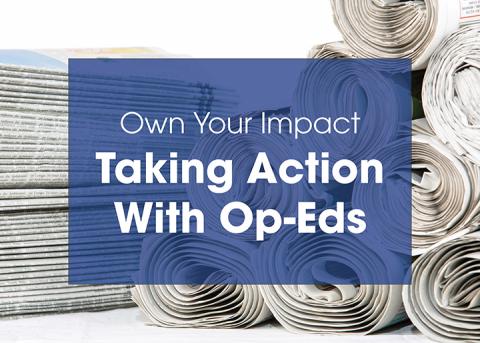 By Kim Diggs
In order to move the needle on an issue, it is important to strike a chord with decision-makers. Athletic trainers aiming to be heard on a specific topic can leverage the influence of a media outlet through a well-written essay.
Que the op-ed, a 400- to 750-word opinion piece that sheds light on a point of view or opportunity for change.
A recent example of this tactic being used was the commission of Chris Mullin, former Golden State Warriors shooting guard, by California Athletic Trainers' Association, to write an op-ed in the East Bay Times and San Jose Mercury News – "Former Warrior Chris Mullin Calls for Licensing Athletic Trainers." California is currently the only state in the country to lack regulation around athletic training licensing. The aim was to target Golden State country and inform readers of the threat of unqualified athletic trainers working in secondary schools.
In this op-ed, Mullin establishes his connection to athletic trainers, explains why the lack of regulation could be dangerous for secondary school athletes, provides statistics to back up his claims and makes this plight personal to him and, thus, personal to everyone else who can relate. He ends the op-ed with a call to action for the readers to vote in favor of the legislation that Assemblymember Rob Bonta, D-Alameda, created to require state licensing.
Op-eds are meant to present an organized, focused idea, and Mullin was able to accomplish this by presenting the issue, the supporting facts illuminating the severity of the issue and a solution that can assist in moving the needle.
When aiming to use the same tactic, there are a few guidelines that must be followed in order to be successful.
1) Choose an outlet with the appropriate target audience and relate to them. In Mullin's article, he taps into the concern he has, as a father of four, about the fact that anyone in California – educated or not – can claim they are an athletic trainer. Because he is speaking to the general public in San Jose and the Bay area, he shows how the lack of regulation can affect their families, rather than discussing the aspects that don't affect them, such as AT insurance and travel. Creating a strong alliance with the reader makes them feel invested in the call to action at the end versus if they were presented with issues they will never experience.
2) Make the pitch to the editor interesting, relevant and short. Editors get lots of pitches and the amount of publication requests increase as their audience grows. For example, The Bay Area Group, the media company that owns East Bay Times and San Jose Mercury News, has unique monthly website visits totaling 13 million per month (this information can often be found by looking for the publication's media kit on its website). It's important to create a subject line that intrigues them to open the email. Thought it's not mandatory to be able to namedrop a former home team professional athlete in the subject line, it is key to have some sort of hook to make an editor want to open the email. Pitches must get the point across as quickly as possible.
Within the email, it's also key to create an opening paragraph that paints a compelling argument or presents a problem that affects a large population of the publication's readers. This pitch should solidify the AT as a subject matter expert, spell out the main argument and show relevance to the outlet's audience. End it by asking the journalist for a realistic deadline for when they will make a decision on the op-ed. That way, the pitching process to another publication can start if the first outlet passes.
3) Follow up in a timely manner, but don't be pushy. It is important to remind an editor about the pitch without sending an email every day during the time between the initial pitch and the deadline to get feedback. No more than two follow-ups should be sent before moving on to another publication. Being overbearing may make an editor lose interest.