June 27, 2018 by
Beth Sitzler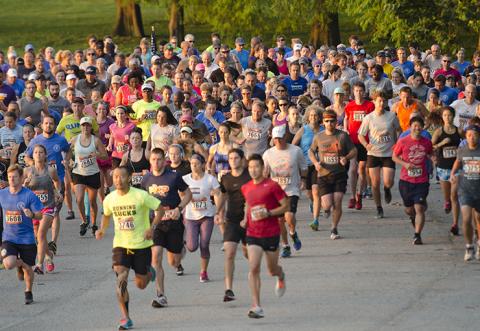 Whether you're bidding on your favorite NATA Research & Education Foundation Silent Auction item or attending tonight's NATA Foundation Speakeasy presented by Celltex, your contributions to the NATA Foundation help support the advancement of the athletic training profession.
Each year, the NATA Foundation provides research grants and awards student scholarships, which benefits every athletic trainer and every company associated with the profession, as well as the physically active community at-large. Since its establishment in 1991 through December 2017, the NATA Foundation has awarded 294 grants totaling more than $4.1 million. In 2017 alone, the NATA Foundation presented 12 research grants, totaling $184,417; three educational grants, totaling $34,115; and 58 scholarships, totaling $133,400.
In addition, your contributions help NATA Foundation programs – such as the Free Communications Program, Research Faculty Mentor Program and Slack Inc. Deloss Brubarker, EdD, ATC Student Writing Contest –  as well as further development.
You can support the NATA Foundation and its mission to advance the athletic training profession through research and education by participating in any of its three major fundraising efforts at NATA 2018:
Silent Auction
8 a.m. – 5:30 p.m. Thursday, June 28
8 a.m. – 1 p.m. Friday, June 29
MCC, Hall B
Stop by the NATA Foundation Silent Auction to browse and bid on an array of valuable items. Bidding ends at 11 a.m. June 29. Winners can pick up their items until 1 p.m.
NATA Foundation Speakeasy Sponsored by Celltex
7:30 p.m. Thursday, June 28
Generations Hall
You are cordially invited to the NATA Foundation Speakeasy sponsored by Celltex. Dust off those glad rags and come in costume for a chance to win a prize! The event is at 7:30 p.m. Thursday, June 28, at Generations Hall, which is one block west of the convention center. Tickets will be available at the door.
NATA Foundation 5K Fueled by Gatorade
6 a.m. Friday, June 29
Audubon Park
On-site registration will be available for those who didn't register during convention registration. The registration fee is $30. Shuttle services will be provided from MCC Hall B to Audubon Park, located at 6500 Magazine St. from 5:00 a.m. to5:30 a.m. (last shuttle departs center at 5:30 a.m.). Return service from Audubon Park back to MCC Hall B runs from 6:30 to 7:30 a.m. (last shuttle departs Audubon Park at 7:30 a.m.).
Visit the NATA Foundation Booth, located in MCC, Hall B, to learn more about the important work the NATA Foundation is doing on behalf of the profession.