January 4, 2019 by
Beth Sitzler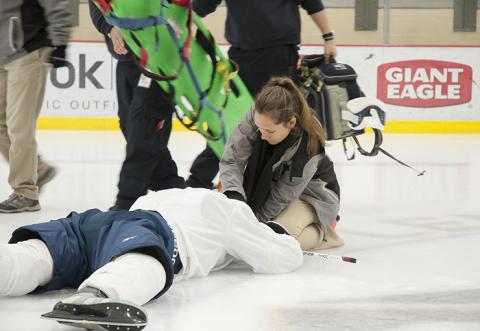 The January NATA News features an article about the Prehospital Care Committee of the UPMC Sports Medicine's Athletic Training and Development Program in Pittsburg, which has spent the past 12 years developing and implementing an equipment athlete class focused on collaborating with area EMS groups in the care of a potentially spine-injured athlete.
In addition to holding training courses on and off the ice, the committee has drafted a Medical Time Out Card for the department use to streamline pre-event conferences between medical staffs of home and opposing teams. A medical time out is a proactive conversation prior to an athletic event that is designed to be a brief review of policy and procedure among health care providers and support staff in the event of a medical emergency. It is designed to be an integral part of the emergency action plan, which should be should be reviewed and practiced prior to each athletic season and revised as needed.
The purpose of the Medical Time Out Card is to identify all personnel present and what their respective roles will be in the event of a medical emergency involving an athlete on the field of play, a cheerleader or possibly a spectator in the stands. A serious or life-threatening medical emergency can often create a chaotic atmosphere. Therefore, the primary goal of the Medical Time Out Card is to help ensure the medical response is organized, prompt and effective.
Below is an example of the committee's Medical Time Out Card.