November 2, 2015 by
Beth Sitzler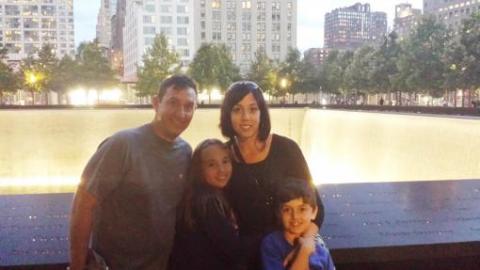 When Mike Prybicien's son, Aiden, was diagnosed as diabetic at the age of 4, Prybicien relied on his background as an athletic trainer to help his family – including wife, Jennifer, and daughter, Abigail – navigate through their new circumstances.
Now, nearly three years later, Aiden is a happy, active 7-year-old, and Prybicien has taken on a new role: advocate for student athletes with diabetes. Prybicien discussed his work, including speaking engagements to New Jersey athletic trainers and school nurses and webinars, in the November
NATA News
.
"[Managing an athlete with diabetes is] no different than managing an ankle sprain or concussion – it's just something that when managed and managed properly, you get a very successful athlete," said Prybicien, who is on the Hackensack University Medical Center patient advisory board.
The father of two and current District Two public relations coordinator shares how he keeps his life in balance and what motivates him in his volunteer and career pursuits.  
How do you balance your jobs, volunteer work and family life?
Balancing all of these is not an easy situation. First and foremost, it takes a very understanding wife and children as you try your best to dedicate yourself to the students/patients at your job, your volunteer work and your family. I have learned valuable lessons in balancing everything over my years and, most recently, learned that it is important to not work at 100 percent capacity. It is important that you work at about an 80-85 percent capacity so you can always deal with life's unexpected circumstances.  
Since you've began advocating for diabetic athletes, what lessons have you learned?
I have learned that every diabetic athlete is a unique situation. It is important to educate all the players in the management of the diabetic athlete and all work together to manage the patient properly.  
What achievements are you most proud of?
I am proud of a lot of things, so it is very hard to pick just one accomplishment.
• I am proud of my wife for her ability to balance, work and being the best mom possible
• I am proud of Aiden's unbelievable drive, determination and resiliency.
• I am proud of Abigail for her unselfishness and attitude toward giving back to the community and charities.
• I personally am a proud dad and proud of my accomplishments in helping the students at my school and within my state and nationally, participate in sports as safely a possible through governmental, educational and work efforts.  
What words of wisdom would you give to up-and-coming athletic trainers?
Dedicate yourself 100 percent to sports safety and your athletes/patients, but never lose sight of taking care of yourself both physically and mentally.  
Who has inspired you the most and why?
Aiden has inspired me the most because of his unbelievable drive, determination and resiliency in dealing with his diabetes and celiac disease. He truly is my hero.  
What do you like to do in your free time?
Spend time with my family and watch sports. I am a proud alumnus of Penn State University and enjoying watching all PSU sports with my family.  
Posted by Beth Sitzler, NATA News Managing Editor (
beths@nata.org
)