February 6, 2019 by
Beth Sitzler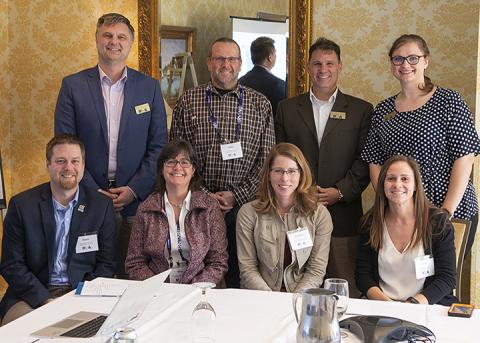 Hello students and welcome to the continuation of the SLC's blog series. In this post, Brian Zeller, PhD, ATC, chair for the NATA International Committee (IC), explains the purpose of the committee and how it has affected himself and those around him.
IC assists members in establishing and maintaining working relationships with sports medicine specialists internationally that allow them to collaborate, share and make visible the athletic training profession. To that end, IC is committed to establishing a global network of colleagues in the allied health profession to include: athletic trainers, athletic therapists, physical therapists, physiotherapists and other sports medicine specialists.
Currently, IC is working a number of initiatives that provide opportunity for our members working internationally or have an interest in global opportunities. This includes the translation of infographics into 10 languages, development of cultural competency webinars and more. IC also have an international ambassadors program, and they currently have 26 ambassadors identified that have expertise in 11 different countries. IC has an International Speakers Grants that gives NATA members the opportunity to speak at international conferences. IC's International School Initiative promotes the benefit of athletic trainers to international schools around the globe. The committee also fosters collaborations between NATA and the Canadian Athletic Therapists Association, through which the associations exchange speakers and free communication reciprocity. In January, the committee co-sponsored its first international conference with PBATS and BASRaT in London.
Zeller, director of the athletic training program at Winona State University, got his start on IC with the development of a relationship with the University of Salford in Manchester, England, that has expanded to other parts of England and Ireland. He was able to start a faculty-led travel abroad program that has currently completed five different trips to England and Ireland with 125 students participating. Zeller was also a visiting professor at the University of Salford during the spring 2011 semester. This background and understanding of athletic trianing partners in Europe led him to a position on the committee, on which he served a three-year term, followed by a one-year term as chair-elect. He became committee chair in June 2018.
Zeller said he finds much reward in his work with IC, adding that he has had the chance to work with some amazing committee members who have a passion for athletic training and promoting the profession at a global level. He has been able to communicate and collaborate with partner organizations around the world, including friends in Canada, Ireland, England, Spain, China and Japan.
IC has a lot to look forward to in the future. Most countries around the world don't know about athletic training or athletic therapy. Thus, there is no government regulation or patient understand of the value these professionals have in the health care system. This is slowly changing as more and more people understand the value of what AT's can do. This is going to be a slow process, but is exciting to see what the future holds for IC
Currently, IC doesn't have a student member on the committee, but Zeller encourages students to become active in NATA, in general, and take advantage of opportunities available through your university. Look at travel study options that may be offered at your university or other athletic training-specific travel study courses that are advertised. Step out of your comfort zone and travel to an international conference or on a health-related travel study course. Look at opportunities with the military, performing arts or occasional advertised international post on the NATA Career Center.