January 23, 2019 by
Beth Sitzler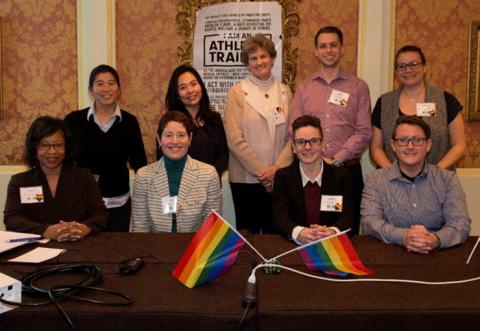 The NATA LGBTQ+ Advisory Committee is working to break down barriers in the athletic training profession. To learn more about the committee, the NATA Student Leadership Committee had a Q&A session with Committee Chair Patricia Aronson, PhD, ATC. Aronson has been a NATA member for 40 years. She worked in a Division I institution for five years before moving to Lynchburg, Virginia, to be the second athletic trainer ever employed at Lynchburg College. After 11 years as the head athletic trainer at Lynchburg College, she transitioned to a full-time educator in the athletic training program. She is now a professor of athletic training at the now-named University of Lynchburg.
What does the LGBTQ+ Advisory Committee do?
Per our mission, we are committed to the advancement of diversity within the athletic training profession by advocating for an environment of inclusion, respect, equity and appreciation of differences in both ATs and their diverse patient populations. We have several projects in the works, related to this mission. Visit the Inclusion Professional Interests section to see some of our work.
How did you get involved in the LGBTQ+ Advisory Committee?
I was on the NATA Board of Directors representing District Three when three doctoral students from Indiana State University reached out to ask me to represent their desire to develop a group to address concerns related to LGBTQ+ patients and practitioners. With the goal of developing and including this group within the NATA committee structure, I spoke with former NATA President Scott Sailor, EdD, ATC, and Rachael Oats, associate executive director of the NATA about forming a workgroup. The NATA Board of Directors approved the Diversity and Inclusion Workgroup, and I became the group's board liaison while Rachael became its staff liaison. When I ended my term on the BOD, I remained a member of the workgroup. After examining the needs of LGBTQ+ ATs and patients, we proposed to become a full committee in October 2017. The BOD approved the proposal and I became the committee chair of the LGBTQ+ Advisory Committee.
What is the role of students in relation to the LGBTQ+ Advisory Committee?
Certainly, students can always contact any member of the committee for advice and resources, and many have already done this. In November 2018, we awarded our first iLEAD Grant to Lyn Meyerhoff from Temple University. Lyn will attend iLEAD, and become a student member of the LGBTQ+ Advisory Committee and a liaison from our committee to the Student Leadership Committee.
How can students get involved?
This is something we hope Lyn will discuss with the SLC and bring ideas of how students can get involved with our committee. We also want to know what we can provide to students in the way of education, resources, research, advice, etc. In the meantime, students can contact their district representative to explore involvement opportunities at the district level. Helpful links to find ways to be involved include the Inclusion Professional Interests section and the LGBTQ+ Advisory Committee official Twitter account.
What can students, as well as certified athletic trainers, look forward to from the LGBTQ+ Advisory Committee?
You will see us at the NATA Convention if you attend our Safe Space Ally Training workshop or our town hall meeting, during which we will review our plan of work for the coming year(s). We will also be active presenters at district and state meetings. Our committee members have written several articles for the NATA News and NATA Now blogs, and we have a long list of topics we plan to address in the future.
Keeping to our mission, we plan to identify, explore, address and provide educational resources regarding emerging topics and concerns relevant to diverse sexualities, gender identities and gender expressions within the profession and health care topics affecting patients in the LGBTQ+ community.