February 26, 2019 by
Beth Sitzler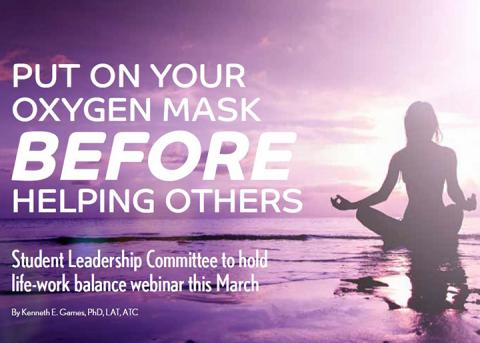 The NATA Student Leadership Committee will hold its spring webinar "Putting On Your Oxygen Mask Before Helping Others: From Wanting Life-Work Balance to Living Life-Work Balance," by Kenneth E. Games, PhD, LAT, ATC, at noon (CST) March 4.
"Secure your mask first and then assist others around you." If you have ever flown in an airplane, you have probably heard a similar phrase regarding what to do in an emergency if the aircraft loses cabin pressure. This announcement is also a valuable life lesson, especially for athletic trainers and athletic training students.
We are wired to serve and help others – that is why many of us chose this profession. However, our instinct to care for others often places us in a position in which we don't take care of ourselves. In this example of placing your own oxygen mask on before helping others, if you don't help yourself first, then you will be incapacitated to use your skills to help others. The same holds true in our profession. If you don't serve yourself first, you will eventually be unable to serve others.
Unfortunately in athletic training, there is a culture of mottos such as "athletic trainers never rest" and "athletic trainers – always ready." There is also a culture that values the time you put in working with the patients you treat. We have confused quantity as a measure of quality or success rather than outcomes.
The culture runs deep and it often starts when we are athletic training students. If you have been an athletic training student or athletic trainer for any period of time, you have heard stories about athletic trainers missing weddings, holidays and birthdays all because "that is just part of the job." This culture is directly counter to the wisdom that is shared every time we step onto an airplane. It is detrimental to our physical, emotional, spiritual and professional health. I'm a proponent of getting quality "reps" during clinical practice, but this must first be built on a foundation of self-care and alignment.
Fortunately, there are solutions that athletic training students and athletic trainers can use to serve ourselves first so we can provide the highest quality of care to the patients we treat. It starts with changing our mindset that our value and worth as a human and athletic trainer is independent of the success, failure and health of the patient populations to which we provide care. We can change our reality by changing our thoughts and actions to get the results that we want.
Often times these results include lifework balance. Too many of us view life-work balance as a goal to achieve rather than a mindset that we adopt, embody and live every single day. The faster we can shift life-work balance from a "goal" to a "way of being," the faster we can build a sustainable career of serving others, in a profession we love, built on a foundation of self-care and alignment. This can be summed up in a single sentence: We must be selfish to be selfless.