December 3, 2018 by
Beth Sitzler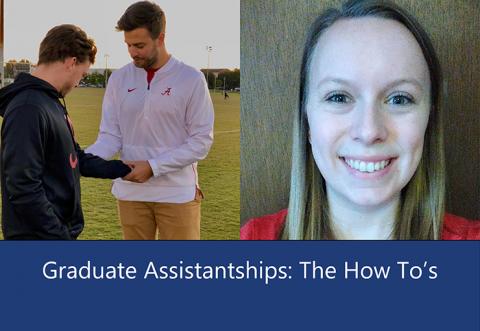 For this blog post, the NATA Student Leadership Committee talked with two graduate assistants about their experiences, how they came into their positions and some advice they have for students.
Gregory Crisafulli, ATC, is a first year graduate assistant at the University of Alabama. He did his undergraduate work at High Point University where he began his research interest in lower extremity risk factors and injury prevention. At Alabama, he provides coverage for all club sports and intramurals while serving as a preceptor for the undergraduate athletic training program. He also is one of the host athletic trainers for the home football games.
Kristine Watts, LAT, ATC, is currently a first year graduate assistant at Plymouth State University in New Hampshire. She graduated from the University of Wisconsin at Madison with a bachelor's degree in athletic training. While at PSU, she works with the women's field hockey and men's basketball teams.
Kristine, what made you go from a Big Ten school to a Division III college?
While my experience during my undergraduate education was so amazing, I knew that in the future I did not see myself working at a Division I level. The Division III level was appealing to me because I knew it would provide new opportunities and experiences within the field of athletic training, just in a smaller setting. The master's program at Plymouth State University also has an emphasis in higher education, which is something I am really interested in.
Additionally, I grew up in a small town so I was very interested in finding a program located in a smaller town. Plymouth definitely has that small-town atmosphere I was looking for.
Gregory, how did your experiences at your undergraduate institution prepare you for graduate school?
The sports medicine staff at High Point University and affiliated preceptors did an incredible job at incorporating the athletic training student as if they were part of their own staff. The educational side prepared us very well for those clinical experiences to allow the preceptors to truly trust the student in those high-pressure situations. By the time I graduated from HPU, I had the confidence and was prepared to practice clinically on my own.
Kristine, what advice do you have for students who are looking for a GA position?
I would tell future students to do their research! Take the time to look into schools that appeal to you, and don't be afraid to go somewhere new or intimidating! Use your resources and ask questions if you're unsure on how something works. Don't forget to take deep breaths! It's a process, but the end result is very rewarding and worth it.
Gregory, can you tell us about your experiences and the process of applying for a GA position?
I urge all athletic training students to become members of the National Athletic Trainers' Association. The career services and job board are how I heard about all of the positions I applied for. My advice for those going through the process now is to take advantage of the students who went through this before you. Also, let your professors and preceptors know where you plan on applying to as well as your future goals. There is a decent chance that one of them may know someone at one of the institutions you intend on applying for.