March 18, 2021 by
Beth Sitzler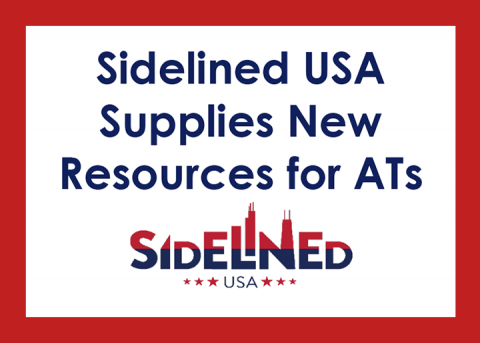 By Elizabeth Quinn
Athletic trainers provide exceptional health care to athletes across the world, gaining an immense level of trust and respect from their patients and athletes. ATs provide a holistic approach of health care for athletes, who pride themselves and their identity in their sport – so what happens when an athlete is permanently sidelined or medically disqualified (MDQ)?
The NATA Board of Directors approved the sponsorship of Sidelined USA in May 2019, a nonprofit organization that serves, resources, and advocates for student athletes who experience a medically forced exit from sport, to make their program and resources more readily available to ATs.
This sponsorship is a positive step in continuing to provide exceptional health care to athletes because the topic of MDQ athletes is not typically covered in athletic training education programs. Sidelined USA provides resources to athletes' support networks, including ATs, to use to help them during this difficult time.
"We've been [making these resources more available] through a few ways," said Jordan Anderson, MS, ATC, vice chair of Sidelined USA's board and president of the Illinois Athletic Trainers' Association. "Our resources have been available via the NATA website [under the secondary school job setting resources as well as under the members-only COVID-19 webpage]."
Anderson and Sidelined USA Executive Director Christine Pinalto have been presenting trainings to sports medicine teams about best practices for after-care of permanently sidelined athletes.
"A lot of what I'm doing is speaking at regional conferences and hospital systems about what Sidelined USA is and the free resources we offer," he said. "I not only promote our resources, but also how they can support athletes from an athletic trainer's perspective in order to help them in their transitions forward."
Recognizing that research on the psychological impact of medically forced exit from sport is limited and sample sizes of available studies have been relatively small, Pinalto and Anderson said Sidelined USA is conducting a peer-reviewed research survey with the intent to produce the largest study of its kind and to create a true standard of care. Anderson reported, with 59 participants reporting so far, preliminary findings reveal that due to their medically forced exit from sport:
90 percent of participants reported experiencing identity loss
81 percent experienced depression
34 percent experienced suicidal thoughts
7 percent created a suicide plan
17 percent abused or used drugs and/or alcohol to cope
Understanding that an MDQ situation is clearly a potential life crisis for athletes, Sidelined USA has also been available to speak to ATs individually, providing guidance on how to navigate after-care for their MDQ athletes, Pinalto said.
"It's never an easy conversation to medically disqualify an athlete," Pinalto said. "The best approach is a well-planned team approach. We recommend coordinating with the team physician, coach and sports psychologist or school counselor to come up with a specific support plan in advance of that conversation and be prepared to know what resources you plan on offering the athlete and their parents/guardians.
"Educating yourself on the psychological impact of a medically forced exit from sport is important because often times these athletes shut down emotionally and don't reveal how deeply they're hurting, making them difficult to reach. By gaining insights into the psychological response, you can anticipate their needs and build rapport with your athlete and provide the best possible personal support and care. Sidelined USA has resources to help in that endeavor."
Resources
Sidelined USA has resources available for NATA members to use that cover topics including becoming sidelined, healthy adjustment, meaningful support and life beyond the game. The resources offer in-depth information to better understand permanently sidelined athletes.
One podcast Sidelined USA provides is Sidelined Stories, which interviews sidelined athletes, "mentors," who were forced to give up their sport prematurely due to career-ending injury, health condition or repeat concussions. They share their journeys and reflect on their ups and downs.
Some of the sidelined athletes who shared their experiences felt alone because Sidelined USA wasn't around at the time, Pinalto said. When these mentors share their stories on the podcast, newly sidelined athletes have said they don't feel as alone – because sometimes the MDQ athletes feel they are the only ones going through this, she said.
"We have plans in the works for a monthly support group where MDQ athletes currently working through their loss are able to speak with a few 'mentor' athletes who have personally experienced an MDQ themselves and are able to empathize as well as share personal insights and encouragement," Pinalto said. "It will be an open forum for processing whatever MDQ athletes are going through. We are hoping to start that in the fall."
Additionally, with the increase in mental health issues caused by the COVID-19 pandemic, Sidelined USA provides specialized resources to support the mental wellness of student athletes as the pandemic continues to disrupt life and sport. Submit the form on the Sidelined USA website for more information. There is also a podcast, #TeamSidelined, that interviews athletes, performance coaches and content experts to discuss relevant coping skills, strategies, mindset work and mental health awareness to help support athletes through these challenging times.
For more information on Sidelined USA and its resources, visit its website. All resources available are free to NATA members.