June 7, 2016 by
Beth Sitzler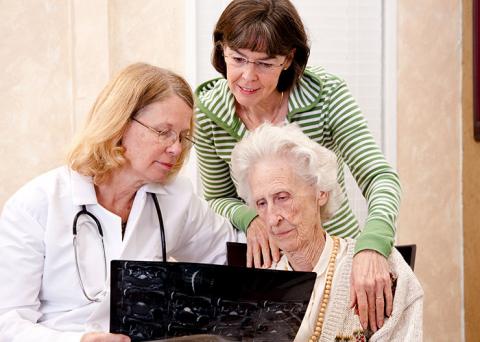 By Jason Muchow, MHA, ATC
The leaders and practitioners in the profession of sports medicine and athletic training have been working tirelessly to obtain the recognition and association with other health care professions within the United States. Athletic trainers provide daily patient care and work alongside many other health care providers: physicians, nurse practitioners, physician assistants, physical therapists, chiropractors and more. Each of these health care providers, including athletic trainers, work in an ever-changing health care environment. With the implementation of the Accountable Care Act, more attention has been given to the value of patient satisfaction and the effects it has on the delivery of care; and therefore the reimbursement of care by third-party payers.
Knowing what our patients think about the quality of care they receive has always been important, as health care professionals want to make sure we are meeting the needs and expectations of our patients. Over time the definition of patient satisfaction has taken various forms and is now better described as the "patient experience."
The patient's perspective of the value of health care used to be whether or not the provider determined the problem and implemented an appropriate treatment plan. Patients would answer the question, "Did I get better?" and if the answer was "yes" then the patient was satisfied with his or her visit with the provider. It later expanded to "Did I get better?" and "Was the cost appropriate for the care I received?"
Now, patients are determining the value of their care based on three criteria: 1. Did I get better? 2. Was the cost appropriate for the care I received? 3. How was my experience during the visit from the moment I walked into the facility to the moment I left?
These three items are now how a majority of patients are valuing their health care services; and how they are making decisions on where to receive their care and who to receive their care from.
Hospitals, physician offices and health systems are utilizing various forms of surveys to hear their patients' voices. Two standardized forms currently being used in the hospitals and physician group practices are the Hospital Consumer Assessment of Healthcare Providers and Systems (HCAHPS) and the Clinician and Group Consumer Assessment of Healthcare Providers and Systems (CG CAHPS). These are implemented and used by the U.S. Department of Health and Human Services (HHS); and therefore the Centers for Medicare and Medicaid Services (CMS) to survey patients.
In addition to these surveys, hospitals and physician groups utilize patient satisfaction surveys from third-party vendors such as Press Ganey and Professional Research Consultants. In efforts for athletic trainers to continue to obtain the recognition and association with other health care professions, it is important the profession determines a methodology to track and monitor patient satisfaction. More specifically, they need to implement the methodology into settings where patient satisfactions surveys have not traditionally been sent to patients or athletes.
There has been much discussion within the Committee on Practice Advancement (COPA) to determine the interest level of utilizing patient satisfaction surveys within settings that traditionally have not had formal, standardized questions to give to patients, athletes and other customers. The first two settings COPA identified to survey interest were the secondary schools and college/university settings.
During the 2015 NATA Clinical Symposia & AT Expo, members of the COPA committee met with both the Secondary School Athletic Trainers' Committee and the College/University Athletic Trainers' Committee to gauge their interest in implementing a standardized patient satisfaction survey. The idea was met with high levels of interest and a universal agreement it is something the profession needs to do a better job of tracking and measuring against one another. Historically, each athletic trainer would create his or her own form of a satisfaction survey and it may be different depending on who it would be received by: athletes, parents, coaches or administrators. Through discussion it was evident there were gaps in the data and how it was later used to make decisions on caring for athletes.
The profession of athletic training has many self-reported forms of satisfied patients, whether that is from visits and comments from patients or parents, notes from a physician, or conversations with a coach or athletic director. These are valuable in communicating satisfaction in the community and therefore creating a positive referral base of physicians, athletes and patients supporting athletic trainers. Members of the profession spend countless hours of educating the community, health care providers and administrative leaders on the value of athletic trainers and what exactly they do in their specific settings. Patient satisfaction is the next component to include in the value models that have been developed and implemented by the NATA committees and Board of Directors. Health systems, hospitals and physician offices have shifted a high amount of attention to patient satisfaction. It is a great time for athletic trainers to begin to utilize the same types of surveys to track, report and benchmark. Data is not valuable unless it is tracked, measured and one has a plan on what to do with it. It must be analyzed to implement specific changes needed to ensure patients are satisfied with their experience.
As the platform of health care is changing, one thing remains consistent; patients are making decisions based on their experiences. Furthermore, the HHS and CMS are monitoring the results and making their decisions on operations and reimbursement levels based on those reports. Athletic trainers have been practicing in multiple avenues of health care and working through various directions to obtain the recognition they deserve in the health care market. The next step is to begin reporting our patients', athletes' and other customers' satisfaction with the services provided by athletic trainers. The survey must be standardized for the specific setting or area of work, and then the profession will be able to add a supported form of value in patient satisfaction. These efforts will continue to bring forward the importance of the profession within health care in the United States.
 Jason Muchow, MHA, ATC, is the District Five representative for Committee on Practice Advancement as well as director of sports medicine at Mercy Clinic in St. Louis.