February 19, 2019 by
Beth Sitzler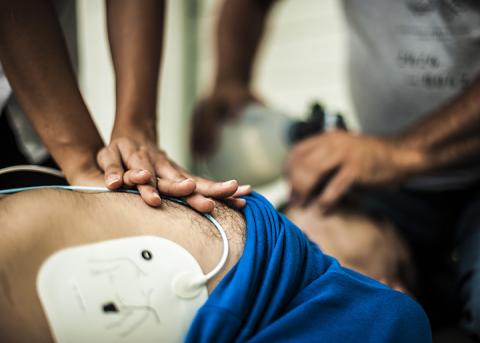 By Kim Diggs
ATs are often the first line of defense in cardiovascular emergencies such as cardiac arrest. For ATs aiming to teach their communities about emergency response, pre-conference training courses are offered prior to the 70th NATA Clinical Symposia & AT Expo. This year, members will have the opportunity to earn CEUs, become a certified instructor of first aid/CPR/AED for lay responders and recertify in emergency cardiovascular care (ECC) by attending a training course from 7:30 a.m. to 5 p.m. June 24 at Mandalay Bay in Las Vegas. In honor of American Heart Month, find out what to expect from the First Aid/CPR/AED Instructor Training and learn about the new CPR for Professional Rescuer ECC Recertification held June 28.
ATs who complete the First Aid/CPR/AED Instructor Training June 24 will leave being able to organize a course, teach and certify CPR, AED use and first aid best practices to lay responders. Through the course, the attendee will learn how to complete a free bridge program so they can teach and certify students in the CPR Training for Professional Rescuers training. This training satisfies the ECC requirement.
The day will end with attendees having their ECC skills checked and recertified for two years.
ATs only interested in ECC recertification who don't want to attend the four-hour instructor course can attend the CPR for Professional Rescuer ECC Recertification from 9 a.m. to noon June 28. In order to qualify for the skills exam, ATs take an exam online through the Red Cross prior to June 28 and bring a certificate of completion to the recertification site. Instead of attending a training, these ATs go straight to testing and receive their two-year certification.
For many ATs, these trainings serve many purposes aside from learning new ways to communicate information to the average person and earning necessary recertification. After losing an AT in her athletic department, Grace Popham, MS, ATC, of Providence College in Rhode Island, said she realized these courses would help her fill a void in her athletic department.
"[I received] encouragement from my boss to have someone on staff [who could] teach," Popham said. "I was also interested in hosting classes for the community as a form of residual income."
Having the opportunity to teach first aid/CPR/AED instructors is also ideal for high school teachers and professors with student athletic trainers, said Leonard Angelli, MS, ATC, NHLAT, who is leading this year's training session.
As an instructor, Angelli has taught many lay people and ATs alike. Aside from the opportunity to make residual income, one of the main reasons he continues to teach is because of the looming unknown. There is a better chance of saving a life when there is a certified person present to do so. He learned that first hand two years ago.
"I just think that it's the greatest thing for anyone to be able to go back and teach their constituents," Angelli said. "I've had to do CPR many times. Two years ago, I did CPR outside of my church and we used the AED three times. We brought a 72-year-old man back. He still goes to church every Sunday with his wife … and we've gotten really close. It worked out well."
Early bird registration will be available on the NATA convention website this March. Early bird member pricing for the First Aid/CPR/AED Instructor Training is $410 and $150 for the CPR for Professional Rescuer ECC Skills Recertification.