September 27, 2018 by
Beth Sitzler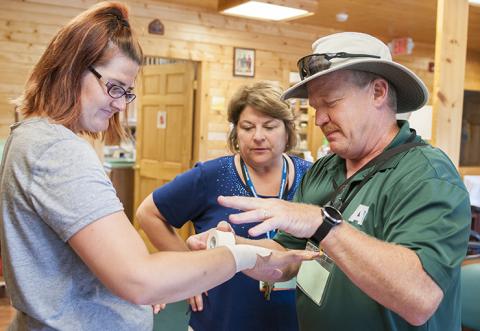 By Kim Diggs
After years of service as an athletic trainer – treating countless injuries, providing emotional support and guidance to hundreds of athletes – Larry Cooper, MS, LIAT, ATC, former chair of the NATA Secondary School Athletic Trainers' Committee, is now retired.
But, he's not ready to wrap up the gauze just yet.
"During my career as a teacher and [athletic trainer], I never had the free time to volunteer," Cooper said. "So, I knew … when I retired, I would volunteer as much as I could."
From Aug. 12-18, he volunteered with Special Olympics of Pennsylvania Sports Training Camp at Antiochian Village in Bolivar, Pennsylvania. This was an opportunity for more than 100 special needs athletes, ranging in age from 14 to 72, to gain training in athletics, golf, soccer, basketball, flag football, swimming, bowling, floor hockey, tennis, bocce, softball and volleyball.
Each day started with an intensive, two-hour sports training of the athlete's choice, followed by a schedule of rotating sports training offered.
Though this was Cooper's first time working at the camp, this was not his first rodeo. In the early '80s, the education program he underwent at the University of Pittsburgh afforded him the opportunity to work with Special Olympics.
Throughout his career working in physical education, he'd worked with students with special needs. So, when asked what drew him to the sports training camp, he said he wanted the opportunity to "help athletes [who] have been previously underserved."
"I always felt that the Special Olympic athletes deserve quality, athletic health care just as much as any other athlete," he said.
So, he assisted with the medical care of 155 athletes as a volunteer athletic trainer, a first for the Special Olympics of Pennsylvania Sports Training Camp.
"I was the first athletic trainer to work this camp," Cooper said. "However, many of the staff and athletes have had interaction with [athletic trainers] at the [Pennsylvania] Summer and Winter Olympic games."
He quickly realized the duties of his job weren't common knowledge, so he had the opportunity to share his expertise with the medical staff on duty.
"It was very rewarding to show them [what I do] and help them on a one-to-one basis," Cooper said. "They were very appreciative of the time that I spent there [and] the ability to help them handle some of the injuries that occurred that they weren't familiar with."
Many of the injuries were typical – muscle pulls, ankle sprains, jammed fingers and the like. So, Cooper's biggest challenge was something totally different: gaining the trust of the athletes. But, he found that after sharing meals with the athletes and coaches and working all of the activities, he was able to tear down the walls, which fostered an open space for the athletes to express their excitement for the games.
"The enthusiasm, energy and good will toward each other was contagious," Cooper said. "They truly care for each other in a tremendously positive way. There was no trash talking; they never spoke badly about someone, and seeing the level of encouragement for each other is something that everyone could benefit from."
In keeping with his mission to spend his time volunteering, he'll soon work with Westmoreland County Food Bank, assisting the Jeannette Salvation Food Pantry with the packing and delivery of food to Jeannette, Pennsylvania, residents.
But, he's definitely not done with the Special Olympics, if everything goes according to plan.
"I already asked about working the Winter Olympic Games – both the indoor and outdoor," he said. "My desire is to continue to be involved as much as I can for as long as I can. I truly enjoyed every moment with these athletes."