October 28, 2019 by
Beth Sitzler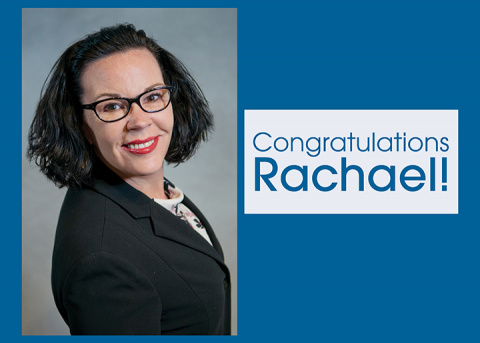 The NATA Board of Directors is pleased to announce their unanimous decision to award Associate Executive Director Rachael Oats, CAE, as an honorary member of the National Athletic Trainers' Association. Honorary membership in NATA is awarded to individuals who have shown profound interest in and have made significant contributions to the profession of athletic training. These persons display a dedication to advancing, promoting and championing the efforts of the association and its members.
Rachael began her career with NATA in 1997, processing thousands of "green reporting forms" and entering data. Her talent quickly shined through, which prompted the creation of a new position for her as a special projects coordinator. Throughout her 22-years at NATA, Rachael has held positions at virtually every level at the association – starting as an associate, then coordinator, manager, director, NATA Foundation executive director and now associate executive director where she leads and oversees strategic initiatives as well as several departments, including Membership/Business Development, Marketing/Communications/Public Relations and Knowledge Initiatives. 
One of many ways Rachael has advanced the athletic training profession is by leading and initiating countless advocacy efforts over the years. In 2016, Rachael received the Korey Stringer Institute's Lifesaving Service Award for taking the lead on youth sports safety programs with the NFL and KSI. This work includes national and NFL club AT programs as well as Collaborative Solutions for Safety in Sport and National Youth Sports Governing Bodies meetings, designed to educate and develop consensus on best practices for the country's youngest athletes. She has also worked with NATA inter-association task forces on issues such as pre-season heat acclimatization, exertional heat illness, commotio cordis, sickle cell trait, emergency preparedness and sudden cardiac arrest in the high school and collegiate settings.
"This honor is well-deserved," said NATA Executive Director David Saddler. "Rachael's contributions are weaved throughout every success we have experienced over the past 22 years. Rachael has a heart for athletic trainers and it radiates throughout every decision she makes. NATA is not – nor has it ever been – a job to her. NATA, as well as the members we serve, is an extension of Rachael's family."
"We are truly grateful for the passion and zeal Rachael has consistently shown our association," said NATA President Tory Lindley, MA, ATC. "This honorary membership is a tribute to her tireless dedication to advocating for, engaging and developing the athletic training profession."
After a long courageous bout with cancer, and with her family's approval, last week NATA announced that Rachael was entering a hospice facility. This news comes with great sadness from her athletic training family and NATA colleagues. In consultation with her family, we ask that you continue to keep Rachael in your thoughts and prayers and/or reach out to her by text. She is at Faith Presbyterian Hospice. The address is 12477 Merit Drive, Dallas, TX, 75251, c/o Rachael Oats. Her family said she is enjoying receiving flowers.
Congratulations, Rachael, on a job well done!