March 14, 2022 by
Beth Sitzler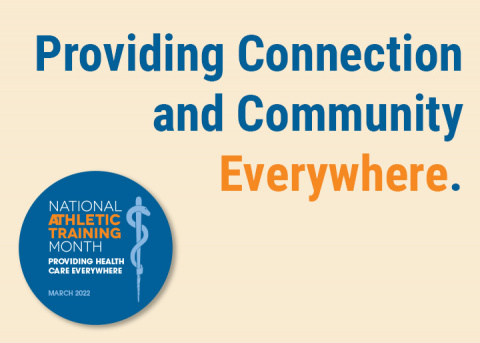 It's National Athletic Training Month! To showcase this year's theme, "Providing Health Care Everywhere," the NATA Now blog will highlight athletic trainers in a variety of setting. Learn about how they're increasing understanding of the profession and how you can, too.  
With social media becoming more engrained in our daily lives, ATs are using these platforms to showcase the profession to the masses while simultaneously connecting to their athletic training community.
Anyone with an internet connection can start their own social media account – but what does it take to successfully move the needle?  
One group that has utilized social media to reach its community and promote its activities is the NATA Student Leadership Committee. Through its three-membered outreach subcommittee, the SLC has created a presence on various social media platforms and found new ways to connect to athletic training students around the country, increasing engagement with the committee.
"We're getting a lot of great feedback, both from the [virtual Kahoot event we hosted] and the graphics going out on social media," said SLC Outreach Subcommittee Chair Kate Gready. "We've been getting a lot of feedback from everybody on how much they love seeing what we're doing, how much fun and interactive everything is, so that's been super cool to see."
When they took over the SLC's social media in July 2021, Gready and her fellow subcommittee members, Anthony Corona and Shannon Addington, faced a learning curve as they figured out what works and what doesn't.
"None of us really had a ton of experience with social media," Gready said. "But we're seeing all of the hard work we put in paying off. We're seeing students get engaged and really enjoy what we're doing and what we're putting out there for them."
Below SLC Outreach Subcommittee members share the lessons they've learned and their tips for social media success.
Know Your Audience
When joining the subcommittee, the trio set out to connect to students and keep them informed on the issues and topics that most impact them. While Gready, Corona and Addington didn't consider themselves to be social media experts when they joined the SLC Outreach Subcommittee, they did know one thing: their audience.
"A big part of achieving our goal is finding what is most relevant to students and finding ways to reach them," Gready said.
Wanting to keep students up to date on need-to-know information, the subcommittee looks for ways to promote topics on social media in a timely fashion. In addition to reoccurring SLC events, such as webinars in the spring and fall and committee applications in the later part of the year, the subcommittee tracks hot topics among students.
"We work to keep everything relevant to what the students are doing right now," Gready said. "Right now, we're working on a BOC infographic campaign to get out important dates, tips and information on where to find references, stuff like that."
The subcommittee has also worked to create not only timely, but attention-grabbing content to get its audience to stop scrolling and pay attention. This has included custom graphics as well as animation.
"You just have to make it fun," Gready said.
Knowing your audience extends beyond the topics they're interested in and how to grab their attention – it includes knowing when they're online.
"As students, we know when they're available," Corona said. "I know they're looking at Twitter at 7 o'clock in the morning, so I'll post then. It just helps a lot to know your audience."
Don't Underestimate Consistency
In addition to timing and timeliness, the subcommittee has learned the importance of consistency.
"We want to make sure that we're not going long periods of time without posting," Gready said. "At the beginning of our term, we had to do a ton of posts right off the bat for our graduation congratulation announcements, and that was too much. We learned from that. We don't want to be doing multiple posts a day – a post every day of the week is even a little bit much for us. So, we kind of felt that out and figured out what works best for us and what we felt got the most response from the students.
"It's about making sure that we're being consistent without overloading our social media pages."
Keep It Fun and Interactive
A big win for the subcommittee was its January Kahoot Trivia Takeover. During the event, NATA members competed against one another by answering questions related to the BOC exam, NATA history and the five domains of athletic training.
"It was a big hit," Gready said. "We had, I think, 365 students tune into it, which is an SLC record. Obviously, that event was the big district-versus-district competition, and that went really well."
The idea for the interactive event came out the trio's desire to help students prepare for the BOC exam while also increasing engagement among students.
"I feel like the competition aspect boosted the event because everyone wants to win," Addington said. "We like competition, we like that drive, so we tried to encourage that among the students, like, 'Hey, get your district to win,' 'Get your program to win.'"
The event also featured prizes for the winner, another incentive for participation.
"Providing the prizes and incentives, that's always a huge deal," said Gready, adding that the overall first-place winning individual received free registration to either an in-person or a virtual ACES Preparatory workshop and every student from the winning district who participated received the NATA BOC study guide for free. "It was a great benefit to have NATA and ACES Preparatory both providing prizes for that event."
The competition was a hit with participants, and achieved the SLC's goals.
"Even afterwards, students were staying on, listening to music, just enjoying the fun environment and sense of belonging," Corona said.
Explore Different Platforms and Tools
Traditionally, the SLC could be found on Twitter, Facebook and Instagram. Last year, however, the committee added YouTube to its arsenal, extending the life and reach of its virtual events and video content. This has especially been helpful when it comes to the committee's spring and fall webinars.
"We found a lot of feedback from program directors and other professors who see our events and want their students to see our webinars," said Gready, adding that many programs have opted to host watch parties for students, when timing allowed. "If not, then they can go to the YouTube channel later and make it an extra credit opportunity for their students, so it provides a lot of extra opportunities and maximizes the number of students that we're able to reach."
By making videos available 24/7, the SLC is allowing its audience to consume content on their own schedule, something that has been especially important during the COVID-19 pandemic.
"Something unique that we're dealing with is what we've coined as COVID fatigue," Gready said. "We're getting back to being in person, but we're still seeing a lot of classes take the virtual option. For the last two years, we've had students on Zoom all the time, so it's hard to convince a student to get back onto another Zoom call. That's something we caught onto pretty early on … so it goes back to A) put it on the YouTube channel and have it out there for students when they're not fatigued from being on the computer all day, but then B) make events that are interactive and fun and don't feel like sitting on another Zoom class."
In addition to extending its social media platform options, the subcommittee has also utilized various online tools. Along with Kahoot and Zoom, the subcommittee has a Canva Pro account, which is used to create graphics and animation.
"There's just so many tools out there for everyone," Addington said.
Don't Forget the Little Things
While timing, consistency and creativity can greatly influence audience engagement, it's important not to forget the little things.
"I noticed I wasn't tagging consistently and wasn't sharing as often as I had and my posts didn't get as many responses and shares as before," Addington said. "So that was a big lesson for me to tag people and put hashtags in the comments for Facebook. People will see your posts a lot more when you do that."
In addition to tagging, the trio found another secret weapon to gaining attention: emojis.
"They attract a lot of people," Corona said. "I started just using normal print, and then the moment I added a red exclamation [emoji], it was, like, five likes immediately. It was awesome."
Also, don't forget to do your own self-promotion. Before every virtual SLC event, a slideshow plays on the screen with updates, including the committee's various social media handles.
"We actually probably get most of our followers right at the beginning of each of our events because we've got a captive audience sitting there just staring at our social media tags," Gready said.
Finding Success Through Collaboration
Perhaps the most important lesson the trio has learned is to rely on their fellow committee members.
"We have monthly meetings where we discuss what's going out and timing of those posts," said Addington, adding that each subcommittee member is responsible for one of the SLC's social media channels. "We make it not overwhelming for each other."
"If it was just one person trying to run it all, it would just be exhausting, and then you'd just get repetitive and it wouldn't have the life that I think you need on social media," Gready said.  
In addition to splitting the responsibility, the trio has leaned into each other's strengths with Corona taking on the role of event hype man, Addington keeping everyone organized and Gready leading their efforts.
"We started off not knowing what we were doing," Gready said. "We didn't know each other – we've actually never met in person. [But] we've taken the time to get to know each other and learn each other's strengths and weaknesses and quirks, and then we've worked off of that."
Through this team approach, the SLC Outreach Subcommittee has supported one another and found success collectively – something others can also do, they just have to start.
"Just a reminder that you don't have to be an influencer, you don't have to be tech savvy, you don't have to know what you're doing in order to get really good social media engagement," Gready said. "Just get started and be consistent. You're going to figure what works and what doesn't. You'll get there, and then you'll have an amazing moment like we had at the Kahoot event."
Get Your Submission Ready for the SLC NATM Video Contest
The SLC is once again holding its annual National Athletic Training Month Video Contest. Students can submit their three-minute videos, which should reflect this year's NATM theme, "Providing Health Care Everywhere," by March 22.
The submissions will then be posted on the SLC's YouTube channel, where students can vote on their favorite through March 30. The top 10 videos will then be shared with the SLC Outreach Subcommittee, which will select the top five videos to share with the entire committee for voting. The top three videos will be announced the beginning of April. 
For more information, visit the NATM Video Contest webpage.