June 27, 2017 by
Beth Sitzler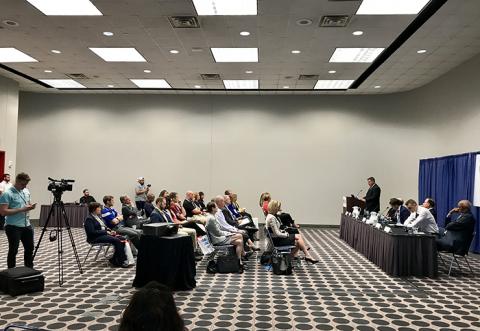 During the 68th NATA Clinical Symposia & AT Expo Tuesday, June 27, leading health care experts participated in a national press conference, "Reducing Your Risk from Osteoarthritis: What You Can Do. What the Research Says," and unveiled new research from a special osteoarthritis-themed issue of the Journal of Athletic Training, which is now available online.
According to research published in Arthritis & Rheumatology, approximately 27 million adults in the United States aged 25 years and older have a clinical diagnosis of osteoarthritis (OA) of any joint and directly costs more than $185 billion annually, making it a substantial public health burden.
"In the past, OA was considered a disease that affects only the elderly. We are seeing increasing evidence that young and middle-aged adults are suffering from OA as well, and it is often attributable to a history of acute traumatic joint injury," said Journal of Athletic Training Co-Guest Editor Joseph Hart, PhD, ATC, FNATA. "Because ACL injuries are most common in young individuals, and particularly girls, a 17-year-old athlete who tears her ACL could develop OA before she turns 30 and experience pain or disability for more than half her life."
Speakers at the press conference shed light on the challenges facing individuals across the lifespan, from the onset of youth injuries that may become chronic to baby boomers and seniors who may experience those conditions much later in life.
Speakers included Jeffrey Driban, PhD, ATC, CSCS, assistant professor in the Division of Rheumatology at Tufts University School of Medicine and Tufts Medical Center; Abbey Thomas, PhD, ATC, assistant professor in the Department of Kinesiology at University of North Carolina at Charlotte; Ryan McCann, MSEd, ATC, CSCS, assistant professor in the School of Physical Therapy & Athletic Training, Old Dominion University; and Joseph M. Hart, PhD, ATC, FNATA, associate professor in the Department of Kinesiology at the University of Virginia.
Houston Rockets' forward Sam Dekker spoke about his own musculoskeletal challenges while Enos Cabell, former Houston Astros player and current special assistant to the general manager, discussed staying active during and after professional play. Prominent Houston orthopedic spine surgeon Stanley Jones, MD, also presented at the press conference, discussing new frontiers of OA treatment.
"The National Athletic Trainers' Association is committed to reducing risk of osteoarthritis at all stage of life. The special issue, additional research and general protocols provide all of us with a roadmap to good health," said NATA President Scott Sailor, EdD, ATC. "[Tuesday] morning's forum put a spotlight on this public health issue that has dominated headlines given the fact that we are living longer lives and enjoying sports and physical activity throughout our lifespans."