October 23, 2019 by
Beth Sitzler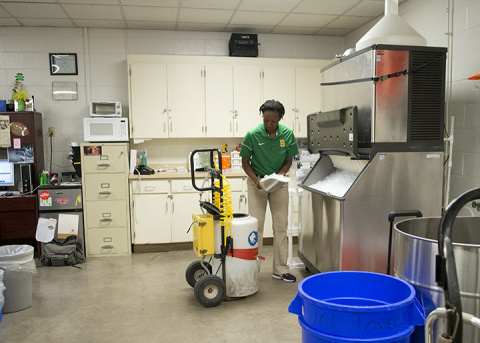 By Shelly Jones, ATC, Aloha High School Beaverton, Oregon
"Hey Shelly, do you have any thoughts for your new athletic training room?"
Boy, did I ever! After 20-plus years, I had a wish list a mile long. When your athletic director and principal come to you with that super exciting question, how do you decide what's most important? How do you convince the decision-makers it's a worthwhile need?
The Program Assessment for Safety in Sport (PASS) can help you fulfill your dream athletic training facility. Based on the recently published Appropriate Medical Care Standards for Organizations Sponsoring Athletic Activity for the Secondary School Age Athlete (AMCS), PASS outlines a framework for athletic health care. It specifically helps schools keep track of their progress and success using an online educational tool for all 12 athletic health care standards.
Today, we're going to highlight Standard 10: On-site therapeutic intervention outcomes are optimized by developing, evaluating and updating a plan of care for athletes. This standard has four sub standards. We'll talk about personnel, facilities, equipment and educational materials, touching on outcome measures, quality improvement and plans of care.
In order to return athletes to play without increased risk of injury, schools must have a health care provider on-site with scheduled treatment hours. Standard 10.1 can help encourage stakeholders to add additional hours or staff to ensure injured athletes return or exceed their baseline function: "Providing rehabilitation and reconditioning services on-site can tremendously reduce lost instructional time for the student athlete. Decrease in absenteeism can also result in retention of state funding for public schools as well as result in increased classroom learning. It can also reduce lost work time by parents driving their child to physician and rehabilitation appointments."
Have you ever dreamed of an office area where you can administer ImPact tests, have private conversations or eat your lunch in peace? Two years ago, when our athletic facilities underwent Title IX upgrades, this was somewhat of an afterthought. How I almost let it slip my mind, I'll never know.
Substandard 10.2 would have come in pretty handy as I justified adding an office: "While initial start-up costs for the athletic health care facility can be a substantial expense for providing on-site rehabilitation and reconditioning programs it actually can reduce the cost of athletic health care for student athletes. Costs can be reduced by providing athletic health care services free-of-charge on-site that previously were done for a fee off campus. The size of the athletic health care facility should be proportional to the number of athletes being serviced with a suggested minimum of 1000 square fee." The standard goes on to justify office space, allocated square footage for rehabilitation and equipment, storage area and room for hydrotherapy.
Standard 10.3 might help provide justification for that new Normatec unit you've had your eyes on: "The organization should supply the facility with the necessary equipment to provide a comprehensive rehabilitation and reconditioning program."
Standard 10.4 highlights the need for appropriate educational materials: "Rehabilitation and reconditioning educational materials should be available to athletes and parents in a variety of formats (e.g., posters, flyers, presentations, handouts, brochures, appropriate digital media)."
If you've been dreaming of adding an online exercise database, I'd suggest you check out PASS.
Lastly, we need to ensure that the time and effort we are spending slaving away in our facilities is worth it. Are your treatments effective? Treatment plans and outcome measures can help both athletes and athletic trainers alike stay on track to discharge. Keep in mind, your state law might have specific documentation requirements to ensure compliance.
Our new athletic training facility is quite a step up from the converted laundry room, but I'm already dreaming of continued upgrades. Thanks to PASS and Standard 10, the justification will be a whole lot easier this time around.