September 18, 2023 by
Beth Sitzler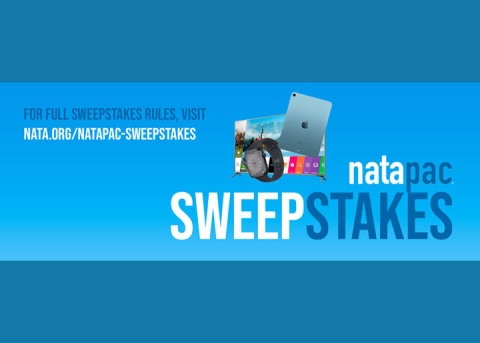 From now through Sept. 30, NATA members have the opportunity to support the NATA Political Action Committee and potentially win one of three prizes through the NATAPAC Sweepstakes.
Introduced in 2021, the NATAPAC Sweepstakes has become an annual fundraiser, providing another way members can contribute to the advancement of the profession.   
"NATAPAC is how all NATA members can collectively help advance our federal legislative efforts,", said NATAPAC Chair Mark Letendre, ATC. "No matter the financial amount, supporting NATAPAC gives us the opportunity to work with lawmakers in Washington, D.C., who support the athletic training profession."
Sweepstakes participants have the opportunity to win one of three prizes: Apple iPad Air, Apple Watch Series 8 or LG 70-inch 4K smart TV. Winners will be drawn the first week of October.
Learn more, including the official rules, and purchase tickets on the NATA Sweepstakes webpage.
What Is NATAPAC?
NATAPAC is the sole federal political action committee founded for, and dedicated to, being the voice and advocate of the athletic training profession. NATAPAC's common goal is to help elect federal candidates who will shape the laws and regulations affecting the athletic training profession. Specifically, NATAPAC supports federal candidates who are willing to listen and understand the needs of athletic trainers.
What Can NATAPAC Do for Me?
Through NATAPAC, you can help elect candidates who help to shape the laws and regulations affecting the athletic training profession. Supporting federal candidates who will work on issues of value to athletic trainers will help strengthen the profession. Your support and financial contribution is an investment in your profession and your career. Specifically, NATAPAC:
Furthers the message of NATA among members of Congress and their staffs.
Allows NATA to build relationships with elected officials.
Supports our friends in Congress.