January 7, 2019 by
Beth Sitzler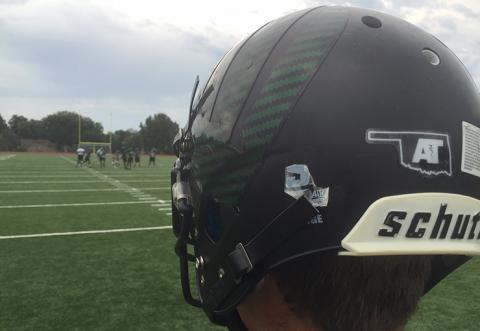 By Kim Diggs
Every year, high school students return to school; the football season revs up, and media outlets far and wide ask the same question: Is football safe for students? In 2016, Oklahoma Athletic Trainers' Association (OATA) decided to get ahead of the inevitable by debuting the Safety in Football Campaign – a public-relations initiative to raise awareness about the athletic training profession.
In recent years, this campaign has dotted the country, being adopted to fit states nationwide. But, many would be surprised to know that this very intentional campaign came out of a casual conversation during cleanup.
During the annual meeting in May 2016, OATA members were given 3-by-5 inch OATA logo decals. After gathering up the extra decals, Darren Lunow, MEd, ATC, LAT, now the current OATA president, made a joke about the membership decals needing to be put on football helmets. It was then realized that helmet decals could serve a much deeper purpose – inspiring positive media coverage about football safety.
OATA paid for the creation of the 1-by-2-inch helmet stickers, narrowed down a list of high-profile rivalry football games that occur at the beginning of the season and supplied those teams with the OATA helmet stickers. The direct result of the helmet stickers and other campaign elements was much higher social media interaction for OATA, to the tune of a total reach increase of 204.6 percent and an engagement increase of 308.9 percent on Facebook, as well as a 113.9 percent increase in Facebook visitors.
For five straight days, Oklahoma ATs garnered statewide news coverage.
In order to increase the visibility of the Safety in Football Campaign, then president C.J. Fedor, MHA, ATC, collaborated with, then Oklahoma Gov. Mary Fallin to proclaim Sept. 9-17, 2016, Safety in Football Campaign Days. This garnered major publicity around the initiative.
OATA Public Relations Chair Leah Cox, MEd, ATC, created press releases, social media post models, media talking points and a public relations toolkit to assist ATs statewide in developing a uniform campaign presence.
Mike Catterson, MS, ATC, LAT, streamlined the campaign participation process on the website by developing online registration and decal ordering capabilities for OATA members, while also creating a destination on the site for the general public to get more information about the initiative. 
Once the initiative was opened up to high schools and colleges throughout the state in 2017, OATA's social media reach began to grow tremendously. Other states and districts began to take notice, holding their own safety campaigns for football and other sports, such as hockey.    
Lunow began to package all of the marketing materials and made them accessible through Google Drive. In an effort to unify all of the campaigns from other states and make a larger impact on the view of football safety, OATA contacted each state hosting the campaign to encourage them to use #ATSafteyinFootball in social media posts.
So far, more than 10 states have decided to participate, including Mississippi, Alaska, Washington, North Dakota, Illinois and Missouri.
You can read more about OATA's Safety in Football Campaign in the first Own Your Impact column in the January NATA News.